Our Nutrition Editor Local Mum Angelika Cutuk-Short shares her recipe for this great healthy energy snack. Ideal for a boost during lockdown lows...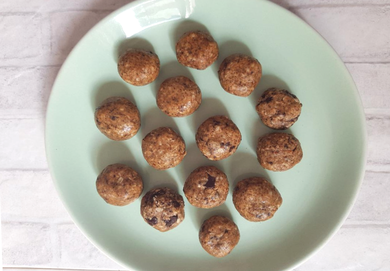 These little bombs are the best thing to have in the house when a craving hits….you can't go wrong!

NB: This recipe is for 12-14 energy balls but just double the ingredients to make a bigger batch
2-3 max per day as energy (calory) dense… but remember they are healthy! 
Preparation: 10 minutes
Ingredients:
☞  1 cup or your smallest coffee mug of peanut butter or almond butter 60g. Also, no-nut butters can be found online or shops for those who don't eat nuts
☞  2 cups of oats (60 g)
☞  ½ cup of flax/linseed seeds (30g)
☞  ½ of dark broken chocolate or chocolate chips (60g) 70%> [dry cranberries are an option too]
☞  ¼ cup of honey or maple syrup (big tablespoon)
☞  Teaspoon of vanilla essence if vanilla fan (optional)
Enjoy and don't forget to share your pictures x

Angelika, your Nutrition Editor
Read Angelika's Nutrition Mum blog here
If you have any questions, please contact Angelika:
Angelika Cutuk-Short
Nutrition Coach
mobile: 07899948682
email: nutrition_in_mind@yahoo.co.uk
www.nutrition-in-mind.co.uk