If you are looking for a music lessons for your child, Mashu Studios offers high-quality one-to-one teaching in their local sound-proofed studio. And you can get a cup of tea too!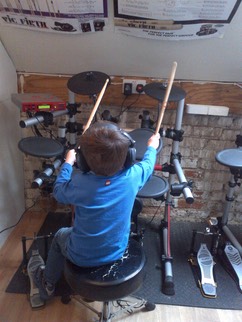 Would you like your child to learn the drums, guitar or piano? Mashu Studios is a local independent music school offering high-quality one-to-one music tuition on drum set, guitars and piano. 
"We are open to all levels of player and children are welcome from the age of four," says owner Mark Smtih whose studio is fully soundproofed so kids can play as loud as they like. "We also have a small waiting room with tea and coffee for any parents who wish to wait during lesson time."
Mashu Studios are open Monday to Saturday and are able to accommodate lessons after school and during school holidays if required. They also run summer schools and group classes from time to time. 
The studio has two levels, containing two acoustic drum sets, three electric drum sets and three guitar amplifiers and guitars. There is ample local parking in Harcourt Road and the surrounding roads. Weekend parking is available in Danbury Mews.
"We are very happy to be able to offer Local Mums a 10% discount when they book from this website," adds Mark. Just quote the code "Local Mums" when you call or email.
So if you would like to give your child the chance to learn the drums, guitar or piano at a highly recommended local studio, why not give Mark a call?

Read Local Mums' reviews of Mashu Studios
Contact:
Mark Smith
Tel: 020 8647 7801
Mob: 07932 023 298
Email: mark@marksmithdrums.com
Web:  http://mashustudios.weebly.com/booking-and-contact.html