Hand painted works of art and murals make wonderful gifts and personal touches to your child's room. It's also a great way to support local artists!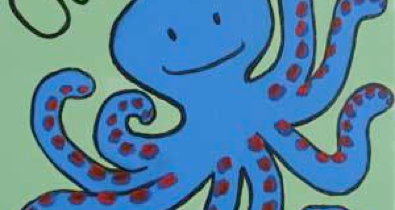 "Tiny Toucan canvases make a lovely personalised gift for new babies and I would highly recommend them to anyone looking for a great  present that is really special and unique and at a really reasonable price too!"
Suzanne Arthur, Carshalton Mum of Emily (aged 6) and Jack (aged 3)
"I love Tiny Toucan's bright colourful canvases, they have brought a much needed splash of colour to my son's bedroom, he adores them! I also feel great satisfaction in supporting a local artist or crafts person directly. The recipient of a handpainted gift such as this receives something that is personal, one-of-a-kind, and made with great care and attention. It's wonderful to give something meaningful, showing skill and craftsmanship that is absent in today's world of chain stores and large-scale manufacturing."
Kim Wilmott, Carshalton Mum of Elliot (18 months)


Tiny Toucan 
Hand painted works of art for children by local artist Claire Chandler.
Tiny Toucan offer individual hand painted works of art tailor made to your requirements.  Be it a large scale mural for a nursery or playground or a personalised canvas for a child's bedroom.
Decorate your child's bedroom or nursery with a unique hand-painted work of art...
These paintings arrive to you ready for hanging. The designs wrap around the edge of each work giving a 3D effect (the painting sits out 3.5cm deep from the wall) so there is no need for a frame. I use the highest quality fade resistant acrylic paint.
Each canvas is hand-painted individually so no two are identical. I am happy to adapt the colours of the paintings to match colours and fabrics you may have. Orders often can be painted within the same week.
Prices from only £25....
Transform your nursery, playroom or outdoor space into something from your wildest imagination...
Turn your child's bedroom into a life-size aquarium filled with starfish, turtles and manta rays.
A dull garden wall can become a view of the jungle with colourful parrots, buzzing insects, pink flamingo, a life-size rhino and views across the Serengeti.
Brighten up a dark corridor with Noah's Ark and his animals following in two by two.
Choose your own animal, design or colours to match your room. 
Personalise a painting with your child's name and date of birth if you wish...
Prices from £25. For every canvass sold the company makes a donation to the Foundation for Sudden Infant Death (FSID).

Tiny Toucan
Contact local children's artist Claire Chandler on
07812 544 775 or email: claire@clairechandler.co.uk.
www.tinytoucan.co.uk