Garden designer and Local Mum, Inge Berrie, shares some great tips on creating a beautiful garden.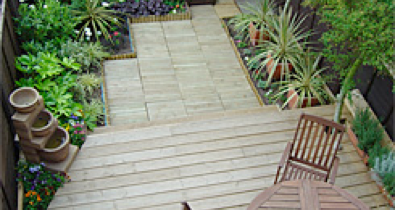 The typical English cottage garden filled with pretty, delicate, colourful flowers is often the dream of many gardeners. However, this kind of garden is high maintenance and it has high watering demands. It also means that you will have an empty garden with no structure during the winter. 
However, a happy balance between a pretty colourful garden and robust background planting structure can be easily achieved, resulting in a garden that will have a mature look and feel to it.
In addition, structural plants need not be boring evergreens as the right shrubs can create interest throughout the year. In a typical suburban garden the structural plants can be used to disguise the borders of the garden and create the illusion that the garden is larger than it is, as the viewer does not know where the borders really are behind the shrubs.
In larger spaces, structural plants can be used to demarcate the boundaries of different rooms in the garden.
Structural plants do not necessarily need to be evergreen as there are some beautiful perennial ones too such as Philadelphus coronaries, Lavatera olbia and Hibiscus syriacus.
To create that beautiful, colourful garden, flowers can be planted in front and around the structural shrubs. The solid green mass of the background shrubs creates an ideal backdrop to show off the vibrant colours of the flowers in front of it.
If you combine the shrubs and flowers in the right way, you can time the flowering of the garden in such a way that you have flowers appearing throughout the year. Pittosporum tobira which is evergreen will produce highly scented white flowers in late spring and early summer  and Escallonia 'Donard Seedling' (evergreen) will continue the flowering display by producing masses of pink tinted white flowers from early spring to midsummer. 
If perennials such as Achillea 'Forcett Candy,'  Dahlias and Verbena Bonariensis are planted in front of the shrubs,  they will take over the flowering display as the flowers of the shrubs fade.  The shrubs will then do their job as an effective background to show off the colours of these eye-catching plants.
For an even longer flowering display tulips can be planted under the perennials, which will precede the perennials in mid and late spring. Hence the flowering display will be from mid spring to early autumn. This combination will need very little maintenance long term and will produce the lovely display every year with very little effort from you. 
As an added bonus you will not be staring at an ugly bare wall in the winter as the background plants are evergreen. All of these plants require full sun, and will benefit from being planted against a south facing or west facing wall.
Berberis Julianae is an evergreen shrub with yellow or red-tinged flowers in late spring, which will tolerate partial shade but prefers full sun.
Camellias are an old favourite which produce stunning flowers in many shades ranging from white to pink through to dark red. The evergreen shrubs prefer partial of dappled shade, but the Camellia sasanqua cultivars will thrive in full sun. Camellias should be planted in acidic soil. 
However, if you have neutral soil you can plant the shrubs in ericaceous compost and then top – dress it with ericaceous compost every year. Used coffee grounds sprinkled regularly around the base of the plant will also keep neutral soil in an acidic state which will encourage a good flowering display in spring.

Camellia Japonica 
The eyecatching Photinia x Fraseri is planted for its young, vibrant red foliage in spring. The effect of the bright colour can be prolonged through regular clipping 2-3 times a year. This shrub can be difficult to combine with other plants, but it can be used as a stunning hedge. 

Photinia x Fraseri
Viburnum Rhytidophyllum and Viburnum Davidii are a few more plants which are excellent flowering structural shrubs for the garden
Viburnum Davidii 
Next time you think about buying plants don't be tempted to fill the garden with pretty annuals, which are short lived, but think about combining attractive shrubs and perennials which will reduce the maintenance in the garden and give you more time to enjoy the garden.
Inge Berrie (Garden Designer).