Local Grandpa and seasoned gardener Mike Morris is blogging for us about his allotment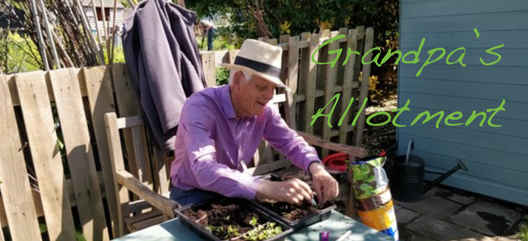 Autumn fruits

Autumn raspberries have been great this year.  They love the cool weather – and the rain. We will be picking the last of them as we go into October. They aren't as prolific as summer raspberries, but I think they have more flavour.  I have already cut down this year's summer fruiting canes.  Next job – cutting back the autumn ones.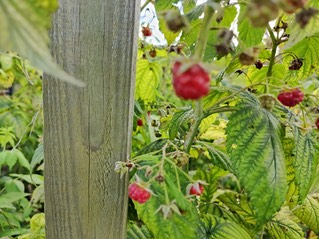 We put in quite a few sunflowers this year, and I have kept a couple of heads to save the seed for next year – most of the seeds have been pecked out by birds – which is the main reason for growing them.
In my vlog, I forgot to show you our borlotti beans.  Here they are: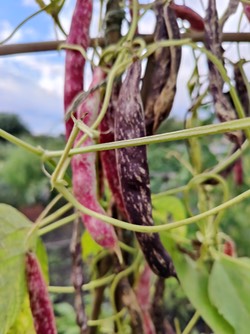 They are easy to grow so log as you wait until the frost risk has ended before sowing them. We wait until the pods turn black and then the beans can be dried and saved for the winter.  You soak them, preferably overnight, and serve them in a sauce.  Yum!
Finally – one last picture of our brilliant climbing rose – Teasing Georgia.  She has flowered all the time since June at the front of the allotment.  A delight.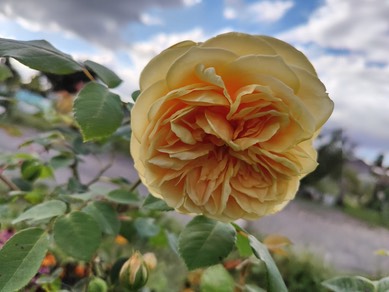 Got a gardening question for Grandpa? Mike is happy to answer any emails at mikegmorr@gmail.com 
Sweet September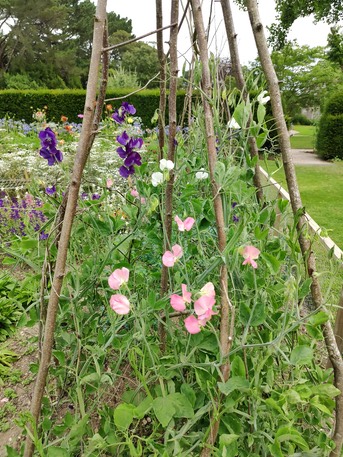 In spite of the funny weather, some things have done really well. Sweet peas have been amazing. Usually by August they have given up, or only produce flowers on short stems. But this year they have kept on giving. The secret is to pick them and not allow them to form seed pods. Unfortunately they only last a few days but they fill the flat with their scent.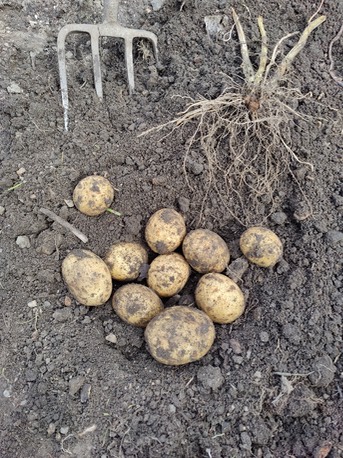 Potatoes have also been terrific. Big yields from the second earlies.  The courgettes have been weird. They are usually the most reliable veggies. Thus year only this one survived. It was given to me by a friend. I thought it was sterile. It turns out to be a Trompette. Italian variety with long thin trumpet-shaped courgettes. Who'd have thought it…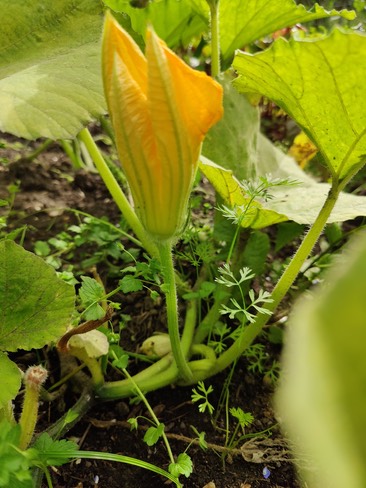 Here's my vlog on what went well and what didn't this Summer:
Got a gardening question for Grandpa? Mike is happy to answer any emails at mikegmorr@gmail.com 

Jam in July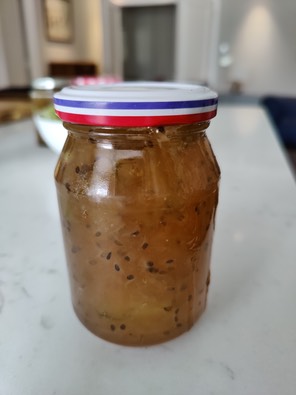 Hello again.
The allotment is starting to produce.  It's late this year because of the cold spring, but we have been picking gooseberries and making gooseberry jam.
The raspberries are benefitting from the recent rain, and the broad beans are picking well.  We love to grow flowers too, and we have been getting lots of compliments for our display of penstemons.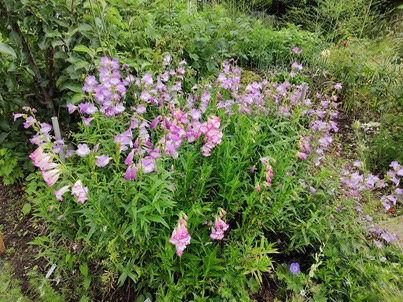 Here is my Vlog of what's been good (and not so good) so far this season:
Got a gardening question for Grandpa? Mike is happy to answer any emails at mikegmorr@gmail.com 

June
What's going on in the garden this month?

It's time for a tour of the allotment now that it is fully planted up for the growing season…with a few tips included:
See you next time,
Grandpa


Got a gardening question for Grandpa? Mike is happy to answer any emails at mikegmorr@gmail.com 
May 
What to do with bulbs when they've finished flowering?
Here is a reminder of what the bulb pots looked like as the crocuses came up in March. They were followed by narcissi and tulips.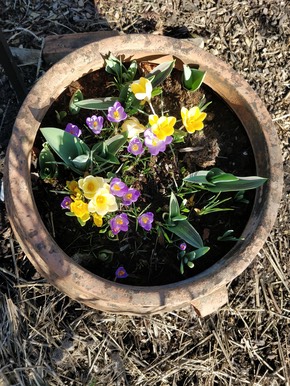 But now the pots look dowdy as the bulbs begin to die back.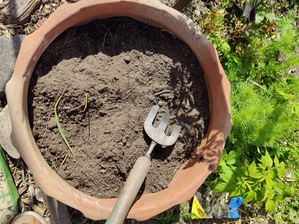 So I have dug all the bulbs out. Separated them carefully, and heeled them in a quiet corner to wither down. I have carefully marked them so I can find them to replant in the autumn.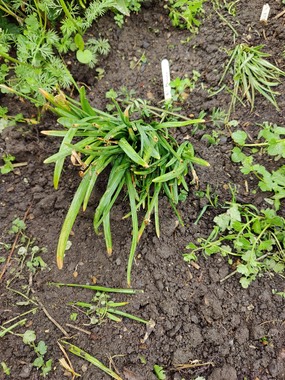 For the summer I have added fresh compost and replanted with the good old standby - petunias.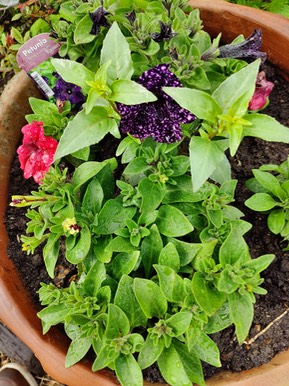 See you next time,
Grandpa
Got a gardening question for Grandpa? Mike is happy to answer any emails at mikegmorr@gmail.com 
Living and learning...
Every year I try to do things a bit better. A big mistake I make is sowing too many seeds all at the same time. Last year we had so many lettuces that they all started to bolt and ended up on the compost. So this year I'm sowing a few seeds every few weeks, pricking them out and setting them out. Here is a picture of my production line.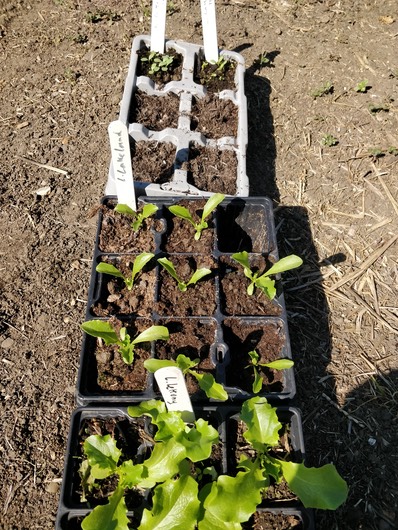 As I said, it's been cold and I have been very wary of putting seeds in the ground. I have sown courgette seeds in this pot, and they are now safely indoors on my window sill. 
There are three seeds in the pot. I stick them round the pot . They are big seeds and I stand them on their edge. Pot is well watered and covered with clear polythene.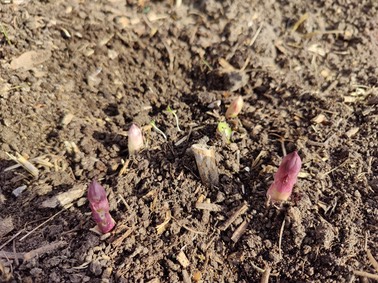 In spite of the cold weather, the asparagus is coming up. If you look carefully at the picture you might detect where I have cut the very first spear.  Yum!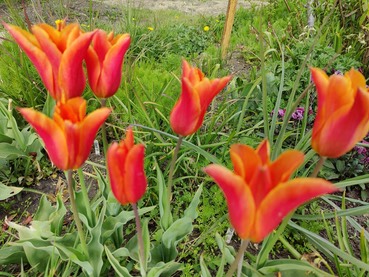 I love to grow flowers on the allotment. I live in a first floor flat with no garden. In the autumn I went a bit mad with daffodils (all over) wallflowers and lots of tulips.
That's all for now. 
Grandpa
Got a gardening question for Grandpa? Mike is happy to answer any emails at mikegmorr@gmail.com 

April 
I'm getting impatient to be putting seeds in the ground, but I am hesitating.  The weather is lovely at the moment, but the nights have been frosty.  I think I am going to wait.  The broad beans are all coming up and the garlic and onions we planted earlier are beginning to show.  They won't mind the frost.  
I'm also debating about watering.  It hasn't rained properly for a while and the ground looks dry on the surface - but underneath it is still damp.  I think Iwill keep the hose wound up for a while longer.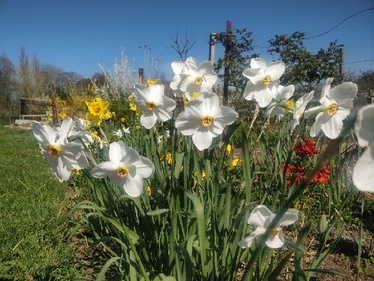 So the plot looks rather bare.  But, look at the flowers!  I planted lots of bulbs in the autumn, mainly in tubs.  They are glorious now…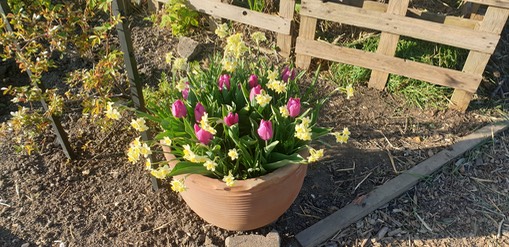 Got a gardening question for Grandpa? Mike is happy to answer any emails at mikegmorr@gmail.com 

March 
A new season begins…
So, we have cleared away most of the winter veg, pruned the autumn raspberries and dug over ready for the spring.  But so far there hasn't been much sign of it.  The soil is still cold, so we have held off for the time being.  I have put in garlic, shallots and onion setts.  
All other seeds are still sitting in their packets waiting their turn.  All except for broad beans.  We sowed them at the end of last month.  This time a variety called 'Express'.  If they live up to their name, they should catch up with autumn planted seeds.  No sign of them yet, though.  Here's me giving an overview of the plot as it sits waiting for the spring:


Got a gardening question for Grandpa? Mike is happy to answer any emails at mikegmorr@gmail.com 

November
Wintering on the allotment
It's a sad time on the allotment in many ways, even without lockdown looming.  I have put the squash plants on the compost and picked the last of the ripe tomatoes.  There are still a few green ones left.  They are either heading for chutney or into a paper bag with a ripe banana to ripen indoors. It definitely feels like things are coming to an end.
We have harvested our last cabbage.  I have mixed feelings about cabbages.  They have to stand in the ground for a long time and they take up a lot of space.  They have so many determined enemies. They must be protected from slugs, pigeons and caterpillars.  Will we grow them next year?  Well the half dozen we managed to shepherd to maturity were delicious.  It's a tough call.
Then there are parsnips!  Have a look at this:  
So, what's left for the winter?  Well there is still some spinach beet and plenty of swiss chard which should keep going till Christmas.  There are some late salad bowl lettuces, and kale which should still be there in the New Year.  But the most exciting winter crop are the kalettes.  These are a cross between red kale and brussels sprouts.  Instead of sprouts on their stems they have little kale florets.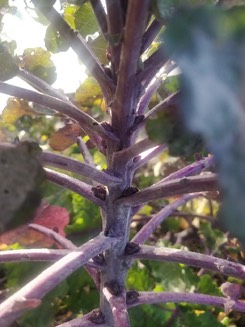 They are already starting to appear.  Can't wait to try them.
This is the last blog of the season.  I hope you have enjoyed following the ups and downs of my allotment through the year.  See you in the Spring, possibly.
In the meantime, feel free to email me any gardening questions and I'll do my best to answer them on: mikegmorr@gmail.com 
October
Season of mists and mellow fruitfulness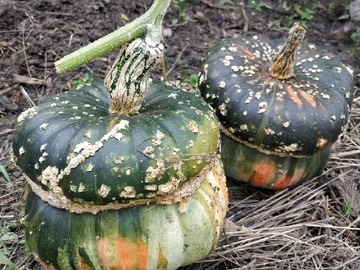 In the allotment, it's now all about harvesting.  The tomatoes are going very well.  No worries about blight.  I have pinched out the tops and cut away leaves so that the plants put all their energy into the remaining fruit.  They will have to go by the middle of October, so I hope that there will be no green ones left – although they do make delicious chutney, here's a good recipe.
Look at the Turk's head squashes (above)!  I'm hardening them off so that they will keep through the winter.  There are two more cabbages to go, and the runner beans which I sowed on 5th July are producing huge numbers of beans.  We have already put three pickings into the freezer.  They freeze well, but I won't make last year's mistake of leaving them in too long.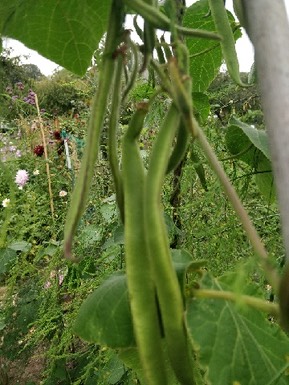 There are carrots still to pull and a few beetroots.  The autumn raspberries are finished and I have started sorting out the raspberry bed and pulling up old and unproductive canes.  That leaves spinach and chard for the autumn, and kale and kalettes to keep us in green veg through the winter.  I have sown some late Salad Bowl lettuce, but I don't know if they will come to anything.  I am also trying purple mizuna salad which are supposed to be good through the winter.  They have come up, so we will see.
Our little flower bed is looking glorious.  Asters, dhalias and the penstimons having their second showing.
Got a gardening question for Grandpa? Mike is happy to answer any emails at mikegmorr@gmail.com 
September
Trug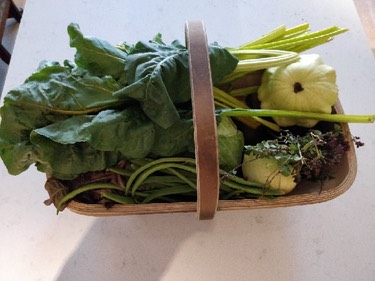 I couldn't resist showing you my trug full of produce which I brought back from the allotment yesterday.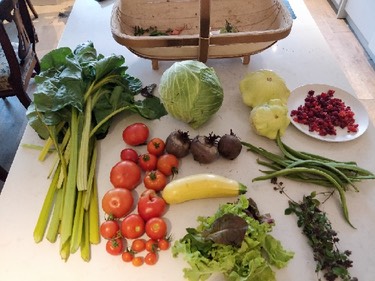 As you can see in the second picture, I picked:
I cabbage,
I courgette
2 summer (pattypan) squashes
Autumn raspberries
Tomatoes
Swiss chard
Lettuce
Runner beans
Thyme
I am particularly pleased with the runner beans.  We had them for supper the same evening.  I didn't put the seeds in until 5th July.  Usually you plant them in May or early June, once the risk of frost has gone, and then they are ready in August.  I left them late deliberately.  This way, they could follow on the garlic, and they don't clash with french beans.  In theory this gives us a long season of beans.  Didn't quite work this year because the broad beans (my favourite) failed almost completely.
We are back watering, as the September weather in the southeast has turned dry after the welcome soaking in August.  Welcome by us gardeners at least.
Thoughts are now turning to putting the plot to bed for the winter and what to get started for next year.  I have grubbed out a whole lot of old raspberry canes, thereby revealing a blackcurrant bush which was completely smothered.  There's also a tayberry in there which needs some TLC.
Got a gardening question for Grandpa? Mike is happy to answer any emails at mikegmorr@gmail.com 

August 28
Rain, beans and a visit to the Devon Wisley
We have been away for a week in Devon.  When we left, the allotment was b one dry.  No such problem now.  Lots of rain.  I have taken the opportunity to dig out the compost and mulch. Always good to spread mulch when the ground is damp.  It helps to seal the moisture in.
Here are my thoughts on the subject of beans.
While in Devon we visited the Royal Horticultural Society gardens at Rosemore.  Personally, I thought it was nicer than their main place at Wisley.  The veg garden is really spectacular.  I took a couple of pictures.  A hanging basket tomato variety I might plant next year…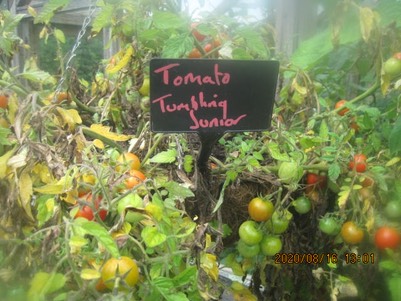 and aubergines to try in the greenhouse...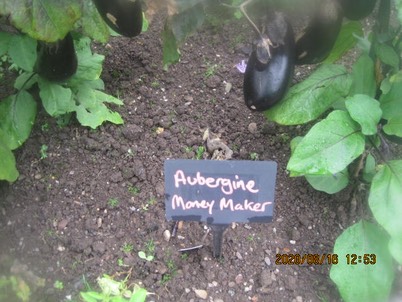 August 15th
Tomatoes!

I have grown two types from seed this year - a big beef tomato variety called Bountiful, and a stripey kind.  I was given just a handful of seeds and ended up with four plants.  I don't know the variety.
Tomatoes germinate really easily so long as you keep them somewhere warm.  But they get leggy very quickly.  The trick is to keep them moving and pot them on quickly.  Of course they won't stand frost so there's a careful balance between keeping them growing and keeping them frost-free.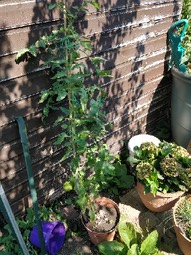 We have a small greenhouse, which is a big help. It's unheated, but it does keep the frost out.  The beef tomatoes are an out-door variety, so I heaved them out in May when the frost risk had stopped.
The next problem is blight.  This starts to appear in late July.  It starts with black or brown marks on the stems.  Eventually it ruins the plant and all the fruit. It spreads like wildfire. I thought I had spotted it on one of the beef tomato plants, so I quickly moved it into an isolation ward behind the shed.  I picked off the leaf that looked infected and crossed my fingers.  So far so good.  We are picking tomatoes and no sign of blight.
Now it's just a question of routing care.  Regular watering and feeding. Also pinching out the top of the growing stem once you have four good clusters, and getting rid of the side growths which appear between the leaves and the stems.  Very important.
Do you remember the squashes I got given?  Look at how they are developing (below).  I love them.  Cut them in half, scoop out the seeds smother in olive and stick it in the oven - yum!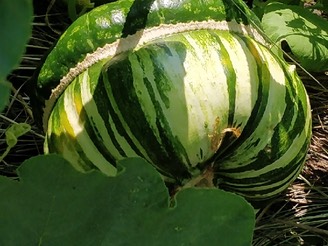 Got a gardening question for Grandpa? Mike is happy to answer any emails at mikegmorr@gmail.com 

August 1
Kalette
We are busy watering the allotment.  Luckily we live within walking distance, so it is not too much of a chore.  I like to go early in the morning.  Morning is good.  The water pressure can be rubbish in the evening.  Also, by the time the slugs come out at night, the surface is dry so they find it hard to crawl.  Most gardeners are hoping for rain, but I am not.  We are on blight watch with the tomatoes. Tomato blight favours damp weather. More about that next time.  Meanwhile, watch the video below which talks about an intriguing new vegetable.  Introducing - the Kalette.



Got a gardening question for Grandpa? Mike is happy to answer any emails at mikegmorr@gmail.com 

July 16
Harvest time
So it's high summer on Grandpa's Allotment and there's not much to do except harvest the crops.  
Today I'm picking french beans, beetroot, turnips swiss chard and lettuces...
We are off to Devon for a week, but there's just time for one more late planting which I talk about in my vlog below...

Got a gardening question? Mike is happy to answer any emails at mikegmorr@gmail.com 

July 11 
Glut!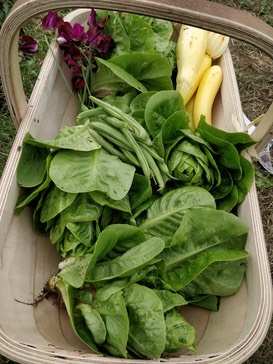 What was I thinking?  I have planted too many lettuces.  I suppose I didn't expect that they would all do well – but they have.  We have many more than the two of us can possibly eat.  The Little Gem have been particularly successful, so I have started giving them away.  All gratefully received so far.  I need to get to distribute them before the Lakeland lettuces are ready. I have lots of them too.
It's one of the hazards of allotmenteering, especially at this time of the year.  The classic glut vegetable is courgettes.  You cannot believe how many courgettes come off one plant.  I did mean to give the plants away, but somehow we have ended up with four.  Two in the ground, and two in a grow bag.  The first yellow cylinders have already started to appear.  
One crop which definitely won't be troubling me with a glut are parsnips.  In spite of all my spring efforts, only six seeds germinated. I also had a disaster with broad beans.  The crop failed completely.  I could not stop the blackfly, and I believe the plants may have been attacked by a fungus too.  We sadly had to pull them all up.  We are not allowed to have bonfires any more, so they will go on the communal dump for disposal by the Council.
Meanwhile, we have had a delicious crop of raspberries.  We are picking spinach, beet and swiss chard.  Turnips are starting and the tomatoes are looking good  They will probably be ready in August.  The fruit are forming and I have started feeding them with special liquid tomato feed.
There's not much to do on the patch now.  The spring sowing and planting frenzy is over and it's all about harvesting.  One job remaining is to put up poles for runner beans.  I like to sow the beans late so they don't clash with the French beans which are also just starting.  With any luck, July sown runner beans will produce well into October.
June 20
It's not just about the veg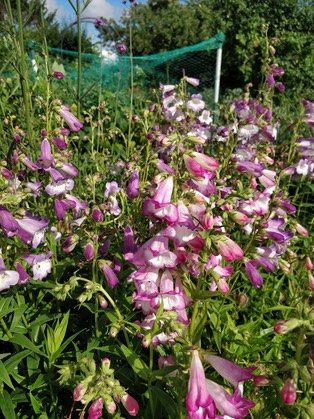 We grow flowers too.  As I hope you could see on my sketch last time, there's a little patch of flowers at the front of the allotment.  Why? Well there are three good reasons for growing flowers.  
First – obviously – because they look nice and add a bit of colour. The penstemons are at their best right now. Secondly, we do it for the bees. With the virtual elimination of wild flowers on farms, flowers on gardens and allotments are increasingly important for our honey bees.  On our patch, they love poppies, love-in-a-mist and borage.  We have two permanent climbing roses.  The one pictured is called 'Teasing Georgia' It's a beautiful old-fashioned rose with creamy yellow flowers. Of course, in the spring they go for the blossom on our greengage and apple trees.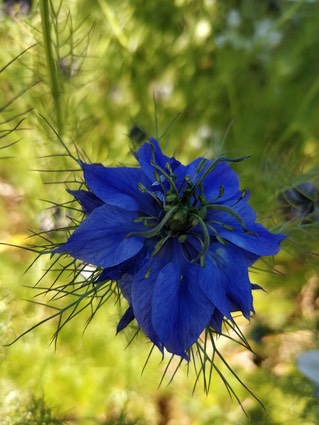 The third reason is that we grow cut flowers for the flat.  This is very important to us, since we don't have a garden (other than the allotment).  In the spring we had tulips and daffs, and later will come my beloved dahlias.  Bearing in mind the price of cut flowers, growing your own is probably more cost-effective than any vegetable.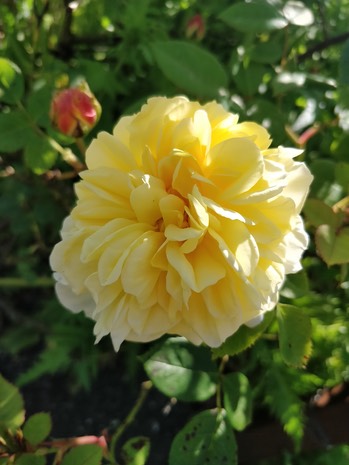 Dahlias are a little bit tricky.  They are very very frost-tender. In November last year I had a magnificent display.  I was meaning to cover them in fleece to keep them going.  I woke up one morning and heard on the news that there had been a frost overnight. I rushed up to the allotment.  Too late! All blackened.  Fortunately, the tubers were still OK.  You have a choice with dahlias – you can dig up the tubers and store them over the winter in a dry frost-free shed, or you can keep them in the ground and risk the frost.  I chose the latter option this year.  I covered them with a thick layer of straw and they are all doing fine.  Flowers start appearing later in the summer.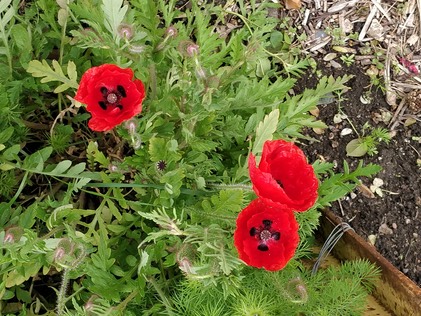 Stop press: my allotment neighbour has just given us some butternut squash plants.  Where on earth are we going to find room for them?

Got a gardening question? Mike is happy to answer any emails at mikegmorr@gmail.com 
June 14
Hello again.
We are big fans of Gardener's World, but I can never work out where Monty is in his lovely garden. So in my much more modest patch, I offer this plan of the allotment so you can picture where the various veggies are growing.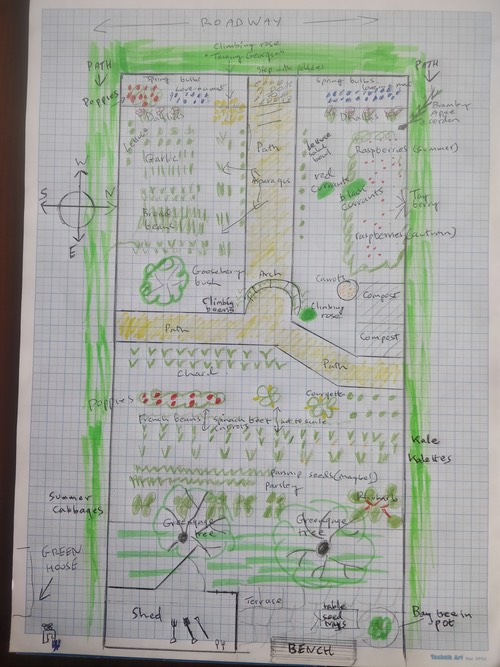 I have also done a video. The link is below. Please forgive the amateurishness. It's our first attempt!
Grandpa
Got a gardening question? Mike is happy to answer any emails at mikegmorr@gmail.com 

May 23
Triumph and disaster!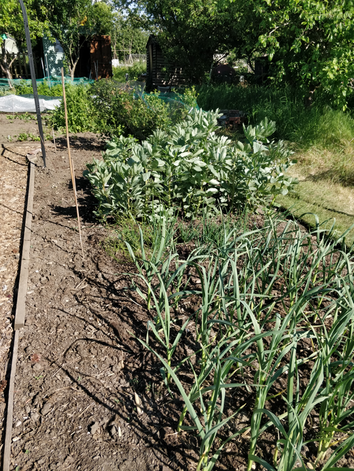 Let's get the disasters out of the way first.
Last week there was a frost.  It only happened on one night, but it was enough.  All over the allotment estate those hopeful early potatoes were blackened.  It wasn't enough to kill them, but yields will surely be affected – and not just in gardens and allotments.  Apparently, farmers have been caught out too.
We don't grow potatoes on Plot 79 – we hardly ever eat them – but BUT – do you remember the yellow courgette seeds we sowed and which I wrote about back in my very first blog?
You've guessed it. I put out the strongest and healthiest and it succumbed to the frost.  Fortunately, I still had reserves and they are all out in the ground now. There's no risk of frost in the forecast.  I should have been more careful. Frost in May, even in southern England happens quite often.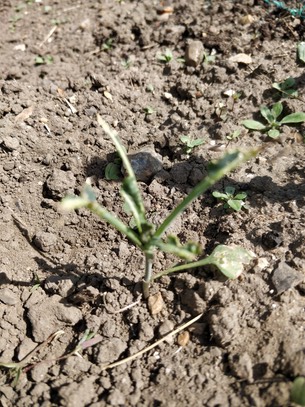 That hasn't been the only disaster.  We planted out the kale which we lovingly grew from seed.  Then we nipped home for lunch.  By the time we got back less than two hours later the pigeons had pecked the lot. Fortunately, kale is very robust and we are hopeful that it will recover.  It's a great winter standby, giving many pickings right through to the spring.
And the triumphs?  Just look at the picture at the top – garlic, broad beans, shallots all coming on well.  If you look very carefully you can see how full of fruit our gooseberry bush is.  Jam making next month.
Got a gardening question? Mike is happy to answer any emails at mikegmorr@gmail.com 

May 17   
Compost...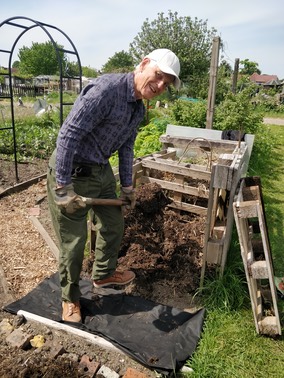 Compost.  I love it – love it!  We have two compost bins on the plot.  I built them out of old wooden pallets.  Now it's time to dig one out.  I always have one building up and one getting ready.  It's the nearest thing to magic or alchemy.  In goes kitchen waste, grass cuttings and other organic waste – and out comes rich crumbly black compost.  This lot will be spread as a mulch on the top bed among the broad beans and shallots.
Here's my recipe for successful compost:
·      put the right combination of green and brown stuff plus a little bit of earth. turn it over occasionally to get air into it.
·      keep it damp if the weather is dry. 
·      Some people add a compost accelerator to speed things up.  I don't bother since I am not in a rush.
·      the bigger the better.  Small compost heaps or bins don't really work because they don't generate the heat which makes the composting happen. For compost nerds like me, there is no greater pleasure than seeing the giant compost at Kew Gardens.  They have a special viewing platform.
Mulching is best done when the soil is wet after rain or watering.  If you want to use the compost for seed planting or potting, a nice big sieve is a useful tool.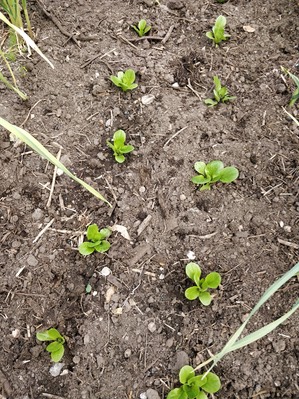 The other big job on the patch this weekend was planting out the seedlings we pricked into trays.  Here are 'Little Gem' lettuces.  It's amazing how much root growth they have put on.  The key to seedlings is to keep them moving so they never stop growing.  This week I will be sowing a few more lettuces to plant out when these been eaten – by us, hopefully, not the slugs.

Here's a question I got last week about foxes...

"Hi Mike, Can you help me, I've got a fox problem where every night they run riot across my vegetable patch, scuffing up the soil and uprooting my carefully planted vegetables (celery, potatoes, radishes, peas etc). Any tips on how to deter them please?"

and my answer...
"Foxes can be a real pain. We have them in the allotments. They often trot across my patch in broad daylight but so far they haven't done any damage. My last garden backed onto a railway line and it was impossible to keep them out. I tried everything. This website is pretty good at listing the options. www.upgardener.co.uk.  One thing they don't mention is spraying male pee around the edge. I used to do this and it was as effective as anything else. It tells the fox that the territory belongs to a much bigger male animal."

I also had a comment on my blog with another great idea which doesn't involve urine:
"Just an idea... if you have netting or similar, use that, or in my case, we ordered food delivery (Hellofresh etc) and they sent cold stuff wrapped in a sheet of sheep's wool. I drape those over the vegetables at night. Stops frost and foxes."

Have you found anything that works with foxes? Do let us know!


Got a gardening question? Mike is happy to answer any emails at mikegmorr@gmail.com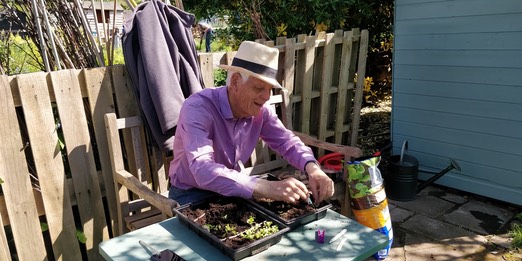 May 9
It's pricking out time on Plot 79.  I wrote about all the seeds we sowed in my first blog back in the first week of April.  Well, they have done pretty well.  
I sowed three types of lettuce.  Salad Bowl. Lakeland and Little Gem.  I tried to sow them thinly and all in only one seed tray. They went in the cold frame and I watered them carefully, so they have all come out.  I like 'pricking out'.  You sit down comfortably with your trays full of compost in front of you.  Then, using a pencil or a plastic label, you carefully tease the seedlings apart and pop them in the new trays – roughly twelve to a tray. 
I now have 106 viable lettuce plants!  Obviously, they aren't all going into our allotment.  Usually there's a plant swap day at the allotments about now – but because of the lock down it isn't happening this year.  I will probably just stick some of them on the path and invite people to take them away.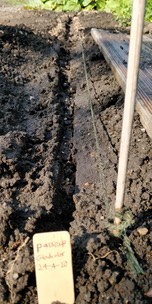 I need to talk about parsnips. I planted a row last year, not having ever tried to grow them before.  They looked very good on top, but underneath they were developing into grotesque many-footed monsters. They tasted OK, but there was an enormous amount of waste.  Parsnips don't like stony soil.  This year I have spent hours digging out a trench, then sifting the stones out of the soil, mixing it with sand and sticking it back in the trench. My wife Chris, who shares the allotment with me, thinks I'm bonkers.  It takes up to eight weeks.
Got a gardening question? Mike is happy to answer any emails at mikegmorr@gmail.com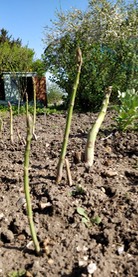 May 3
The big event on Plot 79 this week has been the appearance of asparagus.  Nothing says 'spring is here' like the first spears of asparagus.  They suddenly pop out of the bare asparagus bed like mushrooms. We cut the ones in the picture and steamed them and ate them with butter the same evening.  Delicious.  The queen of veggies as far as I am concerned.
But there's a catch.  You buy your asparagus (in my case, the variety called Gijlim) as crowns, and it's three years before you can actually start harvesting them.  
So, the first thing I did, four years ago after rooting out the brambles, was to plant asparagus.  You dig a trench, leave a mound in the middle and place the crowns with their roots across the hump.  Then put in plenty of compost, fill the trench and wait. The second year is particularly hard because the asparagus shoot do look ready – but it's a mistake to cut them and you are rewarded with lovely thick spears in the third year.  After that, you just shove more compost on top, keep out the weeds and with luck, you will have lovely asparagus for up to 20 years.
OK. So maybe now isn't the time to start asparagus, but Kew Gardens have a good guide to easy windowsill veg.  
Seeds are miraculous, aren't they?  The ones we have planted are all starting to show.  The picture shows the cold frame where we have three different varieties of lettuce in one tray, kale in another – and something quirky called 'Kalette'.  It's a newly invented hybrid of kale and brussels sprout.  We will see.
No sign yet of the courgettes I wrote about last time.  I think the greenhouse maybe a bit too cold these chilly nights.  I may have to bring them into the flat and stick them on a windowsill.

Got a gardening question? Please feel free to contact Mike at mikegmorr@gmail.com

Welcome to Plot 79!
I'm going to tell you a bit about what's going on at our allotment – plot number 79.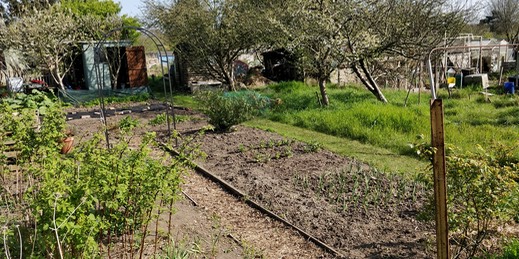 So, after the relentless rains right through to mid-March, suddenly the weather has dramatically improved, so it's time to get sowing seeds.
Luckily, we popped down to the garden centre and bought all the seeds we need before the lockdown. If you have somewhere to grow things, you can get seeds by mail order.  Apparently, the seed companies are doing a roaring trade on-line. We have got more than usual because we can't rely on buying young plants.  We usually cheat with quite a lot of stuff, but it seems the lockdown will last way beyond when we would need them.  The garden centres will end up having to throw lots of plants away.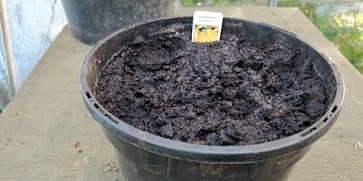 Courgettes are one plant we definitely would prefer to buy in – but hey this year it's got to be seeds.  I filled a medium pot with compost, watered it well and put four seeds standing on their ends around the edge.  ~We only need two plants at the most, so if they all come up, I will have two to give away.  I've planted a variety called 'Gold Rush' as the name suggests, they are yellow.  I do try to plant veggies that are not easily available in supermarkets. They hate frost, so I've started them off in the greenhouse.
We have also sowed Swiss Chard, spinach beet, shallots, and French beans.  I will be giving progress reports as they start to show.  
As you can see from the picture above, there's not a lot to see on the allotment yet, so here's a pic of me at the allotment with four of my eight grandchildren, Sophie, Thomas, James and Daniel…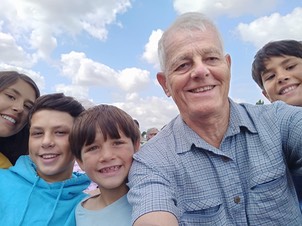 For any gardening or allotment questions, please feel free to contact Mike at mikegmorr@gmail.com 
About Mike
Mike Morris lives in SW London with his wife Chris. He has three daughters and one son and is grandfather of eight children aged six months to 18 years. Mike has enjoyed gardening all his life and kept an allotment for many years. In his working life Mike was Personnel Director of the Royal Opera House and, more recently, the Chairman of the Alexandra Rose Charities whose mission is to give low-income families access to fresh fruit and vegetables in their communities through the Rose Vouchers for Fruit & Veg Project.