Local Mums recommend the best fitness instructors in our area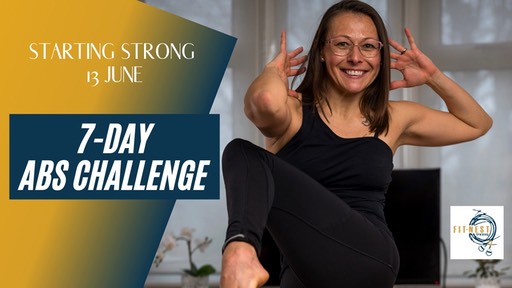 "I highly recommend Fit-Nest Training to Local Mums. I have just completed the 7 day abs challenge and have absolutely loved it. The exercises progressively challenge you (in the right way) and the mix of cardio and abs in parts of the challenge are spot on. I've visibly noticed less body fat around my stomach and my abs are now starting to show again...so happy! Feeling energised and happy for persevering. For anyone wanting results and to gain strength alongside a well thought out and nutritious meal plan, I would highly recommend this 7 day course."
Julia, Local Mum 

7 DAY ABS CHALLENGE starts Monday 13th June!

Summer is COMING and so is the 7 DAY ABS CHALLENGE! 
We would like to help YOU to:
- Burn stubborn belly fat
- Eliminate toxins from your body
- Strengthen YOUR AB muscles
Our 7 DAY ABS CHALLENGE designed to help YOU get the foundation for your lean, strong and tight tummy!
Does that sound like something you would like to achieve?
JOIN US!!!
This challenge will run from 13th of JUNE until 20th of JUNE
Hurry! Places are going fast
WHAT TO EXPECT:
- 10-15 minutes well-designed videos with core exercises for each day. 
- A 7-day detoxifying meal plan.
- Accountability and progress checking.
- Community of challengers to cheer you on 24/7 support from fitness expert: Eszter Aranyos and integrative health coach: Luci Guimaraes! 
AND GUESS WHAT? AFTER PURCHASING THIS PROGRAMME IS YOURS FOR LIFE. 
Join our 7 Day Abs Challenge here
See you in the PROGRAM SOON! 
Eszter & Luci
Contact:
Eszter Aranyos
Fit-Nest Training
Email: info@fit-nest.co.uk
Follow us on intagram: @eszteraranyos  @mywholisticlifecoaching
https://fit-nest.co.uk