The first ever Carshalton Mumpreneurs meet up was a huge success.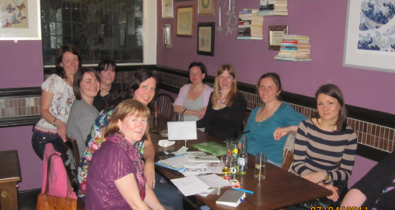 A group of Carshalton Mums in business calling themselves 'Carshalton Mumpreneurs' organised a meet up for the first time this week with an impressive turnout. 

Organiser Becca Wall, founder of local kids' drama classes Dramabuds, put out a call to all Carshalton Mums running, or looking to run, their own businesses and was amazed at the response.
"I put a post on Carshalton Mums on Tuesday saying that we were meeting in The Sun pub on Thursday, expecting maybe six or eight mums. I couldn't believe it when over 20 mums turned up!" 
Carshalton Mumpreneurs aims to provide a networking service for Carshalton Mums who are in - or thinking about being in - business. 
"We aim to offer support to fellow mumpreneurs, share experience and act as a soundboard for ideas," explained Becca.

So far the group has attracted business mums from as diverse backgrounds as web developers and graphic designers to jewellery makers and gardeners. "We are all different, with different experiences, with the common theme of trying to run our businesses alongside raising our children," added Becca.
The group aims to meet on the first Thursday of every month. If you would like more information or want to come along, contact Carshalton Mumpreneurs via info@carshaltonmums.com or check out our facebook page for more details.