Local Mums recommend the best counselling and psychotherapy services in our area


"I highly recommend Baghbani-Irvine Counselling and Psychotherapy Services to Local Mums. I am truly thankful to Baanu for the impact she has made in my life so far. She is such an amazing, genuine person. Her calming, professional and open personality makes it so easy to talk to her. Not once has she been judgmental of me; instead she has continued to encourage and support me in self-acceptance and finding techniques to reduce my anxiety. Her focus on what is important to me has truly empowered me. Overall, the therapy has been and continues to be a very positive experience, challenging but positive, and there are no words to express how thankful I am to Baanu."
Monique, Local Mum. 
"I recommend Baghbani-Irvine Counselling and Psychotherapy Services to Local Mums.The therapy I received has ultimately changed my life! I'm a happier, more confident person now than I probably ever have been. I would highly recommend it, to anyone who has any mental health issues they wish to address and resolve."
Paul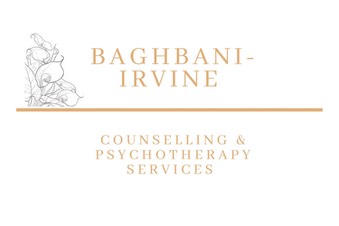 Baghbani-Irvine Counselling and Psychotherapy Services
Baanu Bghbani-Irvine is a CBT and RECBT Psychotherapist. She has been working with adults, adolescents and children (individually and as part of a family) for almost 20 years.
Baanu has extensive experience working with attachment and family relationships and in the treatment of many mental and emotional disturbances. 
Baanu has worked as a member of the management team in Family and Children Services and she is part of the Leaders for London programme. She provides clinical supervision for a therapeutic service working with Families to a team of practitioners and has been trained in coaching skills to empower individuals.
Baanu has undertaken further training in third-wave therapies including Acceptance and Commitment Therapy (ACT), Post Traumatic Stress Disorder (PTSD), Solution Focused Brief Therapy, Mindfulness and many more. She is able to integrate these into her practice to tailor the intervention to each client's needs.
Contact: 
Baanu Baghbani-Irvine 
Psychotherapist 
Baghbani-Irvine Counselling and Psychotherapy Services
Tel: 07905 765684
Email: baghbaniirvine@gmail.com
Baanu Baghbani-Irvine on Linkedin
Baanu Baghbani-Irvine on My Therapist Online
www.baghbani-irvine.co