Riding the latest trends in home-made crafting, Glazed All Over in Wallington is a great place to relax, unwind and be creative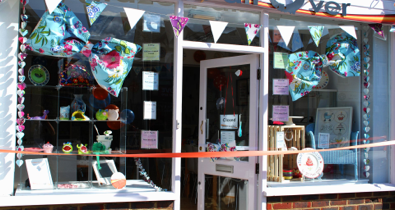 Glazed All Over has been well-known in Wallington as a much-loved paint-your-own pottery studio since it's launch in 2008. 
Now owner Sarah Glazier, a local craft enthusiast and promoter of all things handmade, has reinvented Glazed All Over as a beautiful craft space and a great place to relax with friends and be creative.
In its home in Wallington, Glazed All Over runs wonderful workshops in all sorts of arts and crafts from glass work to clay modelling and offers great opportunities for people of all ages and abilities to unwind, have fun and be creative.
Fun and relaxing
"We run Ladies Night and evening glass workshops once a month, perfect for mums to take some time out and do something for themselves," says Sarah.
"Ladies Nights are a great chance for mums to chill out, unwind and catch up with some friends while doing something creative," explains Sarah. "You bring the wine and nibbles and we provide the fun!"
"These individual workshops offer people the chance to try something a bit different without needing to commit financially to a year-long course," adds Sarah. "The workshops are fun and inspiring and allow you to take time out while learning a new skill."
And it's not just for seasoned craft enthusiasts, kids love Glazed All Over too. "As well as the much-loved Clay Club and parties we are launching a Drawing Club after Easter and a range of crafty school holiday workshops for children," explains Sarah.
Handmade is best
Everything at their beautiful workshop is true to Glazed All Over's handmade ethos. "We really believe in the benefits of handmade over mass-produced gifts," explains Sarah.
Sarah is thrilled to be able to play an active role in the local community by giving local people the chance to be creative.
"It is fantastic to be able to give local people the environment and tools to be creative and learn new skills," says Sarah. "These skills are often 'lost skills' that are re-emerging and becoming fashionable again."
"Our main objective is to encourage families to spend quality time together and do something they wouldn't usually do," adds Sarah.

Find out more about Glazed All Over and read Local Mums' reviews

If you would like to book a workshop or party at Glazed All Over, contact Sarah at:
Glazed All Over
102 Stafford Road,
WallingtonSurrey,
SM6 9AY
Tel: 02086476463
Email: info@glazedallover.co.uk
www.glazedallover.co.uk