This is a lovely tea time cake that is an all in one sponge mix with added orange flavour and a pretty marble swirl, created using a simple jar of Nutella! By Local Mum and chef Laura Scott


Ingredients :- Makes 1 cake

6oz butter/margarine
6oz caster sugar
6zo self raising flour
1tsp baking powder
Zest and juice of 1 orange
3 eggs
1 jar of Nutella
Cream cheese
Method:-
Pre heat the oven to 170 degrees.
Place the butter/marge, sugar, flour, baking powder, juice & zest of an orange and eggs into a food processor or food mixer and whisk all the ingredients together.
Put the cake mixture into a lined round cake tin (around 20/23cm).
Dot spoons of Nutella on top of the cake mixture randomly over the cake. Then using a knife, swirl the Nutella into the cake mixture to create a swirl/marble effect.
Bake in the oven for around 30 to 40 minutes.
Leave to cool in the tin then take the cake out of the tin and place on a serving plate.
Top the cake with more Nutella but first mix in some orange zest and fold in some cream cheese to give it a fresh, zingy ,creamy taste.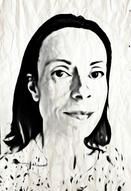 Laura Scott (above) is a Local Mum and trained chef who lived and worked in London up until she got married, had 3 children close together and moved out to Surrey. After a career break, Laura started her writing her food blog and is now working as a cookery tutor throughout Surrey (www.howtocookgoodfood.co.uk).

In her spare time, Laura attends to her newly appointed allotment with the aim of growing and producing seasonal fruit and vegetables.  This is the inspiration for her blog as well as a means of educating her children as to where food comes from and how it should taste.
Laura has also joined the Children's Food Campaign which is working towards improving both the food and the teaching of cookery in schools. She has also recently completed a course in healthy eating and nutrition as well as an RHS certificate in horticulture.  The two courses combine the two big passions in Laura's life, cooking and gardening.
Her inspiration comes from the use of good quality ingredients, seasonal when possible and the combination of flavours that work harmoniously together enabling their natural flavour to shine through.