When you are looking for a really beautiful bouquet or floral arrangement, recommendations from Local Mums are just what you need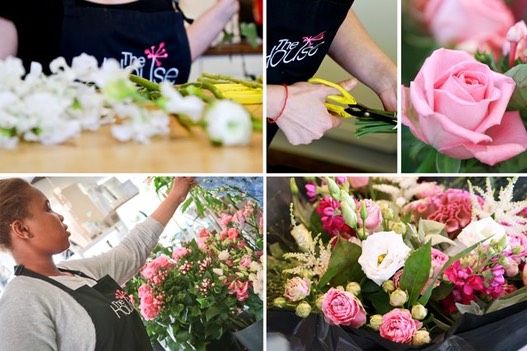 "I highly recommend The House Floral Design as the staff are so friendly and helpful and their floral arrangements are absolutely beautiful. The Christmas wreath workshops were excellent."
Inge Berrie, Local Mum of two 
"I highly recommend The House Floral Design to all Local Mums. Vanessa is amazing. I'm a wedding make up artist and have done lots of weddings with Vanessa and can thoroughly recommend her."
Suzy Doyle, Local Mum of two girls
"I highly recommend The House Floral Design to all Local Mums. I used them for my own wedding and the flowers were beautiful. I have also used them for funerals for relatives. My husband is a wedding photographer and works with them often; they are always excellent."
Cassie Mccarthy-Dorrington, Local Mum of two girls
"I couldn't recommend The House Floral Design more highly to Local Mums. Not only because they did my wedding flowers which were beautiful and not anything like as expensive as I thought it would be, but because of this story...I was in there on Valentine's Day a couple of years ago and a teen lad came in and asked them to do a bouquet for him. He only had a fiver. They did him a lovely bunch of flowers. He was made up. Don't know if they were for his mum or his girlfriend but they got a lovely prezzie!"
Diane Telford, Local Mum

"I recently had the pleasure of attending a workshop at The House Floral Design in Carshalton Beeches. This particular workshop was to make a Christmas door wreath, in our case a balcony wreath, and though I am not particularly good at creating things, I ended up taking home a lovely wreath and more importantly, having really enjoyed my evening! This is not the first time we, as a family, have enjoyed the workshops run by The House Floral Design. My daughter has made a Christmas table centre, she and her daughter enjoyed pumpkin carving at Halloween and my granddaughter had a lovely time creating a beautiful offering for Mother's Day – and I am very sure it will not be the last time we enjoy them.

The workshops are run at different times during the year (to celebrate/take advantage of different events) and you can either go along as an individual or go along with a party…children or adults or both! Vanessa and Lucy and the team at The House Floral Design make it a really fun evening/daytime event and even if you are not artistic you come away with something lovely…I thoroughly recommend The House Floral Design for its workshops, the lovely flowers you can buy there and its great giftshop."
Carolyn Reilly, Local Mum



The House Floral Design has been trading as a florist on this site for over 40 years and is a real landmark for Carshalton Beeches. 

Looking after our local clients as well as those nationwide.
We provide Fresh Flower Bouquets, Vase Arrangements, Wedding Flowers, Corporate Arrangements, Sympathy Tributes, Plants and Unusual Gifts, Potted Arrangements, Plants, Balloons and Seasonal Gifts.
Our shop provides a  welcoming experience for its customers.
We also run fun after-work floral workshops throughout the year.
Delivery areas covered Carshalton Beeches, Carshalton, Wallington, Sutton, Cheam, Banstead, Belmont, Morden, Hackbridge, Beddington, Epsom, Croydon, Kingswood, Worcester Park, Ewell, Wimbledon, Raynes Park, Tolworth, Kingston, Warlingham, Caterham. National and International via Interflora.
Come and visit you won't be disappointed.
We look forward to meeting you!
Contact:
Vanessa Udall
The House Floral Design
56 Banstead Road,
Carshalton Beeches, 
Surrey, 
SM5 3NL
Tel: 020 8647 8221
Email: info@houseofflowersonline.co.uk
www.thehousefloraldesign.co.uk
The House Floral Design on Facebook