Earning some extra cash (maybe replacing that Child Benefit?) is great when you can work around your family life. With Jamie at Home you can do both those things and have fun too!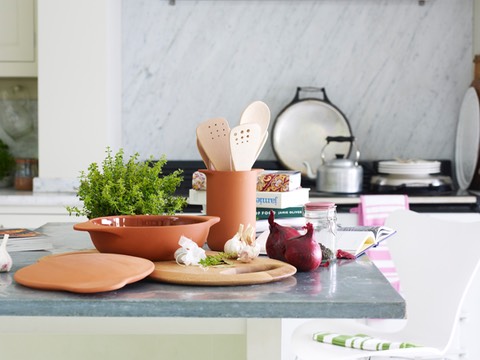 If you are looking to earn some extra money while having fun, perhaps to replace your lost Child Benefit or pay for a few luxuries, Jamie at Home, the party plan business started by Jamie Oliver, could be perfect for you.
"If you are enthusiastic, like people and have a desire to do something that fits in with your family Jamie at Home is a great choice," says Area Manager Dolly Loth. "It's a great way to keep your financial independence while working in an enjoyable and flexible way."
Successful business
Dolly herself started working this way 26 years ago when she had three young boys. "I wanted to be home for them but I also wanted to do something for myself," explained Dolly. "I wasn't convinced I would like working party plan but I got hooked very quickly. I love being with people and I like talking about products that I personally like."  
Jamie at Home has grown into a hugely successful business since it launched in March 2009. "The people who have joined us so far are going from strength to strength and having a brilliant time while earning money," says Dolly.
The JME products are selected by Jamie Oliver, in collaboration with designers and artisans from around the world. The collection offers products that are stylish yet functional with a relaxed approach to eating, entertaining and enjoying yourself.
Flexible working
The start up costs with Jamie at Home are low and affordable, with full support and free training. You can also work flexibly, working the hours that suit you.
"The opportunites are for either earning a few hundred pounds per month, or replacing an income," says Dolly.
Dolly has now been working for herself for many years. "I would have never thought I would still be in party plan 26 years later," she laughs. "While my sons are now grown up men, I have grandchildren and I want to be flexible so that I can play with them."
"Women need and want to work," explains Dolly. "But they also need total flexibility so that they can look after their homes and children. I encourage every mum to just tip your toes in the water and see if you like this. If you do great, if you don't that is also okay."

If you would like a chance to try Jamie at Home why not contact Dolly for more information or join her for coffee in your area to find out more about how you can earn money while having fun.

Read Local Mums reviews of Jamie at Home
Contact:
Dolly Loth,
Area Manager
Jamie at Home
Tel: 017 37 244 980 
Email: dollyloth@me.com
www.jamieathome.com