Local Mums recommend the best pre-school rugby programmes in our area


"I highly recommend Rugbytots to all Local Mums. Rugbytots is brilliant. Totally engaging for the children, really good fun and the coaches are great. Go give it a try!"
Davina McCall, TV presenter and mum of three
"I recommend Rugbytots to Local Mums. Rugbytots' fun and exciting classes really engage the children and provide a fantastic introduction into the game of rugby. I would recommend getting involved."
Owen Farrell, England fly-half
Rugbytots Wandsworth, Tooting and Balham
Rugbytots is a fun and dynamic pre-school play programme designed to build confidence and enhance core skills for 2 - 7 year old boys and girls. 
We look forward to meeting you and giving you a fun and friendly introduction to rugby in a positive and encouraging environment. Let's make it more fun!

Coach Ben Lawson is an experienced and dynamic PE teacher of 15 years. He is Head of Preparatory PE and Games (5-13 years old) in a top SW London independent school and Head of Football in the school (5-18 years old). Ben was also coach of the team that won the National Football Cup in 2014 and were runners up in 2015.
Make your child's development more fun!
Our fun, structured play sessions take children on a journey of sporting imagination with engaging and energetic coaches supporting them every step of the way whilst teaching how to catch, pass, kick, run with the ball and play as part of a team. 
Our motto
Our motto is simple; "make it more fun". We do this by delivering our specifically designed programme for each age group with energy, enthusiasm and excitement. This creates an atmosphere in the class that is totally unique and engaging for parents and children alike. 
What to expect
"Be prepared to run across the jungle, wade through the quick sand or sprint through Rugbytots Valley avoiding all the smoking boulders. Get ready to protect your egg, launch a missile or attack the pirates and seize the ship, all this of course, whilst trying to avoid the evil side lines!"
Classes take place at:
Southfields Aspire Centre (FREE taster on 4th Sept, please email ben.lawson@rugbytots.co.uk to book a place)
337 Merton Road, 
Wandsworth,
London, 
SW18 5JU
St Lukes Community Hall (FREE taster on 3rd Sept, please email ben.lawson@rugbytots.co.uk to book a space)
194 Ramsden Road,
Balham,
London,
SW12 8RQ
Burntwood School (Sports Hall) 
Burntwood Lane,
Wandsworth,
London,
SW17 0AQ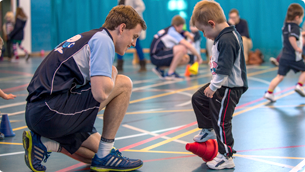 Contact:
Rugbytots Wandsworth, Tooting and Balham
Ben Lawson
Director
Tel: 03453133242
Email: ben.lawson@rugbytots.co.uk
www.rugbytots.co.uk