Lots of mums worry about their will and guardianship of their children but struggle to find time to get it sorted out. Local Mums recommend the best companies for wills here.


"I highly recommend Exclusively Wills to all Local Mums. Exclusively Wills helped my husband and I write our wills. Later on they helped us with the difficult LPA process (Legal Power of Attorney). They are helpful, courteous and knowledgeable and I have no hesitation in recommending them."
Anne Marie Humphreys, Local Mum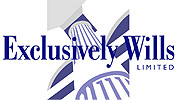 We are a professional Will writing company and have been established since 1997.  Our aim is to provide a professional, flexible and friendly service to meet the individual needs of our clients.
We are members of the Society of Will Writers and as such adhere to the professionalism and integrity that the Society expects of its members.
We offer appointments during the daytime and early evening and a consultant can visit you at home to discuss your wishes and take instructions for drafting a Will for you.  The consultant is with you for about an hour and can offer advice and guidance and when making appointments we write to confirm and send an information pack.
Exclusively Wills offer Local Mums a discounted fee of £99+VAT for double Wills (partners/spouses) and for a single Will it is £79+VAT which includes for a consultant to visit as well. 

If you have any queries or would like an appointment do be in touch at info@ewltd.com or 0208 408 0836, we're always happy to help.
Contact:
Rosemary Slatter
Administrator/Secretary
Exclusively Wills
Tel: 0208 408 0836
Email: info@ewltd.com
www.ewltd.com