Whether it's a girls' night out, family lunch or a romantic date, Local Mums give their verdicts on local pubs and restaurants.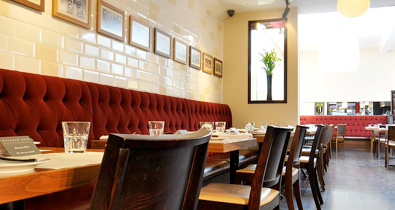 Cote Brasserie, Wimbledon
"Excellent food, friendly service. I would highly recommend this restaurant. One of my favourites as they are very good with kids aswell!"
Esme Camilleri, Local Mum of Lily 9, Charlie 8, Annie 6 and Maisie 2.

Vines Bar and Grill, Carshalton
"I would highly recommend Vines Bar and Grill on Green Wrthye Lane near Nisa. It used to be the Greek Taverna restaurant but has been refurbished and is fab. My husband and I went on Wednesday night and we both had a steak meal and bottle of red wine for £20! They do this every wednesday night! I had to share this as the food was excellent and the price is just dandy!"
Vicky Dean, Local Mum of two.
Hazar Meze, Carshalton
"We had a lovely meal at the new Hazar Meze restaurant in Carshalton last night. Food was excellent (we went for mixed meze, mixed kebab and a couple of specials). The owner was very welcoming and very reasonably priced. We had two courses (too full to try the Baklava) and bottle of house red for less than £50. It's just what Carshalton needs - give it a go! Oh, and it's child-friendly too - it's named after the owner's 11 month old son!"
Emma Clements, Local Mum of two.
The Sun, Carshalton
"I've been to The Sun pub a couple of times now and I would definitely recommend it as a family/couple/girls' night out. The food is fantastic, the price is reasonable and there is a relaxed atmosphere."
Kelly Evans, Local Mum of Poppy 18 months and Fern 7 weeks.
"The Sun Pub in Carshalton is great, has a sandpit in the beer garden and it's a family-run business. The owners are really lovely too."
Adri Tempest, Local Mum of Kyara, 3.
The Hope, West Street, Carshalton
"This is a nice friendly local pub with a real community spirit. Lots of real ales, live music and good food. Children are welcome and there is an area at the back of the pub designated for them. Nice Sunday lunch!" 
Catherine Mary, Local Mum to Demelza, 2 years.
La Veranda, Carshalton
"Really nice restaurant for a date with your husband! The food is excellent with a very professional service. I thought the feeling in the restaurant was very intimate. Time seems to pass very quickly and you really enjoy yourself."
Valerie Merlet- Smith, Local Mum of Leon, 5, and Louis, 4.

The White Hart, Chipstead
"I haven't taken my children here yet but I will do. In the meantime, it's a lovely, cosy restaurant that provides wonderful tasty food and escapism for my husband and I and any friends or family members we choose to take with us. It has never disappointed us yet and I believe it will continue to be a favourite in the future!"
Kelly Neal, Local Mum of Harry, 4, and Charlie, 2.

Brasserie Vacherin, Sutton
"Just in case anyone is looking for a good restaurant in Sutton I can highly recommend Brasserie Vacherin at the top of the high street. Me and the hubby have been several times since it opened and it is consistently good. Went there on Saturday night - restaurant was packed - great buzz and food was fantastic."
Deborah Parker, Local Mum of William (year 2) and Alexander (Pre-school).

The Mint, Banstead
"Very child friendly pub with highchairs and children's menu. Big but cosy with open fires in winter for the adults. You can't book so turn up promptly, especially at weekends."
Abigail Di Lieto, Local Mum of Gabriella (Pre-school) and Massimo (6 months).

Heens Chinese Restaurant, 14 16 mulgrave road, Sutton, Surrey SM2 6LE
"I would really recommend this restaurant. It has been amazing everytime year after year for the past nine years we've been going. They cater for families and parties too. It's a really friendly, personable environment."
Kate Webb, Local Mum of Ryan 4 and Bobby 18 months.
"Taka Japanese restaurant, Carshalton, for a special meal!"
Caroline Brown, Local Mum of William, 3 years.
"Mayneea under Charles Cryer Theatre (thai) or Blue Bengal (Indian) on Carshalton High Street - both very nice!"
Alison Bonner, Local Mum
"I love the Siam Orchid for Thai food. On the Carshalton High Street. Great sweetcorn fritters!!"
Catriona Dixon, Local Mum
"Just to add to a recommendation for for La Familia Spanish restaurant in Ewell. Went there last night lovely atmosphere, really friendly staff and the food was delicious would def recommend."
Chole Jayne Buckley, Local Mum
"Gustos, by the BP Garage in Carshalton. Went there on Mothers day. Good food, good price x"
Jenny Ballard, Local Mum
"Haven't eaten in the restaurant, but the food from Chopstick House in Carshalton Beeches is lush."
Suzi Challenger, Local Mum of Joe, 3 and Claudia, 1
"The Royal China in North Cheam! It's a eat all you want but you order off the menu it's not buffet and the food is fresh and brilliant and we take Bella with us. Every time we go and we never pay for the food she eats as its a set price and only adults pay. Very very yummy :) x"
Lindley Beddy, Local Mum
"Bamboo house in Mitcham is excellent and they don't mind children."
Karen Gillis, Local Mum
"The Emperor, Stonecot Hill, set price but order off the menu as much as you like, gets busy though so best book in advance. The food is very nice."
Bernadette Price, Local Mum of three.
"Stonecot Hill Emperor is great x"
Rachel Castrogiovanni, Local Mum of Joshua 7 and Ethan 4
"I would suggest China Blue at the bottom of Sutton high street, opposite fabric world, near halfords. Really lovely."
Nikki Cloudsdale, Local Mum of Victoria, 1
"Beijing Garden in Cheam - eat as much as you like but it's cooked to order. Excellent food, and good veggie menu too."
Bonnie Ash, Local Mum of Morgan, 11, Reuben, 5, Gabriel 3 and Talitha 1.
"After a lovely walk around Box Hill, nr Dorking, we stopped at Smith & Western. We were very lucky as they had just had a cancellation, so I think booking is essential! The food was really nice, plates were massive, and the staff were friendly and happy and great with the kids. We all really enjoyed it.
http://www.smith-western.co.uk/restaurant-boxhill.html"
Joanne Hefferman, Local Mum
"I've been to Rasa Sayang, Carshalton, a few times with and without my son Adam. It's great because its a buffet and so if your children especially like something they will bring more of it out for you. Puddings aren't great though!!"
Susan Cannings, Carshalton Mum of Adam, 7.
"Rasa Sayang on Westmead road, Carshalton. its about £16 per person but you get your moneys worth and the food is lovely."
Tasha Devlin, Local Mum
Do you have a review for Local Mums? Send it to info@localmumsonline.com
This content was first published on our site www.carshaltonmums.com