Local Mums recommend the best drama workshops in our area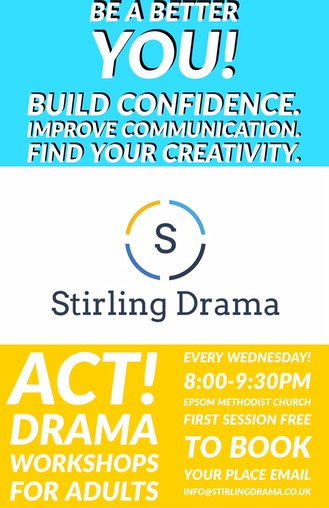 Stirling Drama
Stirling Drama offers fun drama workshops for adults. The workshops offer fun drama games and activities to help build confidence and improve communication skills. 
Drama is an amazing tool that helps to build these skills we all use in our everyday lives and make us happier as ourselves and in our own skin. Drama enables us to learn to trust ourselves, our bodies, our minds and other people. 
Whether you are new to acting and drama or a professional actor you will benefit from these workshops and all are welcome. 
There are lots and lots of drama schools available to children but not for adults and so I want to change that and offer something for adults. Who said it should be children having all the fun?
Stirling drama offers workshops on a Wednesday evening from 8:00-9:30pm at Epsom Methodist church and are currently offering a free taster session on Wednesday March 7th. 
To book email info@stirlingdrama.co.uk