Playgroups are a good opportunity to get out of the house and meet other mums. There are playgroups on throughout the week in Wandsworth. Here is our pick of the best.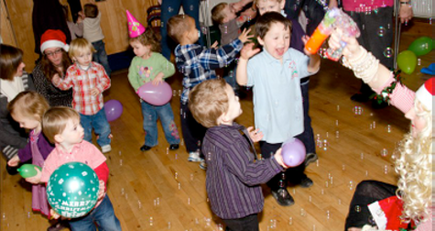 There have been some changes to times due to Covid. Please check details with providers before attending 

St Simon's Church
Monday playgroup 
09:30-11:30 during term time
Hazlewood Road, Putney 
Drop in, no need to book.
St Margaret's Baby and Toddler Group
Tuesday mornings 10am
St Margaret's Church Hall, 
Putney Park Lane, 
London 
SW15 5HU
A local playgroup run by mothers for parents, carers and children to meet, play together and relax with a coffee/tea. We have access to a two rooms, the larger one which has ride ons for the children, and a lovely garden for the children to play in. Aimed at pre-schoolers (aged 0-4) but older siblings welcome.
NCT Bumps, Babies & Beyond Group
Wimbledon Park Pavillion, Wimbledon, Wandsworth
Come and join us to make friends and share experiences with other mums-to-be, new mums and babies and those with toddlers. Tea, biscuits, toys and friendly chat and support provided.
Every friday from 10.30 - 12pm. 
No booking necessary, just drop-in. Parking available. 
This group has been made possible with thanks to premier sponsor Nightingales Doctors, and other sponsors Body-A-Wake; WaterLife swim school; and Independent mindbodysoul.
One o'clock club
Bolingbrook Grove,
Chivalry Road,
Wandsworth Common, SW18
They have activities every day and lots of toys.
1 - 4 pm for children 0-4
Coronation Gardens One o'clock Centre
Coronation Gardens,
 Pirbright Road,
London SW18 5NB
Daily "stay and play" sessions for children aged 5 and under with their parent or carer. Various activities eg painting, sand and water play and outdoor activities. Links with local health team.
Open Monday - Friday 1pm - 3.30pm
One o'clock club
Garrett Park,
Siward Road,
London SW18
They have activities every day and lots of toys and are free to all.
1 - 4 pm for children 0-4
One o'clock club
The Windmill,
Windmill Road,
London SW18
They have activities every day and lots of toys.1 - 4 pm for children 0-4
Stay and Play
Henry Prince Clubroom,
Garratt Lane SW18,
By Sticky Fingers Nursery,
Earlsfield, SW18
Great activities and resources for children Including: playdough, water, sand, climbing, play kitchen, farm animals, dinosaurs, books, messy play, painting, sticklebricks, instruments, dressing up and much more. Play inside and in a safe enclosed outside area too. Lovely area for babies with treasure baskets promoting heuristic play. Plenty of objects to stimulate the senses, mirrors etc.Thursday mornings from 10am to 11.30am. It is run by Wandsworth Council, and is FREE!
St. Michael's Steiner School Parent and Child Group
5 Merton Road,
Wandsworth
London SW18 5ST
We work out of Rudolf Steiner's philosophy of the developing child. Come and join us for creative play and crafts, followed by a wholesome snack, a ringtime and a short story or puppet show related to the rhythms, seasons and festivals of the year. Currently, we offer Parent and Child groups for children under the age of three on some mornings and afternoons. Please contact the school on 020 8870 0500 for more details.
Pepe's toddler group
Baptist Church,
182 East Hill,
Wandsworth SW18 2HD
Membership-based group, open on Thursday 10- 12, all year around. Small friendly group who welcomes everyone! Wide range of toys for babies and toddlers. There are two rooms to run around and also small outside area. Session includes refreshment for both adults and children, messy/craft activity and at the end sing along with Grandma, The Puppet or with Blanka who plays on guitar. It is nice place for children to play, interact or simply just to have a good play. Mummies, nannies and grandparents can have a chat and relax. Free car park next to church
Age range from 0 months to 3 years. Older siblings welcome during school holidays (up to age of 5years old). First session is free to enable you to check what we are up to in our session.
Members pay per child for 10 weeks, siblings go for half price and under 6 months free. Capacity is 30 children plus adults
Parent and Toddler Group
St Thomas a Becket Catholic Church,
Santos Road, West Hill, London SW18 1NT
There is coffee/tea/juice and biscuits included and plenty of toys for the kids
Mondays: 10 - 12 noon
Parent and Toddler Group 
Church of the Ascension
Malwood Road,
London, SW12 8EN
Drop in toddler group with toys, fun and games for under 3s. Fridays: Runs as two sessions: 9.15 to 10.45 and 11am to 12.30.
Acorn mother and Toddler Group
Balham Baptist Church
21 Ramsden Road,
LONDON, SW12 8QX
Toddler group for children from 1 to 4 years.Toys, books, dressing up, songs and rhymes and different craft activities each week, such as painting, icing cookies etc...This group operates a strict waiting list system and is heavily oversubscribed. Contact them to add your name to the list.
Tuesday, Wednesday, Thursday,10-11:30am 
Tooting Junction Parent & Toddler Group
Tooting Junction Baptist ChurchLongley Road, London, SW17 9LDWednesday 9:30am-12pm 

Garratt Park One O'Clock Centre
Siward Road
London
SW17 0LA
Drop in centre for children under 5 and their parents/carers. No charge. Open from 1pm to 3.30pm on weekdays.
Broomwood Methodist Parent & toddler group 
Wednesday, 9:30-11:30am 
Broomwood Methodist Church Hall
Broomwood Road, LONDON, Surrey, SW11 6JX
Toddler group for children from 0 to 3 years. Activities include: art & craft, toys, books, songs and rhymes, dressing up and rough and tumble.
Places need to be booked in advance. Tel: 020 7924 1145
Triangle One O'Clock Centre,
Tooting Bec Common Cavendish Road,
London,SurreySW12 0PP
Drop in centre for under 5s and their parents or carers. No charge. Open from 1pm to 4pm (1.30-4.30 in summer) every weekday.
Sing alongs at 3pm every Mon, Weds and Fri.