From pilates to yoga, if you are looking to get back in shape after having your baby, local postnatal fitness expert and instructor Sharon Marrett-Gregory is a great place to start!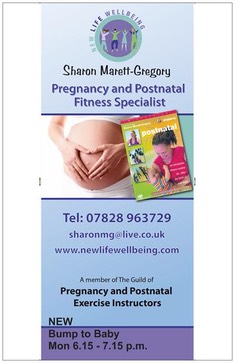 What better way to get fit after your pregnancy than with one of the most experienced postnatal instructors in around? Sharon Marett-Gregory is the author and presenter of The Pregnancy and Postnatal Workout and offers local mums pilates, cardio for pregnancy and postnatal fitness in Coulsdon and Westcroft Leisure Centre, Carshalton. Sharon is delighted to announce that she recently qualified as a yoga teacher and now offers yoga to her clients! 
All-round fitness
"I offer an all-round approach to health and wellbeing and a varied scope of classes and skills," explains Sharon, who is a long-established local fitness provider. "I aim to help new mums feel great, re-energise, become stronger, faster and lose weight. The benefits are improved posture, pelvic floor recovery, core stability and a progressive approach to regaining fitness. I offer all this in a relaxed environment with your baby nearby." 
Babies come too
"My classes are a great way to socialise and meet other new mums with babies," says Sharon, who welcomes babies from six weeks to one year old in her classes. "Sometimes new mums worry about finding childcare when they start looking at getting fit again but with my classes that's not a problem!"
So if you would like to try pilates, yoga, cardio or postnatal fitness in a relaxed local setting with your baby close by, why not give Sharon a call and find out more?  
Read Local Mums' reviews of Sharon's classes
Contact
Sharon Marett-Gregory
Tel: 07828.963729
Email: sharonmg@live.co.uk
www.newlifewellbeing.com