Local Mums recommend the best children's theatre shows in our area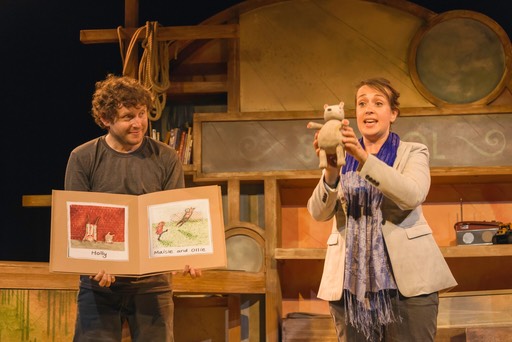 "I highly recommend The Everywhere Bear at Polka Theatre in Wimbledon to all Local Mums. My son, age four and daughter, six, both absolutely loved this sweet tale which is a fantastic adaption of Julia Donaldson's excellent book. I was worried my son would not be able to concentrate throughout the show but he was mesmerised from start to finish and has not stopped talking about it since. My daughter loved every minute of it too. It was just what we needed to start the holidays off on a happy footing. Sweet, touching and brilliantly produced theatre in a wonderful setting."
Anna Walerka, Local Mum
The Everywhere Bear
By Julia Donaldson and Rebecca Cobb
Adapted and directed by Peter Glanville
Until 26 August
Ages 3-6
Artistic Director of Polka Theatre, Peter Glanville, directs Amy Tweed and Daniel Harlock running until 26 August. 
The Everywhere Bear has a home on a shelf but he doesn't spend very much time by himself, for each boy and girl in the class is a friend and he goes home with one of them every weekend. 
A tender tale from the creators of The Paper Dolls, The Everywhere Bear has a wonderful time with the children in Class One, but one day he gets more than he bargained for when he falls unnoticed from a backpack and embarks on his own big adventure! He's washed down a drain and whooshed out to sea, rescued by a fishing boat, loaded onto a lorry, carried off by a seagull... How will he ever make it back to Class One?
This captivating and beautiful new story from best-selling author Julia Donaldson and illustrator Rebecca Cobb springs to life with rhyme, original music and delightfully expressive puppets in Polka's fun and exciting stage adaptation.
Polka Theatre, Wimbledon
240 The Broadway, Wimbledon, London SW19 1SB
www.polkatheatre.com
How to get there: 
By Train
: Wimbledon Station BR (10 minute walk)
By Tube
: Wimbledon, District Line (10 minute walk)
South Wimbledon, Northern Line (5 minute walk)
By Bus: 
57, 93, 219, 131 stop outside Polka
156, 163, 164, 200 stop nearby Wimbledon (10 minute walk)
Main Stage
Double Act
Until  Sunday 5 August
Adventure Theatre
The Everywhere Bear
6 July – 26 August
Main Stage
Jack and the Beanstalk
8 – 19 August
Main Stage
Three Sat Under the Banyan Tree
28 September – 21 October
Adventure Theatre
Rise and Fall
29 – 30 September
Adventure Theatre
Kaleidoscope
4 – 7 October 
Adventure Theatre
Five Little Monkeys
12 – 14 October Adventure Theatre
3 Little Pigs Tails
19 – 21 October
Main Stage
The Gingerbread Man
24 – 28 October
Adventure Theatre
Under the Rainbow
24 October – 3 November
Adventure Theatre
Over the Moon
4 November 
Main Stage 
The Wind in the Willows
9 November – 17 February
Adventure Theatre
The Frog and The Princess
10 – 11 November 
Adventure Theatre
Snow White, Rose Red, Bear Brown
16 – 18 November
Adventure Theatre
In the Winter Wood
29 November – 17 February