Welcome to our blog where guest writers give their tips about ways to keep children safe.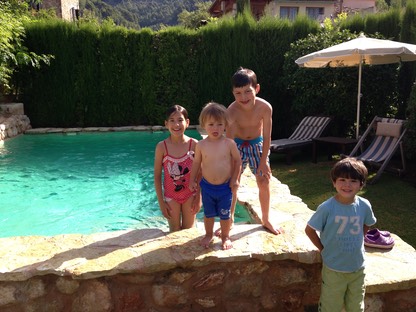 Swimming Pool Health and Safety Tips
By Becky Flanigan
There are a number of ways to make a home or holiday swimming pool a more safe and healthy environment. Here are 10 great things to think about, both when preparing the pool, and when it's in use.
1) Have a fence around the pool.
According to RedCross.org, one way to make sure there is no unauthorized access is to install a fence at least 4 feet high around the pool. The fence should have a gate, with a latch that closes and latches automatically.
2) Use alarms around the pool area.
First, use a pool alarm that will give an audible signal if a body falls in the water. Have an alarm set up on the gate to the pool area, that will signal if someone attempts to enter when they are not supposed to.
3) Always supervise the kids.
For infants, always keep them in contact with an adult, and for young kids, always stay within arm's reach. When there are children in the pool, choose a responsible adult to watch the water at all times. Never allow the children to swim alone, and have a Coast Guard approved life jacket for the youngsters.
4) Have a clear set of rules.
Make sure everyone who is to use the pool knows the rules, that safe behaviors such as "no diving," "no running" will be enforced, and compliance is expected. If necessary, a "timeout" for a child who disobeys will go a long way to ensure that the rules are honored in the future.
5) Don't forget the pets.
It's easy to assume that dogs won't get in trouble in the water, but prepare for the possibility that a dog may need help. Have a flotation device handy – a life preserver with a long line will work well for a pet. Also, mark pool exits – dogs have poor depth perception, and can't always easily spot a way out of the pool. Have a bowl of water nearby so the pets don't try to drink pool water.
6) Check out pool toys.
A plastic toy with a sharp or frayed edge could lead to a nasty cut. A floating toy which has a leak could cause choking or suffocation. Check the toys for mold or mildew, which could cause problems for children with allergies. When buying pool toys, make sure to choose toys appropriate for the age of the children who will use them.
7) Check the pool area.
Look for uneven surfaces around the pool that might cause a cut. It is recommended to install pool drains with anti-entrapment drain covers, and a vacuum release system that shuts off if a blockage is detected. Check the drains to make sure they are functioning correctly.
8) Check the pool chemicals.
Test the water with a pool test kit, to make sure the pH is in balance, and that the pool chlorine is in proper proportions. The pH should be just above neutral, between 7.2 and 7.6 parts per million (ppm). The chlorine level should be at 1 to 3 ppm. Adjust the chemicals as needed.
9) Make sure the pool is kept clean.
Use a skimmer to clean leaves and debris out of the pool. Check the pool filter to make sure it is clean, which will allow it to function properly. If it appears to need cleaning, a 10% solution of muriatic acid will clean the filter and allow it to be re-used.
10) The occasional shock treatment.
In order to maintain a clean pool, it is helpful to shock the pool with chlorine, to get rid of organic compounds which have built up. It's not just a matter of dumping a bunch of chlorine in the pool. There is a specific formula for how much additional chlorine to add – follow that procedure.
With some effort and by taking the time to provide a safe and healthy pool area, everyone can relax and enjoy time spent at the pool, with great peace of mind.
Becky Flanigan was an English major in college, and now uses those skills when writing freelance articles for PoolCenter about pool cleaner parts and other topics. Becky enjoys spending time and travelling with her husband, 3 kids, and 2 golden retrievers. A safety conscious Mum, she spends many happy hours at the family swimming pool, watching the kids and dogs splash and play.  She is also an avid gardener – and even helps friends decorate and landscape their yards.