Local Mums recommend the best schools in our area for children with Specific Learning Difficulties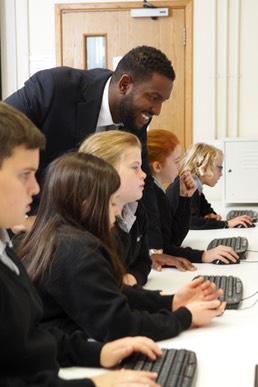 "I highly recommend The Moat School to all Local Mums. We are so pleased that our son Sebastian has settled in so well. It is wonderful to hear that he is coping so well, but also that he is learning so much! I thought a few times: Really? Our Sebastian? The whole family is so delighted that Sebastian is happy and can be himself now.  There is nothing more heart warming than to see him be able to be the best he can be, and for him to feel that that is enough. To know that he is valued and feels safe. I am so grateful for all the support and encouragement invested in him. I have already noticed a big difference."
Karin Palm, Local Mum
"I highly recommend The Moat School to all Local Mums. Ever since our son first attended The Moat he has been a happier child with improved self-esteem. He now likes going to school where before he did not want to go because the teachers were not able to work with him. The Moat has friendly methods and all the teachers are qualified to teach dyslexic children. We are so pleased with the progress our son has made and that he is once again a happy child."
Urszula Ejsmont-Jenczelewska, Local Mum

Come and see for yourself…
Our next Open Days are:
Tuesday 28th April 2015 - sessions available 9am-11am and 2pm-4pm
Thursday 1st October 2015 - sessions available 9am-11am and 2pm-4pm
Saturday 3rd October 2015 – 9:30am – 12:00pm
The Moat School
An aspirational Secondary Day-School for children with Specific Learning Difficulties

Founded in 1998, The Moat School is London's first co-educational secondary school for dyslexic children, offering an intensive and structured learning programme teaching the national curriculum.
Children receive a totally inclusive education. They understand their difficulties, but thrive academically, emotionally and socially in spite of them. Pupils have individual timetables that address their needs and creative talent is nurtured in small classes enabling success in public examinations. The Moat School is CReSTeD registered and has been described as the 'Gold Standard' in SpLD education.
In terms of adding value, The Moat School has continued to perform in the top 5% of schools nationally since 2005  - Analysis of MidYIS  by the Durham University's Centre for Evaluation and Monitoring
The Good Schools Guide says: 'Something special. Not for children wanting to be cosseted and comforted, but a hardworking haven for bright, determined dyslexics and dyspraxics who know what they want from life and will achieve when given a chance.
Come and see for yourself…
Our next Open day is Thursday 28th April 2015
sessions available 9am-11am and 2pm-4pm
Contact:
The Moat School,
Bishop's Avenue
Fulham
London
SW6 6EG
Tel: 020 7610 9018
Email: office@moatschool.org.uk
www.moatschool.org.uk