diddi dance classes are action-packed, full of fun and a great way to build little ones' confidence, co-ordination and creativity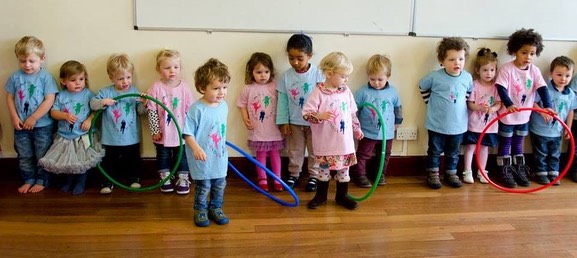 diddi dance classes are for girls and boys aged 18-months to 4.5 years and are the only pre-school dance program to explore 14 different dance styles.
"At diddi dance we enhance children's endless energy and enthusiasm through funky, full of fun sessions," explains Daniellle Greetham who runs the diddi dance franchise in Mid and East Surrey. "Our action-packed, fun 45 minute dance classes are designed to build confidence, co-ordination and creativity."
The classes were devised and started by Anne-Marie Martin, a professional dancer with over 20 years teaching experience. After running for over nine years in London diddi dance now have over 30 locations all over the UK with more opening up all the time.

Blossoming confidence
Parents and carers are encouraged to join in and share the enjoyment with their diddi dancer. "Week after week you will soon see their confidence blossom," says Danielle.
"Classes are ideally suited for both boys and girls between 2-4 years, however we have had lots of children as young as 16 months join in," adds Danielle. "We do realise that some toddlers are more confident than others and this is why we offer a free trial, so you can be confident it's a class they'll enjoy. Bookings are then taken in half term blocks instead of having to book for a whole term."
diddi dance run weekly classes, private parties and nursery sessions. Why not join the fun, see where the closest diddi dance is to you and give Danielle a call to book your FREE trial!
New classes that have now started are...
Tuesdays @ 10:30am The Kings Centre, Coppard Gardens, Chessington, KT9 2GZ
Tuesdays @ 1:30pm Nuffield a Health fitness and Wellbeing Centre, Peaches Close, Cheam, SM2 7BJ
Local Mums are entitled to a 10% discount if two friends both sign up before end of September 2014.
Read Local Mums' reviews of diddi dance
Contact:
Daniellle Greetham
diddi dance Mid and East Surrey
Email: danielle.greetham@diddidance.com
Tel: 07729848419
diddi dance on Facebook
www.diddidance.com