Faster. Safer. Smarter. Quieter. And nearly £300. Is the new Dyson hairdryer worth the price tag? Kathy McGuinness visits the Dyson Demo store to investigate.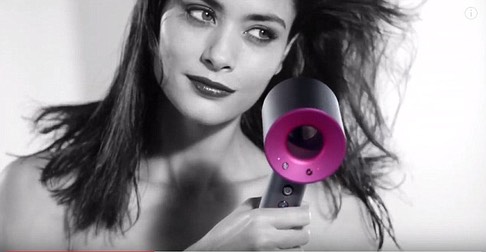 The Supersonic, Dyson's first ever beauty gadget which aims to revolutionise your hair-styling routine, is the impressive result of 600 prototype dryers, 1,000 miles of human hair and £50 million of research. It's a high-maintenance path to discovering and marketing the secrets of a quick route to a good hair day - and was never going to come cheap.
UK ladies (let's be honest, few men will be using this particular gadget, although it may be on a few husbands' Christmas shopping lists this year) can walk away with this high-end piece of hair kit for £299. (It's a Dyson, it was always going to be pricey).
How does it work?
Dyson spent millions on research in its specially constructed beauty lab to combine an ultra-powerful, directed airflow (like rapid hand-dryers in public loos) with a heat-protection sensor that prevents the temperature ever hitting the point where your hair gets damaged.
The beautifully minimalist result gives you the fastest ever blow-dry (this alone is enough to sell it to time-stretched mums) as a stay-cool nozzle smooths your hair as you dry. You end up with the sleek finish you could only hope to get from a Brazilian straightening treatment or block bookings at the blowdry bar.
Is it easy to use?
More than usually cack-handed with gadgets, I've busted no end of high-tech delicacies. I nearly broke my Dyson hoover through being too impatient to follow the instructions. But the Supersonic is simple and intuitive. The magnetic fixtures mean there's no risk of snapping off small and irreplaceable terminal plastic parts (my speciality) however much of a rush you are in.
Rather than blowing my hair all over the place, like a tube train sucking out of a station, the nozzle pointed the air in precisely the right direction to leave my dye-damaged hair unbelievably glossy. Previously I would have to check in to a blowdry bar or use straighteners to smooth down my curly-haired frizz but there would be no need if you were the proud owner of the Supersonic.
How fast is it?
Now all this is fab and probably a lot more than I need as a work-at-home mum but what really blew me away was the speed. I don't bother drying my hair often ever since that ironed-curtain straight look became unfashionable. I cursed Jennifer Anniston during the 90's for the gorgeous-honey-highlighted-straight-hair look (I coudn't look more different, even on a good day) but thanks to Kate Middleton's bouncy brown do, anything goes.
If I had to attempt a figure, I'd say the Supersonic probably halved my drying time, which is fantastic news for me and my four kids on a weekday morning with a meeting to go to.
Is it worth it?
It's undeniably faster, quieter, safer (important if you have a pre-teen daughter like me) and easier to use. I've NEVER had such smooth, shiny hair from a DIY blowdry with no styling products before. My hair was still shiny and smooth the next day. 
I like the look of it too (hey, we're talking about a hairdryer; don't kid me that looks aren't important). The granite grey and shocking pink of the groovy 'O' shape are just the right shades of metallic. Pink is a loaded colour these days but this coolly avoids the pitfalls of infantalised or trashy. It's an 'I mean business' pink and 'I'm not here to pussyfoot around': my favourite shade.
£299 is an insane amount of money for a hairdryer but as another time-pressed working mum said to me sagely, "It saves me time and time is money."  Whether I've even got the halved time to spare most days is another problem. But when you really need it and you're short of time, what price a good hair day? Definitely worth it.
Contact:
Dyson Demo
447 Oxford Street, 
London W1C 2PR
Nearest tube: Bond Street or Marble Arch
If you would like a complimentary blow dry and styling session with the Supersonic at one of our Local Mums' events, please contact us at info@localmumsonline.com for more details.