Pines and Needles Christmas services are launching a fun Christmas competition to get families in the festive spirit. Just name your Christmas tree to enter!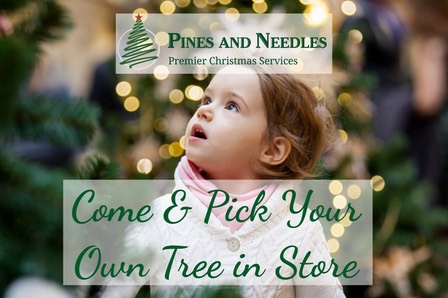 Would you and your children like to get in the Christmas spirit and enter a fun competition?
Premier Christmas Services company Pines and Needles believe Christmas is a time for traditions, and want to start a new one by getting your family to name your tree. 
From Fergus Fir to Penelope Pine, we want to know your tree names. The wackier the better!
If you need some tree-spiration to get you started, here's our 6ft beauty, Bruce the Spruce:

Simply share your photo of your tree on Twitter, Facebook or Instagram, let us know what you've decided to call it and use the hashtag #BruceTheSpruce to be in with a chance of winning a free tree for life!
Our team of experts will be on hand to pick the best dressed and creatively named tree. Winner will be announced on the 22nd December. 
Good luck!

Pines and Needles 
Pines and Needles are Christmas tree specialists, a British brand with Scottish Heritage. Pines and Needles was founded by brothers Josh and Sam Lyle back in 1995, then aged 15 and 13. The brothers loaded an old horsebox with Christmas trees from their family farm in Scotland and took the long journey down to London. Since then, the kilted crew has grown and the team are supplying premium Christmas trees across the UK.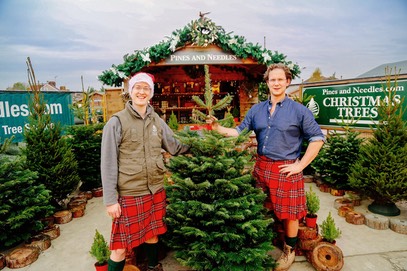 Christmas isn't Christmas until you've chosen your tree. Have some Christmas fun choosing the size of the tree, touching the branches, smelling the scent...it's all about selecting your perfect tree, perfect to your family, naturally perfect in shape and size making it so unique. Pines and Needles experts (wearing kilts!) are on hand to give advice at their stores. 
A special day out for the family and they even have a delivery service from our stores to local postcodes for an extra cost. It couldn't be easier! Stores are re-stocked every morning with dozens of trees, freshly cut and delivered straight from their 'magical' plantations. You won't get fresher, fuller or more fabulous trees anywhere else!
What's more the experience doesn't end there, for once the tree is home the decorating fun awaits the family. Task the children with taking care of the tree, making sure it stays topped up with water to stay beautiful and away from heat.
Watch out on social media for Pines and Needles Treetorial events for the children, come along and have some festive fun after school!
Stores in our area:

Kingston
The Hawker Centre, Lower Ham Road, Kingston upon Thames KT2 5BH
Tel: 0203 384 9420
Wimbledon 
Wimbledon Park, Wimbledon Park Road Entrance
Tel: 0203 598 4877 
Fulham
St John's Church, N End Rd, LondonSW6 1PB 
Tel: 0203 598 4877
Barnes 
Barn Elms playing fields, Rocks Lane, Barnes, SW13 0BY 
Tel: 0203 598 4877
Wandsworth High Street
98 Wandsworth High St, London SW18 1EP
Tel: 0203 384 9420
Wandsworth Bridge Road
117-121 Wandsworth Bridge Rd, Fulham, London SW6 2TP
Tel: 0203 384 9420
Brockwell Park
Norwood Rd, London SE24 9BJ
Tel: 0203 384 9420

Contact:
Stores Team
Pines and Needles
Tel: 020 3598 4877
Email: storeteam@pinesandneedles.com / marketing@pinesandneedles.com
www.pinesandneedles.com