Interior Designer and Local Mum Alexandria Dauley is blogging for us about Interior Design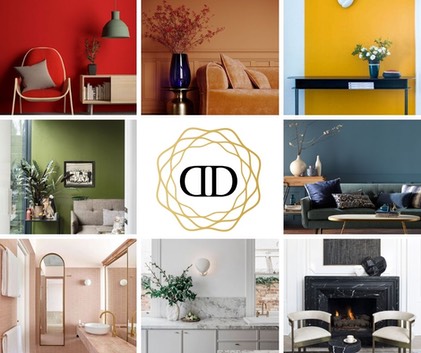 Why the place we call home is so important
Since lockdowns and the increase in working from home people are now spending an enormous amount of time at home. Our homes have needed to become multi-functional spaces which include areas for work, rest and recreation.
We have realised the importance of creating a space that works for us and is able to accommodate all of these different activities. 
Many people have recognised that their home is not designed to comfortably sustain prolonged periods in one space and are now addressing those  issues through home improvements.
Here are some ideas for you to create a space for prolonged and multi-faceted use.
·   Consider the colours in your home. Choose colours that are calming such as blues, greens and neutrals to create a feeling of relaxation and calm.




·   Invest in practical and abundant storage. A home can never have too much storage. Organising your home with a dedicated place for everything will help you maintain a calm and functional space.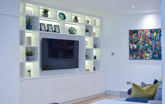 ·      Fill your home with plants. Plants are wonderful for oxygenating a room, bringing the outdoors in and creating a link to nature. Plants can really lift a space. This is particularly important if you don't have access to a garden or outside area.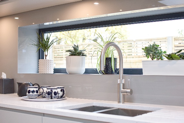 ·      Try to create a dedicated area for work. We have seen a huge rise in garden offices or garages being converted into offices. If you don't have the space or means to build a purpose-built office consider converting a spare room, cupboard under the stairs or adding a floating desk in an unused corner of a room. It will mean less spreading your work all over the kitchen or dining room table.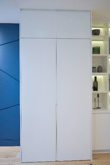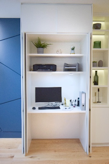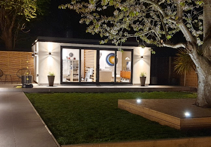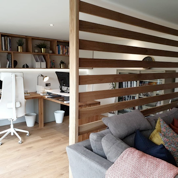 ·      Lighting is hugely important in any interior but even more so when you are spending long periods of time at home. Make sure your lighting is adequate for any tasks and ensure you can dim any lights to create a softer ambience and change the mood for different times of the day.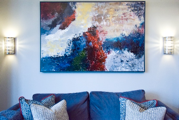 Colours and emotion
Hi, I am Alex,  Local Mums Online's Interior Design editor and owner of Interior Design and Build company Dauley Design. Colour is always a hot topic with clients and choosing the right colours for your home is crucial.
Colour has the ability to inspire, excite, soothe, heal and even agitate, so the importance of picking out just the right colour shouldn't be underestimated. Think about how you wish the room to make you feel before making any decisions.

Red. Red has the ability to energise the body and excite the mind, increasing heart and breathing rates. However, some research suggests that too much exposure to red encourages aggressive behaviour and an inability to focus. The bottom line: Red is great as an accent colour but might not be the best wall colour if you are trying to create a sense of calm.
Orange. Largely underused, orange is perhaps one of the most misunderstood colours. This warm, friendly and youthful colour is a feel-good shade and the colour of companionship, intelligence, laughter and appetite.
Yellow. Most of us associate yellow with feelings of happiness and cheerfulness. Studies also pair this bright and cheery colour with motivation; softer yellows can aid concentration, while brighter ones can increase memory. Beware of using too much bright yellow, though. In large doses it may create feelings of agitation and even anger.
Green. This calming, natural colour has a soothing impact. Green is the colour of nature, it creates feelings of calm, restfulness and peace. There's no need to keep this anxiety-reducing colour to a minimum.
Blue. Having the opposite effect of red, blue decreases feelings of anxiety and aggression and lowers blood pressure and heart rates. Blue is the world's favourite colour and it's popularity can be due to the vast options of shades and hues of blue. From Navy and Indigo to Pale Pastel and Sky blue, it is truly a versatile choice.
Purple. Often associated with royalty, purple is ambitious and self-assured. It's also the colour of passion, creativity, wisdom and spirituality. This deep and emotive colour is great for inspiring sensitivity and compassion.
Pink. Although it's historically associated with feminine spaces, pink has had a resurgence in popularity and is the Interior colour of choice at the moment dismissing any gender stereotypes. Pink has a calming feel that can be warm and inviting. Some shades of pink are even being considered a neutral such is their global appeal.
Neutrals. Neutral, warm colours inspire happiness, relaxation and comfort in most people. They allow you maximum flexibility when building a scheme in your home. These easy colours act as a platform for brighter and more daring shades to be added for interest.
White, Cool Colours. These colours are reflective and can therefore make spaces feel light, airy and more open. These colours can convey serenity, purity and cleanliness however white walls are not for the maintenance averse as marks, scrapes and bumps will all show up and need regular touch ups. Try layering in shades of cream for some softness and contrast.
Black. This, the darkest of all colours can add drama and sophistication to an Interior. It provides an anchor to ground the most colourful of spaces. It is rarely used as a main wall colour but is popular on furniture and accessories.


For all Interior Design and Build enquiries please contact alexandria@dauleydesign.com
www.instagram.com/dauleydesign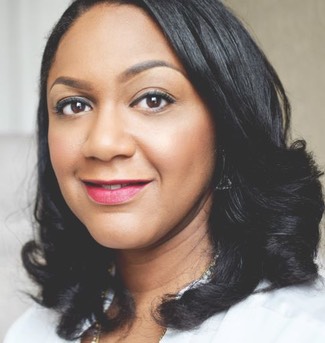 Interior Design Steps to Follow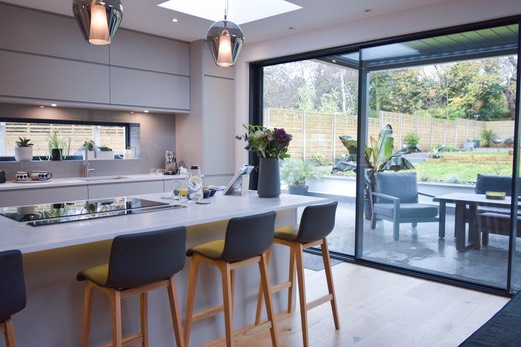 My name is Alexandria Dauley, Interior Designer and owner of Dauley Design, Interior Design and Build company. I am always amazed that people dive into decorating a space purely based on what they would like it to look like at the end, which of course is the ultimate goal, a space that reflects you through the selection of colours, furniture, accessories etc. However, there are some key questions to ask and steps that you need to follow to achieve a great space.
Ask yourself 6 Key Questions
Who, What, When, Where, Why and How?
Who?
Who are you designing the space for? Who is going to be using it? How old are they? The needs and personalities of the people using the space will help you determine what is needed in the room. For instance, if the main chef in your house has back issues, do they need a cooker at a raised height to minimise bending? 
What? 
This will help you establish what you need in each space? What do you do in the space? Does your living room need to work as a TV room, office, dining room and reading room? If so, each element needs to be catered for.
When?
When will you be using the room? This will help you decide on colours and lighting. If your living room is only used in the evening when you have artificial light switched on this will influence your choice of colour and lighting maybe opting for a darker scheme.
Where? 
Where will you shop for all the items you need? Start by making a list of all the pieces you need then putting a budget next to them, this then gives you an overall budget for each room. Once you have a budget you can shortlist any shops or suppliers who sells items within those budgets making shopping much more streamlined and time efficient.
Why? 
Are you redesigning for you to live in and enjoy or to add value to sell the property? Ultimately you should design for your own lifestyle and taste but remember items such as built in storage and well laid out and quality kitchens and bathrooms are desirable for future homeowners.
How?
Once you have set out the above now you need to work out "how" to approach the project. Start by getting a budget spreadsheet and list all of the costs, work out whether this a phased project? Find a trusted and recommended contractor, look at their work and seek at least 3 quotes. 
I hope that if you are planning your own redecoration these tips can help you. If this leaves you feeling daunted, enlisting a professional Interior Designer will help you navigate all of the above steps in much greater detail, creating the design, sourcing the materials and furniture and project co-ordinating contractors and trades on your behalf. 
Thank you for reading and for any more information feel free to contact me at the below links.
Tackling the issues of a lack of diversity in Interior Design.
United in Design, was founded by Sophie Ashby and Alexandria Dauley to address the lack of diversity in the UK Interior Design industry. Specifically, the lack of representation from the black, Asian, ethnic minority and low socio-economic communities.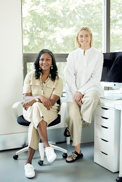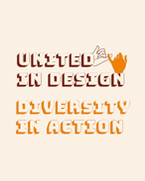 Through partnerships with established educational programmes, industry professionals and sponsors, the intention is to provide a clear road map for increased diversity in all sectors of the industry —design studios, makers, suppliers to individuals and magazines.
On June 4th 2020, in light of the murder of George Floyd and the global anti-racism uprising,
Having trained and tutored at KLC School of Design, I had seen first-hand the lack of diversity coming through the doors of our training providers. I reached out to several people of colour within the Interior Design industry to discuss and understand their challenges and experiences, asking what they felt needed to happen to address issues of inequality. Motivated by the conversations, I reached out to magazine editors and leaders in the industry to specifically promote the benefits of schools outreach programmes, having had my own personal success story in the form of my daughter, now a ballerina at the Royal Ballet School thanks to a brilliant initiative "Chance to Dance".
I am so proud and excited to have set up this charitable non-profit organisation to help open up the Interior Design industry to all. Which is being supported by over 100 leading interior designers.
The support has been overwhelming.
https://www.livingetc.com/whats-news/united-in-design-236725  
https://www.houseandgarden.co.uk/preview/article/united-in-design 
Please check out the website at www.unitedindesign.com for more information and to support the initiative.
Contact:
Alexandra Dauley
Founder
Dauley Design
Email: alexandria@dauleydesign.com
Web: www.dauleydesign.com
Instagram. www.instagram.com/dauleydesign