It's hard to imagine a more wonderful way to get to know your newborn than relaxing together at the idyllic Manoir La Croix de la Jugie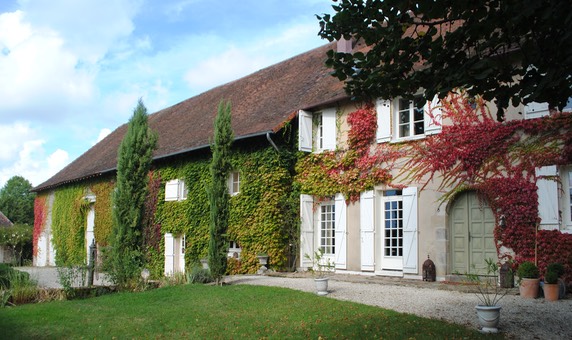 How do you fancy a relaxing holiday with your baby to recover from the birth and recharge your batteries in beautiful surroundings? New mums and dads getting to grips with the demands of a newborn can now do just that with the launch of a post-natal retreat at Manoir La Croix de la Jugie  - a gorgeous 18th century manor house in the Limousin region of France.
"Parenting, with all its joys, can also be stressful and overwhelming at times and finding that elusive 'me' or 'couple' time can be a struggle," says owner Clio Wood, a new mum to a 10-month old daughter and founder of the upcycled furniture label Clio the Muse in London. "If you're lucky enough to have help you might have attempted to get back to some form of exercise but more often than not it's an effort to get out of bed, let alone squeeze your boobs into a sports bra!"
What makes La Jugie's post-natal retreat so unique is it's designed to cater for the whole family.  "It's the perfect getaway to give mum some time for herself to get back in touch with her post-natal body, while dad and baby sneak some precious bonding moments," explains Clio, who lives with her husband and baby daughter on a narrowboat in East London.
If you're just coming up for air after welcoming your little one and are ready for a well-earned rest, Manoir La Croix de la Jugie  is a great excuse for a family holiday in a stunning environment - with the added opportunity to sample the region's excellent cheese and wine!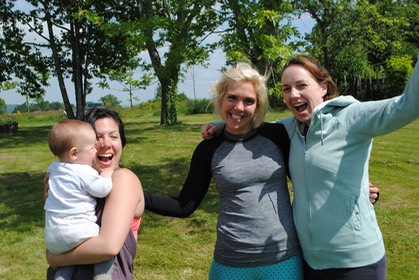 Beautiful surroundings
Sleeping 16+ people in eight bedrooms, with a swimming pool and six acres of grounds, Manoir La Croix de la Jugie is full of character, decorated and styled by the manor's talented owner, Clio. Clio has put her own stylish touch on the Manoir, combining rustic, farmhouse chic with modern, upcycled and quirky features, creating a luxury, family-friendly, hideaway in La France Profonde.
"The Manoir's history is evident in the impressive barn attached to the main house, the Bergerie, which was the Old Sheep Shed, and the stables," says Clio. "There are beautiful character touches throughout the house, with grand old beams, stained glass windows and a quirky layout crying out to be explored." 
There are several spacious living areas: Grand Salon, Petit Salon/Billiard Room, Dining Room and a large kitchen with another long dining table and wood-burning stove. The stables feature a ping pong table and the games room in the Manoir itself has a billiard table and plenty of board games. There's also a small collection of bikes for scrambling around the estate or cycling into the village.
"Limousin is a wonderful undiscovered part of France to discover," adds Clio who is a self-confessed Francophile. "The surrounding villages and towns like Chalucet, Coussac Bonneval, Nexon as well as places a little further afield like Brantome, St Jean de Cole, Limoges, Perigueux and the Perigord-Limousin National Park are well worth a visit. There are also several fascinating museums in Limoges, some beautiful chateaux to explore and vineyards where you can sample the produce."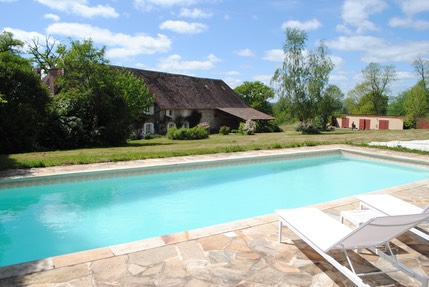 All-inclusive relaxation
The post natal retreat at La Jugie offers:
• An all-inclusive retreat for the whole family (designed for families with newborns and toddlers)
• Six nights accommodation at the Manoir. One double en-suite room for every family. All bed, bath and pool linen provided. Travel cot and baby baths are also available as well as sterilisers and high chairs if required.  
• A tailored programme of cardio (fun, dance and aerobic workouts), toning (pull those tummies in) and lower impact stretching and pilates - instructed by the wonderful Caroline Bragg, personal trainer extraordinaire and fully trained in pre and post-natal exercise.
• Two fitness sessions daily for mums, whilst dads spend some quality time with the little ones
• Full use of the living spaces in the Manoir, including the heated pool and six acres of grounds
• Three delicious, healthy meals a day using lots of fresh local ingredients, plus healthy snacks (and a few good treats thrown in). Meals will be shared around the big outdoor table giving you a great chance to meet your fellow retreaters
• All evening meals will be within baby monitor range of all rooms, meaning you can put your little ones to bed and enjoy dinner with your partner
• The weeklong retreat is priced from £1,250 per family - this includes accommodation, food and drink, all fitness classes and a personal training session per couple, instructor-led dads' excursion, daily maid service, one relaxing massage for each adult, and use of all facilities on the estate
If you like the sound of this fabuolus post-natal retreat why not give Clio a call? Booking for the post-natal retreat at www.lajugie.co.uk is now open for 12-19th September 2015. 
Manoir La Croix de la Jugie will also be open for bookings during 2016.

Contact:
Clio Wood
Manoir La Croix de la Jugie
Tel: 07739 413 835
Email: clio@lajugie.co.uk 
www.lajugie.co.uk