Local Mums recommend the best meal delivery services in our area

"I highly recommend Independence Market to all Local Mums. After a busy day it was such a treat to have their delicious, healthy, easy-to-prepare, home-cooked food delivered to our door and at a really reasonable price. I chose the Non-Classic Paella and Comfort Fish Pie with salmon and haddock from the great online menu that varies every week. Both were absolutely delicious and my hubby and kids (pictured above) loved trying them both. Every morsel was devoured! 
The fish pie came in a disposable wooden dish you can put straight in the oven, perfect for when you have literally no time but want something lovely you know the kids will enjoy. The paella came with really easy, fun instructions which took minutes to prepare in the special paella dish provided; result - a fabulous and impressive looking dish, ideal for a dinner party or special occasion. 

The recipes are so good and easy to follow that we have recreated both dishes already this week and are planning to do so again next weekend for a dinner party. However, on the days when I just don't have time to cook or want to relax and enjoy company I will be placing my order with Independence Market to guarantee perfect, timely food and a relaxed Mummy.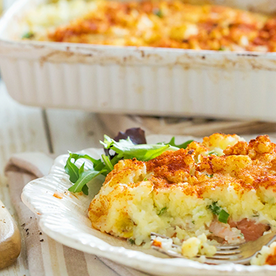 The service at Independence Market is fantastic, from the one-hour time-slot dispatch rider delivery to the email cooking instructions from founder Robert that pop into your in box just as you hit the kitchen (amazing!). Order before 1pm every day for a delicious, fresh meal with different menus that change theme each week. 
The owners of this family-run business are friendly and passionate about good food, so it's just the sort of local business I like to support too. With 50% discount at the moment for local mums on your first order, why not give Independence Market a call for a lovely stress-free family dinner this week?"
Kathy McGuinness, Local Mum of four

50% discount for Local Mums 
Check out this great service out at www.independencemarket.com, choose a meal and enter 'Get me dinner!' at the checkout for a 50% discount!

Contact:
Robert Hocking 
Founder
Independence Market
Tel: 07854 152129
Robert.hocking@independencemarket.com 
Independence Market on Facebook
Independence Market on instagram
Independence Market on Twitter
www.independencemarket.com