If you have little ones it's time to think about your Will and their guardianship should anything happen to you. Exclusively Wills can make the whole process easier for you.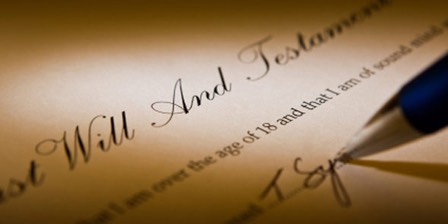 Lots of parents worry about their Will and who will look after their children if anything happens to them, however many parents also find it difficult to find the time to write their Will.
Exclusively Wills  is a professional local Will-writing company, established since 1997, that can take care of the work for you and advise you on all matters concering Will-writing.  "Our aim is to provide a professional, flexible and friendly service to meet the individual needs of our clients," says Rosemary Slatter from Exclusively Wills.
Guardianship of minors
"Lots of mums and dads are concerned with guardianship of minor children and peace of mind to have a valid Will," explains Rosemary. "Exclusively Wills are members of the Society of Will Writers and as such we adhere to the professionalism and integrity that the Society expects of its members."
"We offer appointments during the daytime and early evening and a consultant can visit you at home to discuss your wishes and take instructions for drafting a Will for you," adds Rosemary.  "The consultant is with you for about an hour and can offer advice and guidance. When making appointments we write to confirm and send an information pack."
Exclusively Wills offer Local Mums a discounted fee of £99+VAT for double Wills (partners/spouses) and for a single Will it is £79+VAT which includes for a consultant to visit as well. 
Other services
Exclusively Wills offer a full Will-writing service and also draft Lasting Powers of Attorney (LPA); the fee for these is £230+VAT each.  "There is a huge amount of work involved in the LPAs and we normally draft these over two visits," says Rosemary. "These are not normally a priority for a lot of young mums and dads but we have drawn them for some of our NCT clients."
Exclusively Wills also draw up Property Trusts. "Again this is not such a priority for younger clients but we still offer this service," adds Rosemary. "Our fee for these is £325+VAT for both Wills and includes any property severance (this are normally drawn up over two visits)"
So if you would like the peace of mind of knowing your little ones will be cared for by the right people, or need any other Will-writing services, why not give Exclusively Wills a call? 
Read Local Mums' reviews of Exclusively Wills
Contact:
Rosemary Slatter
Administrator/Secretary
Exclusively Wills
Tel: 0208 408 0836
Email: info@ewltd.com
www.ewltd.com