With a strong community spirit among staff, parents and children, Bertrum House School for children aged two to seven is a hidden gem in South London.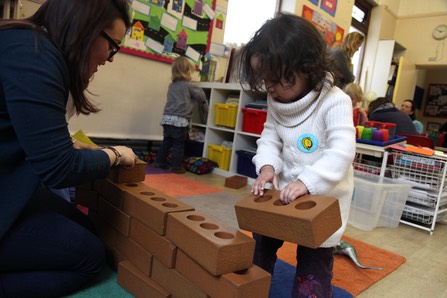 Kirsty Pirrie, Principal of Bertrum House School, describes her school as having a 'a village atmosphere.' Despite the school's location in the heart of South London, this unique atmosphere is achieved by the strong community spirit that the school has carefully developed.
Established in 1984, Bertrum House School is a non-selective family school specialising in the five formative years of education from 2 to 7 years old. The highly qualified staff, chosen for their energy and commitment, nurture the children with creativity, humour and affection in a bright and spacious surroundings. 
"For young children it is especially important that their first big step beyond the secure world of family life is a very positive one," explains Kirsty.  "The teachers know every child extremely well and give them the individual attention and support they need."
As part of the gentle introduction to school life, Kirsty and her team welcome children under three to their 'Fun on Friday' sessions at their Rowfant Road site.  They offer a drop in 'Stay and Play' with half an hour of music with Sarah from Monkey Music and half an hour playing in the exciting nursery environment.  
The 'Stay and Play' Playgroup is open to all families. Parents, grandparents and nannies are welcome to bring along their babies and toddlers for the specialist music session followed by an opportunity for children to play together in a safe and bright environment while adults can talk with other parents, carers and staff in an informal and friendly environment. These sessions run from 2.00pm to 3.00pm in the school's Nursery.
So if you would like your child to try the unique atmosphere of Bertrum House School with the gentle introduction provided by 'Fun on Fridays', why not give the school a call to discuss attending one of their fun, informal sessions. Sessions are limited to 12 children, so call the school office early to book a place.
Read Local Mums' reviews of Bertrum House School 
Contact:
Bertrum House School,
53 Rowfant Road
London
SW17 7AB
Tel: 020 8767 4051
Email: office@bertrumhouseschool.org.uk