Booking a holiday is a big commitment so it's important to get good recommendations you can trust. Local Mums share their travel tips here.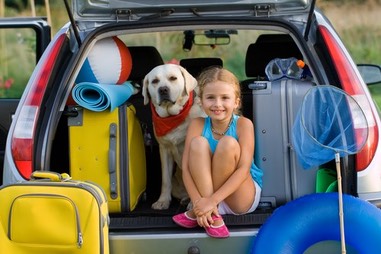 "I highly recommend Kersty Wood from Travel Counsellors to all Local Mums. She is an independent travel expert and advised and helped us book our family holiday to Cyprus. Kersty provided outstanding service and I don't say that lightly, I'm hard to please! She spent weeks researching our requirements, negotiating the best deal and then when we messed up our booking due to our passport mishap that meant we had to move dates and pay huge penalties Kersty managed to sort it all out for us and pull the right strings to waiver the charges. On top of all that she has been so lovely to deal with. She really loves her job and cares about her work and I think it's important to recognise and support that."
Suzy Doyle, Local Mum of Sophie, 3 and Samantha 1
"I highly recommend Kersty Wood from Travel Counsellors. Initially I had a small enquiry regarding flights to Dubai and then a family holiday with a big ask involving teenagers. Kersty researched and came up with a number of suitable options within our budget so we were in fact spoilt for choice. I was very impressed with Kersty's handling of my requirement. The information she gave me was informative without prejudice and friendly. Kersty treated this comparably small enquiry with great professionalism; she made it feel to me as though the same care and consideration went into my enquiry as for one which was worth considerably more. I can thoroughly recommend Kersty of Travel Counsellors for any commercial, business or private flights, travel and holidays. You will be assured of the very best of service."
Vanessa Udall, Local Mum




Travel Counsellors 
When David Speakman first started Travel Counsellors in 1994 he could never have foreseen it grow into the success story it is today but was sure the business model was right. He recognised that expert travel consultants were the unsung heroes of travel and the success of Travel Counsellors has proved this to be the case.
Travel Counsellors is now a truly dynamic and global travel company with 1,200 travel counsellors, each with an average 20 years experience working across six countries and a 200-strong head office team in Bolton, UK. Our customers benefit from having their own personal travel counsellor who takes pride in getting to know their clients personally, providing them with the highest possible levels of personal service and taking care of all their travel requirements down to the last detail.
Travel Counsellors may have grown into a large, international company but at our heart we are still a family business. Our ethos of friendship, camaraderie, caring and support is not an "added extra" it's at the very heartbeat of our organisation. We believe it's this family ethos that has been a major contributor to our success and has driven the care and attention we offer to our customers individual travel counsellors and staff.
In the pursuit of excellence, our insistence on high standards and our emotional attachment to our customers, we have developed a loyal public following like no other. Every day we go the extra mile to take care of our customers' leisure and business travel arrangements down to the last detail.
Essential to this is our standing as travel industry leaders in Customer Financial Protection. We take great care in trying to avoid many of the less financially robust companies that operate in the industry. In addition, we protect every penny of our customers' money in the form of a Trust. As both agents and operators we offer the very best and most comprehensive financial protection in the industry, which means Travel Counsellors' customers can be safe in the knowledge that their money is completely protected. We believe strongly that this is not a privilege but a customer's basic right.
We are proud of what we have achieved over the last two decades. We will continue to put our passion for personal service to work for our customers in decades to come, always putting our customers first and always with the determination to be the very best we can be.
Contact:
Kersty Wood
Travel Counsellors
Tel: 01372 743096 
Email: kersty.wood@travelcounsellors.com
www.travelcounsellors.com