Local Mums recommend the best Early Years & KS1 tutors in our area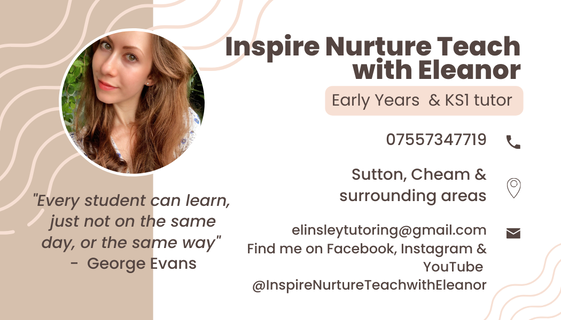 "I highly recommend Inspire Nurture Teach with Eleanor to Local Mums. Eleanor is an excellent tutor and my daughter flourished with her. She was able to thrive and learn all her phonics before she started school. She was fun and exciting and was able to help her access her work in a stimulating and fun way. Her teaching is personalised to each child."
Ashna, Local Mum
"I recommend Inspire Nurture Teach with Eleanor to Local Mums. Eleanor tailors the class to each individual student as per their needs. She encourages them really well giving them the confidence to push themselves and give their best at each lesson. She is really friendly and great with the children, engaging with them down to their level and being able to bring them back in to focus as required."
Vaish, Local Mum
"I highly recommend Inspire Nurture Teach with Eleanor to Local Mums. Eleanor is reliable and committed to tutoring. She strives to understand her students' learning skills and works with them to teach them in a fun and enjoyable way whilst adhering to the expected national curriculum. My son has attained remarkable improvement having one on one lessons with Eleanor."
Jovia, Local Mum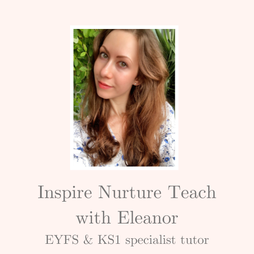 Inspire Nurture Teach with Eleanor 
Early Years & KS1 specialist tutor 
I can help your child thrive. 
An outstanding and dedicated classroom teacher for almost a decade I have taught in multiple schools, shaping hundreds of young lives and taking on roles from subject to early years phase leader. It was time for a new adventure so I started Inspire Nurture Teach with Eleanor because teaching is my vocation and now I can tailor it to every unique child which is a joy. I am passionate about education and nurturing children, empowering them to have the best start in life.
How I can help you and your child:
1:1 tuition - £45 p/h - I offer 1 hour or 1 1⁄2 hour sessions, this is dedicated time and in addition you also have access to me throughout the week if you have questions. 48 hour window reply time. People choose to have sessions weekly, twice weekly or more; it is about what is best for you and your child. I also offer additional sessions during school holidays.
Initial consultation - free - So we have a chance to "meet" and make sure we are a good fit I offer a free 15 minute zoom consultation.
Welcome session - £25 - Usually 30-40 minutes these sessions give us a chance to talk about what you would like your child to gain from our sessions and for me to find out about them, which is very important. These can be done in person or via zoom.
Homework - £2-£3 - If you would like weekly homework set there is an additional charge of £2- £3 depending on what materials are necessary.
Group sessions - £20 p/h per child - A maximum of 4 children per group, minimum of 3. Participants to be organised by parents to ensure compatibility and a suitable location. Otherwise, run as outlined above for 1:1 tuition.
Parent consultations - £22.50 for 30 minutes - Time to discuss your child's development and ask any questions about curriculums, being "on track", progress, any concerns you may have or anything you would like the thoughts and advice of an expert about.
Tricky times - £45p/h - Is your child transitioning to a new school and finding the prospect of this hard? I can help. Many other challenging situations can still arise today such as children struggling with self-acceptance due to race, gender, identity and more; I can work with you to help your child on their journey to love themselves.
Ready readers - £20 - Whether help is needed to turn reluctant to ready reader or to stay on top of regular reading homework, this is an online service I offer where I will support your child doing their reading via zoom, helping them to progress and enjoy. Sessions are 30 mins.
24 hour cancellation policy.
Online programmes coming in early 2024.
It is fantastic to see the wonderful results that specially tailored tuition can enable children to achieve and we always have fun as we learn. Please do get in touch for a free consultation today. 
I look forward to working with you and your child.
Best wishes, 
Eleanor
Contact: 
Eleanor Linsley
Inspire Nurture Teach with Eleanor
Tel: 07557347719
Email: elinsleytutoring@gmail.com
Find me on Facebook @InspireNurtureTeachwithEleanor 
Find me on Instagram @InspireNurtureTeachwithEleanor 
Find me on YouTube @InspireNurtureTeachwithEleanor