Whether it's a fitness class that really works or a personal trainer that manages to motivate, Local Mums give their recommendations here.
"I highly recommend Maria Holley's Legs, Bums and Mums classes to Local Mums. I have been going to this class since my daughter was three months old; she is now one and I'm still going now I am back to work! I would really recommend this class both for getting back into exercise postnatal but also for once you are feeling more like yourself. Maria will tailor it for you depending what stage you are at. She is incredibly supportive and a great motivator - supporting you to get the most out of the session. The fact you can take your baby with you and be outside are great bonuses! First class is free so you can try before you commit but Maria offers pay as you go and a discounted term package. Really recommend - you won't regret it!"
Katie Costello, Local Mum
"I recommend Maria Holley's Legs, Bums and Mums classes to all Local Mums, her classes are brilliant. I always leave feeling so positive and energised! Regardless of how many participants are there, it feels like it's almost a one-to-one class as Maria is so attentive, making sure your technique is right and making sure you get the best work out for you. She's great with the babies when they start getting grouchy too, so that you can concentrate on exercising. One of the best things I've done during maternity leave, I would highly recommend them and such a reasonable price too."
Maria Gorham, Local Mum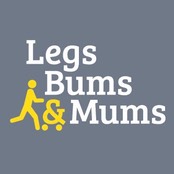 Legs, Bums and Mums
These classes are designed for pre and post natal women, from six weeks onwards (10 weeks if you have had a caesarean) and are a total body workout.
They are a great way to meet local mums and give you and your baby some fresh air, whilst getting back in shape at the same time. The only equipment we use is the environment around us and some resistance bands, which is a more suitable approach after giving birth than heavy weights. At the end of your first session, your instructor can check your stomach to see if your abdominal muscles have come back together. If you have a separation, you will be advised which abdominal exercises are best for you.
New class in Banstead
I am starting a new Legs, Bums and Mums class at:
Lady Neville Recreation Ground,
Banstead
Monday mornings at 11:15am
(classes commence from 19th September).
This will be slightly different from my other buggy classes as it will have a HIIT element to it (High Intensity Interval Training) and because of this will only last 45mins long. It will still have low impact options for those people who have just had a baby.
I am also launching a new service – small group training on a Friday morning for a maximum of four people with or without children.  You can book in blocks of four weeks either as a group of friends or as an individual. The smaller classes enable a more bespoke approach to training.
For those that are looking for a totally bespoke approach I offers personal training through Maria Holley Fitness. I will design a plan based on your individual needs and circumstances to help you achieve your goals.  I have worked with individuals trying to improve their sporting performance, professional dancers and people just looking to get back into shape.  Whatever your goal, there is a plan that can help you.
I have recently launched a women-only (not just post-natal) class on Fridays in Banstead and I also run classes in Carshalton, Wallington, Redhill and Caterham.
If you have any questions regarding my classes just give me a call!
Contact:
Maria Holley
Maria Holley Fitness
Mob: 07860 144051
Email: maria@mariaholleyfitness.co.uk
www.mariaholleyfitness.co.uk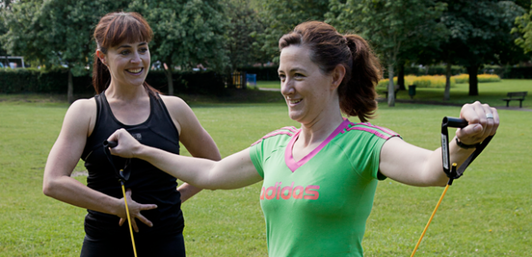 After having two children, local mum Maria Holley went for a change in career.  Maria spent most of her life in the entertainment industry performing in a number of the biggest musicals in London's West End theatre including playing Truly Scrumptious in Chitty Chitty Bang Bang at the London Palladium. 
Maria qualified as a personal trainer and set up Maria Holley Fitness after deciding the unsocial hours of the theatre took her away from spending quality time with her family.  
Maria works with a number of clients either one to one or in a group, and designs tailored training programmes to help people achieve their fitness goals.  As part of your programme Maria is also qualified to give nutritional advice to support it.  So whether you have a big goal in mind or you just want to lose a few pounds, Maria will help you achieve it.
Maria is currently leading a fun and challenging outdoor fitness sessions at various locations in Surrey and SW London. These classes is suitable for all levels of fitness and Maria will help you go at the pace which is best for you. "We focus on cardiovascular endurance, strength and toning," says Maria. 
Maria also runs Legs, Bums and Mums post-natal classes for mums to excercise with their babies in local parks.
So if you fancy some of Maria's star treatment, give her a call to find out about her popular clases or just turn up and join in!

Contact:
Maria Holley
Maria Holley Fitness
Mob: 07860 144051
Email: maria@mariaholleyfitness.co.uk
www.mariaholleyfitness.co.uk