We live in a wonderfully creative community. Here are some great ideas to relax, unwind and use your own creativity and learn new skills.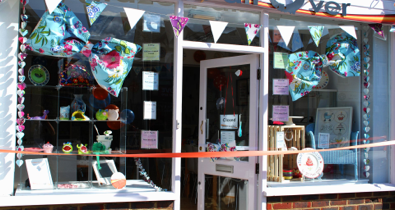 "I highly recommend Glazed All Over to all Local Mums. I enjoyed a wonderful evening with friends at one of their Ladies Nights recently. What a wonderfully relaxing way of spending a Friday evening, completely focusing on something new and emptying the brain of everything else. It was like art therapy for a tired mind!"
Lynn, Local Mum
"My daughter and I are Glazed All Over regulars! It is lovely spending some quality time with her there being creative! They stock a wide range of products to paint which have made lovely gifts for family and friends as well as decorating our own home. I have particularly enjoyed participating in the glass workshops which run once a month on Wednesday evenings. Last summer I made a lovely sun catcher which hangs in my porch for all to see and at Christmas made some glass decorations which I hope will adorn my tree for years to come. The atmosphere in the shop is calming and peaceful and the owner Sarah is always welcoming. I'd recommend it to all Carshalton Mums!"
Carol Read, Wallington Mum of Isobel, aged 10

"I love Glazed All Over because I love painting things and I love arts and crafts. I also like their school holiday workshops because they are awesome. I like their workshops because I get to do things I wouldn't get to do anywhere else. Sarah is lovely, very helpful and full of ideas."
By Isobel Read, Age 10

Glazed All Over
Glazed All Over began life as a paint-your-own-pottery studio in 2008 but has since expanded and developed into a unique craft space offering a wide range of activities for people of all ages and all abilities. 
As well as the much loved pottery painting sessions and parties we now offer Clay Club and are launching Drawing Club after Easter as well as parties and a broad range of crafty school holiday workshops for children. 
Our hugely popular Ladies Nights give mums a chance to chill out, unwind, catch up with friends and be creative. It's a great opportunity to relax and do something for yourself. You bring the wine and nibbles and we bring the fun!
Glazed All Over also run evening Glass Workshops for adults offering you the chance to try something a bit different without needing to commit financially to a year-long course. These workshops allow you to take some time out, relax and learn a new skill.
Clay Club
Thursdays, 4.30-6pm
12 week course £100
During the course children will learn to work with clay making lots of exciting projects. They will learn to make pinch pots, coil pots and slab pots as well as working with slabs to make hangers. During October they will make things for Halloween and in December they will make decorations ready for Christmas.
There will be a maximum of 8 children per group to allow for individual help. Please note that children below 7 years old must be accompanied by an adult.
Please phone us on 02086476463 or email info@glazedallover.co.uk for more information and to book a space.
Drawing Club
We will be starting a Drawing Club after Easter 2013
Learn to draw with illustrator Rick Machin!
Mondays after school, 4.30pm-6pm
Age 7-11
6 week course £90
Or drop in £20 per class
Call now to book your place!
If you would like to book a workshop or party at Glazed All Over, contact Sarah Glazier at:
Glazed All Over
102 Stafford Road
Wallington
Surrey
SM6 9AY
Tel: 020 8647 6463
Email: info@glazedallover.co.uk
www.glazedallover.co.uk