Help researchers at King's College London understand why children act differently in social situations and win up to £100 Amazon vouchers for your child.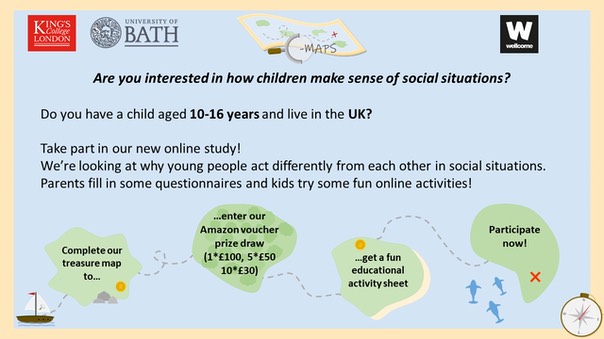 Do you live in the UK? Do you have a child aged 10-16? Are you interested in how children make sense of social situations?
Researchers at King's College London are looking for school-aged children to take part in a new online study called C-MAPS, which aims to understand why young people act differently from each other in social situations.
For parents, it involves completing some short questionnaires, which are expected to take 20-30 minutes. For children, it involves trying out some interactive science activities online - these can be done in 1 or 2 separate sessions, both lasting around 30 minutes.
Children will receive tokens for a raffle to win Amazon vouchers (1 x £100, 5 x £50, 10 x £30). All families that take part will get an educational newsletter that explains why it's important to understand things like memory and attention and includes some fun science-themed activities for the whole family!
If you have any questions, please email: cmaps-study@kcl.ac.uk