Local Mum Suzanne is working with Reigate and Banstead council to help us get more out of our rubbish recycling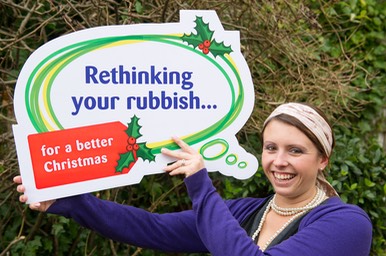 Recycling guru and mum of two, Suzanne Gadilhe, has teamed up with Reigate & Banstead Borough Council to help get everyone thinking differently about recycling. Together we're encouraging people to rethink their rubbish for a better Christmas.
You might find the benefits of rethinking your rubbish surprising – it can help you save those much needed pennies before Christmas (and even make some money), transform your outfits for next to nothing and make the most of your food over the festive period.
Suzanne takes us through some of the things she gets up to as an avid re-user recycler, which help her get the most from her Christmas budget and reduces the amount of waste that she and her family make over the festive period.
"Often, people think of recycling as putting paper in the right bin and making sure the leftover peelings go on the compost. It's much more than that though – recycling can be a lot of fun and gives you a chance to explore your creative side. You can do as little as you want or as much as you want. I choose to do the latter!"
Waste-busting ethos
Suzanne grew up with a strong recycling ethos instilled by her mother: Suzanne explains, "Mum was doing it long before it became the done thing. My day starts with composting my tea bag and finishes with my kids and me scraping vegetable peelings into the compost. In between, I transform old yoghurt pots into plant pots and turn my son's old t-shirts into superhero costumes. There's always a way to reduce what you use and recycle more. The new recycling service in the borough really reinforces this message."
A time of giving
Luckily, the run up to Christmas is the prime time to explore the endless recycling possibilities. Suzanne has already begun her preparations…
"I've got an early start to my present making. So far, I've created several magnetic fish out of old clothing for the kids, made some lovely pairs of hand warmers and have sweated at the stove making marmalade and sloe gin. I'm very conscious of the amount of plastic that's used around Christmas time in presents and the like so I prefer to make as much as I can for the family.
Turkey anyone?
Food waste is something else the new recycling service is making local residents very aware of. As Suzanne explains: "Seeing how much waste goes into the food caddy really makes you think about ways to use food more wisely – especially important as we all like to over-indulge at Christmas. With just a little forward thinking and organisation it doesn't have to be an issue.
"I always think ahead when I'm planning my Christmas menu – and remember that our eyes are usually bigger than our stomachs! I like to make sure the kids are involved in helping to reduce how we use our food as best we can. After lunch, we either go down to the garden to put our leftovers on the compost or we think of things to surprise their dad with when he gets home from work for dinner. There are some brilliant ideas on the Love Food Surrey site if you're struggling for inspiration."
The price is right
At this time of year, a little extra cash is always welcome. Suzanne shared her secrets:
"I visit web sites like Music Magpie to generate income to pay for some of our Christmas expenses. Instead of cluttering up the house with unused DVDs and CDs that are no longer listened to, your can make some money by selling them online.
"That's not all you can sell online though – don't forget about Amazon and eBay. I often sell old books, clothing and any odds and ends. It's a great way to recycle your goods whilst making a little money.
"And, for something a little different, check out the shwop initiative. Any old clothing you have can be dropped off at one of M & S's shwop drops – they work with Oxfam to reuse, recycle and resell and you receive M & S vouchers when recycling M&S clothes"
Searching for ideas?
There are many ways to rethink your rubbish. Working in partnership, Reigate & Banstead Borough Council and Suzanne have pulled together a fact sheet with tips on how to reduce, reuse and recycle during the festive period. Check out the council's website for details. Suzanne has also turned to social media to inspire others, as she explains:
"I've created a 'Talking Rubbish' page on Pinterest www.Pinterest.com/talkingrubbish. Have a look at it for ideas on how reusing and recycling can be fun, easy and fuss free. You'll also find photos of e and my children busy recycling on the Council's newly-launched Flickr page"
One final request – if you can't reduce or re-use your rubbish and are recycling things, please make sure you 'recycle it right'. If you aren't sure what can go in your mixed recycling bins, visit www.reigate-banstead.gov.uk/recyclemore.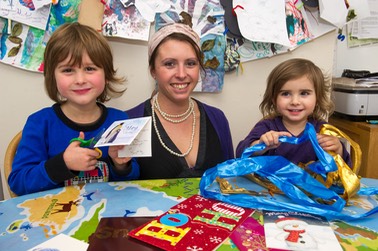 Suzanne with her kids