Local Mums recommend the best stage schools in our area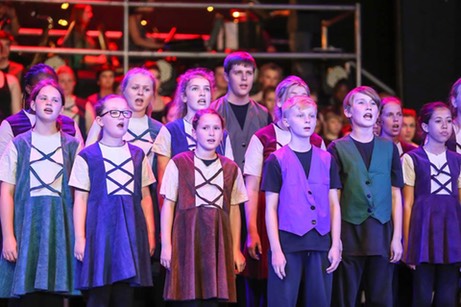 "I highly recommend†Top Hat Stage & Screen School Surrey†to all Local Mums.†Saturdays have not been the same since Josh started Top Hat. He loves it all, from the wonderful new friendships through to the performances. The opportunities he has experienced are ones he has dreamed about! The new skills and experiences have developed his confidence and maturity in all aspects of his life."
Sally Smyth, Local Mum
"I recommend†Top Hat Stage & Screen School Surrey†to Local Mums.†Both my children love going to Top Hat. My eldest daughter, who is 14, considers her Top Hat friends to be her main group of closest friends. They are all very nice, loyal and fun loving children and the confidence Top Hat has given both my girls, in terms of performing on stage, but more importantly in increasing and promoting their self esteem, is immeasurable."†
Julia Holm, Local Mum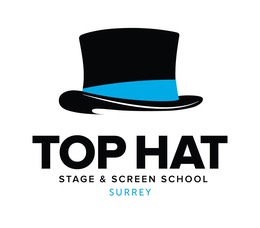 Top Hat Stage & Screen School Surrey
Whether your child dances around in your front room or has already got some performing arts experience, there is something to do for every child at Top Hat as every child is important to us.
Children do not need any experience to take part in our weekend, part-time or holiday courses; all they need is their enthusiasm and passion.
We offer a wide range of courses, from regular weekend schools in various locations, through to Street Dance classes and even Parties. There's something for every child at Top Hat.
Top Hat is a part time theatre arts school for children aged 4 - 17 years of age. Our aim is to offer children training in dance, drama and singing, in a fun-filled, yet exciting environment. Top Hat is dedicated to developing performance skills as well as having fun and building self-confidence.
Top Hat Stage & Screen School Surrey†has a Free Open weekend.†
New students very welcome.†
Come along for a FREE trial. Just turn up.†
Part Time Theatre Arts Training
Saturdays: Stanley Park Infants: SM5 3JL - 10:00-1:00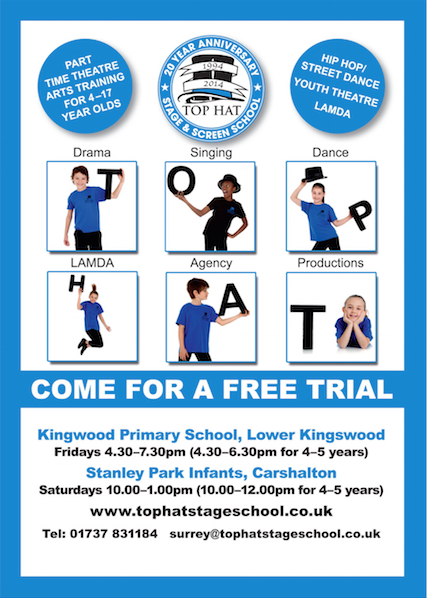 SPRING / SUMMER 2016 – Electric 80's Showcase
L.A.M.D.A. Saturdays at 1.15pm for children Aged 8+
Stanley Park Infants
LAMDA - The London Academy of Music and Dramatic Arts examinations are accredited by the Qualifications and Curriculum Authority (QCA).
This places them within the National Qualifications Framework (NQF), for comparison to other qualifications; the higher level is an equivalent of GCSE.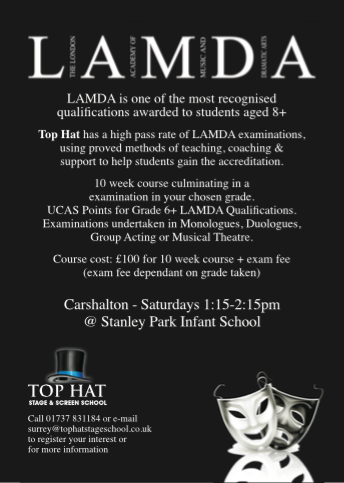 HIP HOP Dance Troupe on Saturdays
Under 9's @ 12.30
Over 9's @ 1.30
£60 for 10 Week Course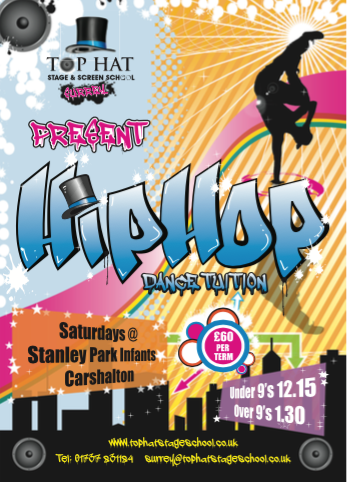 For more information please contact:†
Sara Dibley
Centre Manager
Top Hat Stage & Screen School Surrey
Tel: 01737 831184
Email: surrey@tophatstageschool.co.uk