Ex-Local Dad (he now lives in Germany) Nick Zea-Smith is blogging for us about life under lockdown with his wife and four kids. This week, he WALT's with Lord of the Flies and 1970s gateau …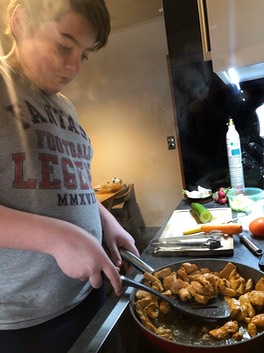 April 8th, 2020
Dual settings
Our house right now swings between two distinctly different places. An airport departure lounge or the set for Lord of the Flies. Time has no real meaning; people shuffle around in comfortable clothing with no apparent hurry, it's acceptable to drink wine or a beer at 10:30am and destination 'happy' is far away on the horizon.
The second is like a third-rate rave where the volume is turned up beyond 11, everyone's screaming the contents of their head at you all at once, and the pages of the rule book have been ripped up and used as toilet paper. Welcome to week one of Easter holiday.
"Nothing will change"
So, what's changed in Germany? Not much is the answer. Shops are slowly finding 'normal', but most still don't have toilet paper and pasta also is in short supply. Isolated exercise 2.0-metres apart is still allowed; and we can't meet in groups of two or more. Life – of sorts – carries on.
Like everyone, a mental and physical fatigue has kicked in after almost four weeks of running on adrenalin. The Government here has confirmed it cannot give a date for a relaxation of corona virus restrictions which will continue until April 19, so there is more to come.
WALTing
Amid all this, we came across a new phrase this week which is fast becoming an isolation mantra. "We Are Learning To" (WALT) I guess comes from home schooling but has evolved into a skill-idea swap between isolated parents or friends.
WALT covers everything from highlighting Pinterest recipes, sharing DIY tips skills by Skype or as social media watch parties. One thing for sure is some of the 'we're all at home together' fun has gone. With this is the potential to impact mental health as cabin fever takes hold.
The strains are very real, so the video conference tech the office forced on most of us and never used is now connecting people over a virtual beer or three on a Saturday night to unwind. After our vBeers night out from our basement, we got told off on Sunday by teenagers that our music was too loud, we went to bed late and were then questioned about our drinking habits.
We've found, tech is also a way for children to explore and learn. If you're looking for something for them to do in the back garden, try Picture Partnership's Photo Bingo. The team in Shirley, Croydon, has created a fun photo challenge anyone can do with a digital camera or smart phone. Take a look!
Food, Glorious Food
To contain some cabin fever, we've created a holiday schedule that – while is a little more relaxed – enables our four children to use up some energy and get involved in the house. Each evening a different child helps prepare and cook dinner, then gives an overview of ingredients, how it's cooked and a history of the dish, like a chef or waiter explaining a restaurant menu.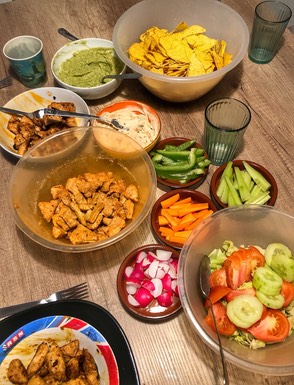 The upside is they're trying new food – including vegetables – and discovering a world beyond curry ketchup. I'm secretly thrilled you can hide tomatoes in sweet and sour sauce and they're a great help when you're creating 128 meals a week over three daily sittings.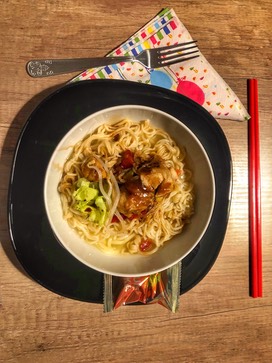 My fun WALT fact of the week: Black Forest gateau isn't from the Baden-Württemberg Black Forest region in south west Germany, but a little closer to home for us. The seventies dinner-party favourite was created by pastry chef Josef Keller in Bad Godesberg, Bonn at his restaurant in 1915.
The multiple layers of chocolate sponge cake, whipped cream and cherries inspired Keller to make a cake similar to hats he saw ladies wearing in the Black Forest while he was on holiday. Whether he had also prawn cocktail and washed it down with Mateus Rose in a basket remains to be seen.
Kraftwerk
The downside of all this tech is the remote IT support elderly parents I'm called to offer. I've realised everything app/tap screen related is as much good as a chocolate teapot if you're 76, have arthritis and only know basic word processing. At times, I've used a webcam held by my Dad to view a computer screen via Skype in the UK while I've 'walked' my Mum through issues from Germany. I'll never look at IT support teams in the same way again as a result.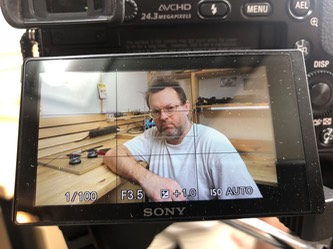 To widen my skill base while I'm off, I've started also to explore the world of YouTube as a basement influencer with the children, using a home electronics project as the basis for a short experiment. I got the teenage gamer of the house to record what I did on an iPhone, then used a free online video edit software to make 3-minute WALT show following how we make a Bluetooth speaker. It's been fun and I'm passing on also editing skills I learned 30 years ago to my son.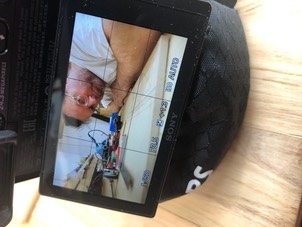 Isn't it funny how the worthless 'junk' in Dad's magic box in the garage and cub scout skills suddenly become useful? As we move into week five, stay safe at home, healthy and don't forget to smile as all this will pass!
April 2 
Grand Design
The week Lockdown Dad tackles home schooling four kids with massive power tools, British prisoners of war and toilet roll in Germany…
For years I've complained to my wife about the subjects our children have been taught at school. Does anyone have any idea what citizenship studies are, or what use a learning journal is later in life? Me neither. Answers on a postcard…
The lockdown in Germany has given us both the time to contemplate this, and for me to 'adjust' the curriculum a bit so our children are not just model citizens but equipped also to deal with daily life.
During regular school hours, there's the usual maths, French, German, Englisch (!) and sciences, but after a socially acceptable walk in groups of no-more than two, we're trying something different in the afternoons.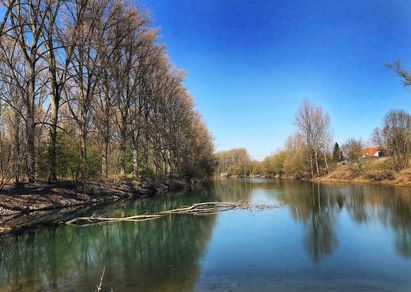 With spring starting to blossom all around us, I'm starting to prepare the garden for summer. To offset some of the cost and possible future food availability issues, we're expanding our veg boxes in the garden.
My biggest gripe with education globally is that children are not taught design. It's useful for all matter of things from planning furniture in a room or garden patio, to understanding how 'stuff' works.
If you have a rudimentary understanding of design, your house renovation costs are slashed when buying a kitchen, car maintenance bills fall, and life is a bit easier all round.
Bringing, maths and design together in a practical way, I'm working with both my daughters to build the veg boxes – measuring the plot in the garden, working out how much earth we need to fill them (volume) and ensuring they're built correctly (90 and 45 angles).

 Practically, my girls now know how to use a drill, 1,500 watt mitre saw, the difference between nails, screws and coach bolts; and found new ways of problem solving.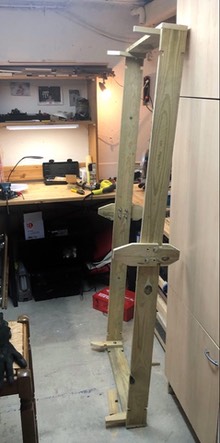 Rosie the Riveter is now Natalia the Nailer and our girls may just be better citizens for this. 

We also had fun, mainly at my expense. Having built the first veg box in my basement wood shop, I discovered it was too big to go up the stairs. After some struggling, the box is now in the garden and affectionately known as Colditz. The associated history lesson highlighted how British POWs in Schloss Colditz in WW2 built a wooden glider in the castle attic as a means of escape. Not sure the neighbours would appreciate the name of the design…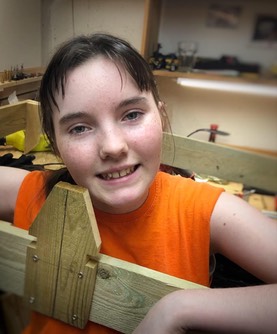 While the glider never flew, our build is complete, and the next stage is being planned – practical biology with lettuce, spinach and tomato seeds. We're also chucking six old spuds in the garden left over from shopping last week.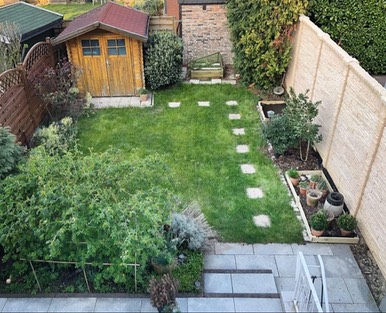 On that subject, I'll leave you this thought. All those people panic buying toilet paper are in fact closet gardeners who are using their two or three hundred bog rolls to grow veg. How? Take the carboard roll and fill it with dirt and place on a tray. 
Plant seeds inside the roll and place on a warm sunny windowsill. Water as and when required. When plants are 100cm (4 inches) transfer to the garden at the end of April. Eat when hungry and don't mention the…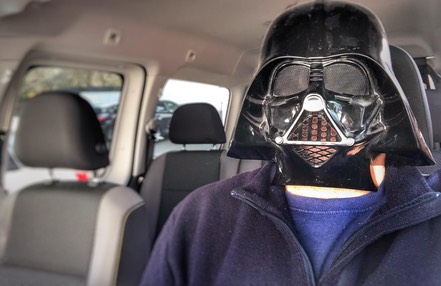 March 2020
Living on Lockdown Nine Days In….
So, you're on lockdown, with children and other half all sharing the same space – and dining room table. It's day two, you're now appreciating teachers and realising that they should be paid £500k a year. And wondering also if it's 5pm somewhere in the world so you can enjoy a glass of wine.
Welcome to the world of isolation and joining one or two of us who are ahead of you right now in parts of the world also impacted by the virus. Like everyone, we joked about it, then the realisation hit that this is long haul and are in at the deep end without a paddle, boat or anything useful to hand. This is a bit of a long-read, but as they say in The Shawshank Redemption, 'Time I got'..!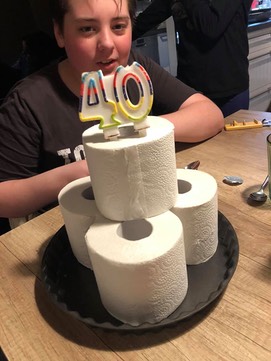 Our family live just south of Koln, Germany in a semi-rural area that's much like Carshalton, where we used to live. We are 35 minutes from the big city but are surrounded by farmland and mountains and have the mighty Rhein flowing by a meadow five minutes from the front door.  Like Carshalton, we have a wine area just south of us that's a tiny bit bigger than Box Hill and – in normal times – our children attend the village school, play with friends and have after school clubs.
About 10 days ago, we started to get a feeling that things would change as Munich – about seven hours south of us – closed schools and banned non-essential trips. People started working from home, changing their work schedules and stopped seeing friends. We started to plan for change by fuelling the car and buying dried goods that would go in the larder for the long term. 
Currently, gatherings of two or more are banned, non-essential shops are closed, restaurants can only serve take out. Tourism is closed, and only trips to hospital, doctor, place of work are allowed. Individual exercise is allowed in big open spaces two metres apart and there are no team games.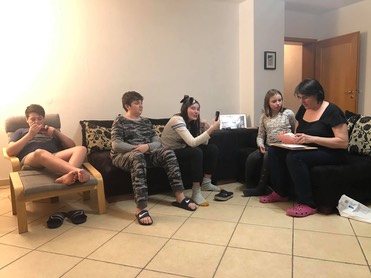 School's Out for Summer
Friday 13 March brought excited children home at lunchtime saying they'd been told school might close. By 1400 that day we had emails from three schools confirming this, and also that this might be the end of the school year.
So what do you do with four children at home, don't fully speak German and have to deal with all the associated paperwork related to Hausaufgaben – homework – plus tutors and office work? Get a bit creative and here's how.
We've found that lockdown isn't much different to being an English family living abroad, or anywhere. We're used to change, weird stuff going on that we don't understand and being bombarded with rules that may, or may not make a lot of sense, so only check with official government updates. Taking a chilled approach to it all is probably best.
The weekly food shop routine has changed. When we pop out on an errand, we go to a shop that is on route and buy a small number of items they have that we need. Two loaves, three milks, a bag of pasta etc. Like the rest of the world, folks bulk bought toilet paper so we've got creative with things we can't find so use suppliers on eBay and Amazon. Milk and eggs are readily available at our local farm shop as well so that's one less thing to worry about.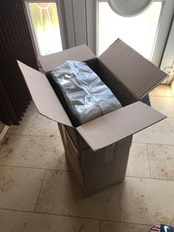 Oddly, German people bulk bought tinned mushrooms and gherkins, so if you can, please share insights on this as even the locals we know here are bemused by this…
You'll learn that your children are flexible and will 'get' how stuff works faster than you. They'll also show you ways of completing tasks with 'handy' (mobile) phone tech you never thought of and are a great resource.  Our children are helping friends with Englisch homework via Skype in small groups which is inspiring. We're trying to create a virtual school exchange programme so children in England learning German can communicate with kids here and learn. If this is of interest, please let me know.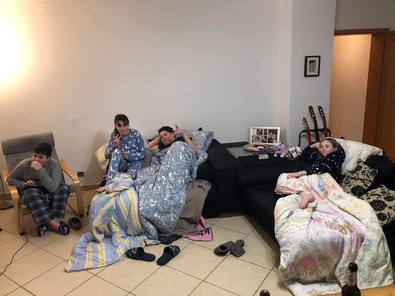 Doctor in the Haus
Technology is making things work. I've attended medical appointments with my doctor three blocks away by Skype, then received a prescription emailed to me as a PDF. I've then taken it to the pharmacy where they have the paper copy. Ask your GP if they're able to do this. Also, contactless payments and iWallets are now the fashion, while free video conferencing apps aren't just for work – cyber meets, dates and parties now happen via WebEx. If you have the tech, show your parents how to use the funny little dot on the front of their phone. Even if it is only to show them that the cat is happy…
Yale University is running some free online lectures, so I'm updating my professional skills while I can and do some of the free online courses I've been meaning to look at for the last two years. Time is a jewel, that can be used well!

It's not all doom and gloom
Mental health is key for everyone from parents to children so we're doing different things daily with each child to stimulate them and learn new skills in fun ways. We're also checking in with other friends and parents over a virtual glass of wine in the evening about schoolwork, lost textbooks, cake recipes or just to have a laugh. Sometimes it's at 10 am. We're not judging.
To break the monotony, every evening, a different child is managing the cooking and using maths skills to weigh and measure ingredients, and do fractions so everyone gets an even portion – we're also showing them how we budget each week. They've complained to us about the menus long enough and how it's cooked, so now the table has turned.
Our 96-year-old neighbour who survived the war in the navy, the long walk to Koln and living in a pulverised city explained the concept of rationing to the kids in the garden and gave them a history lesson. Seeing my lawn hasn't been cut since last year, with a glint in his eye, he highlighted a recipe people used in 1945 for grass soup. Germans have a brilliant sense of humour. Trust me!
In return we shared some of our toilet paper with them as they were struggling to find some things in the stores. Old people are living history and can share experiences with younger generation while getting some company in the open two-metres apart.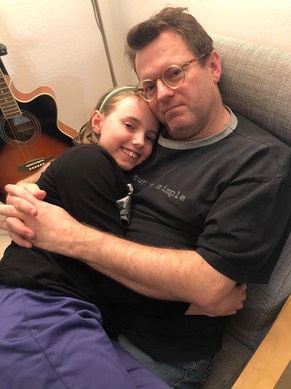 Learning can be Fun
We're being experimental and going beyond the things they learn in the classroom, so we're including some life lessons. Our girls are learning how the car works – checking the oil, lights and tyre pressures while at the local petrol station, so in future they know where everything is on their own vehicle. There's light bulbs that need changing in the living room, so everyone now knows how to do it, where the fuse box is and what to do if the power fails.
Germans love their grills, so lots of folks have dusted down their BBQ and are cooking outside – our neighbourhood smells amazing in the evenings. While it's still a bit cold, it's a great way to enjoy cooking a meal, then eating inside. We're also getting out in the garden, preparing the veg boxes and starting off seedlings in old egg boxes that are now on the window ledge… starting with tomatoes, lettuce and spinach, we'll see what happens.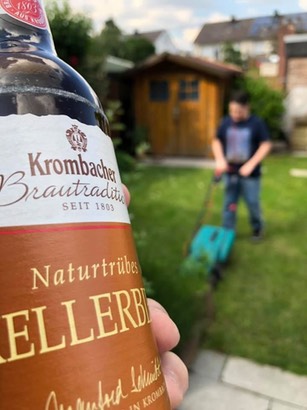 We've also found that Skype, Google, Zoom and Facebook Messenger are ways our children meet up to see friends. We've even attended a cyber birthday party with family as a way of staying connected.
If Netflix ain't doing it and Sky Sport isn't live, there's a few alternatives that help battle cabin fever. Arts and cultural events were stopped here about three weeks ago, so we are looking online for entertainment. 
The Berlin State Opera and Ballet is streaming nightly concerts via its website, theatres and musicians are doing this as well, so we've settled down together for something other than K-Pop. Tickets are usually €80 and won't let you in wearing your pyjamas… The Royal Opera House in the UK is doing something similar via Facebook. Automotive artist Ian Cook and his Pop Bang Colour studio are running art lessons for children via Facebook, so we've tuned in for some of these. Look them up and try new music or events you might not normally go for while they're free.  Gardeners and 'makers' are also doing learning events on You Tube. One friend here is learning Japanese while another is re-trying art lessons.
The biggest thing we've learned after nine days in is that keeping to your usual routine as much as possible helps, and not to dwell on 'the virus' with the children as they sense things are wrong long before we do. We must remember to smile and keep talking to each other within our own networks, and when out and about. For some, that smile and three second glance may be the only interaction they have with the outside world as they get to post a letter. 
The other is to thank the postie, bin man, doctor, teacher, supermarket shelf stacker and government employee when you see or speak with them. They were as prepared for this as you and they'll appreciate the moral boost.
Last thing at night, I go out into the garden and listen to the spring bird song and tranquillity that is around us. We'll miss it when we're back in the routine, so enjoy it while it lasts. This will all pass! 
Nick is the Director of Nick-Zea Smith Associates. Feel free to contact him for help with anything PR, Marketing and Brand Management-related.
Contact:
Nick Zea-Smith 
Director
Nick-Zea Smith Associates
Mob: +49.17624832249
Email: nick@zeasmithassociates.com  
www.zeasmithassociates.com