Hugely popular Hartbeeps classes - creating fun, educational and multi-sensory experiences for babies, toddlers and preschoolers - are coming to our local area.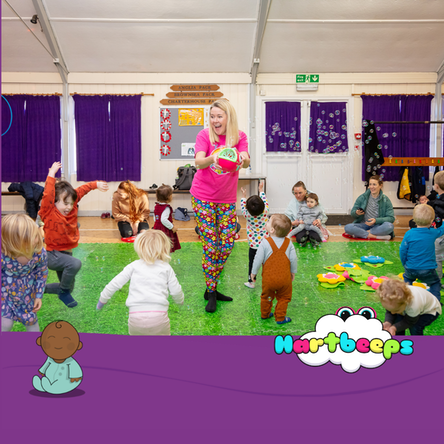 Hugely popular baby class Hartbeeps is expanding! It's January Term is available to book. Many classes are already full, so they have launched new afternoon session in Worcester Park and Epsom and Local Mums members can book a FREE trial today! 
If you choose to book onto the full term before the new year, use code PAB171 for 10% off!
Award-winning baby class Hartbeeps was brought to Epsom, Ewell, Worcester Park and New Malden in October by Local Mum Laura Stevens and has now expanded to Kingston and Surbiton. 
Local Mum Laura
Laura Stevens tried various baby classes but couldn't find anything that inspired as much as Hartbeeps, the award-winning classes described as "the most original musical baby, toddler and pre-school classes on the planet."

"I'm really excited to now be bringing the magical world of Hartbeeps to Worcester Park, Stoneleigh, New Malden, Epsom and Ewell," says Laura, who will be running Hartbeeps classes in her local area.  "As a new mum, I tried different baby classes but none have been quite as inspiring and wonderful as Hartbeeps."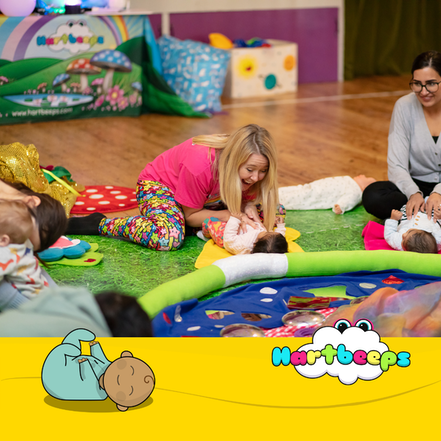 Developmental programmes

Hartbeeps creates developmental programmes for babies and young children using the medium of specially created play, music and song; much like an interactive musical for very young ones. 
Research has shown that babies and young children (under five years of age) develop at a rapid rate, with many studies stating that the first three years of a child's life are the all-important formative years, where they will lay down the foundations for their future.
"Babies and young children need activities and play to engage their senses," adds Laura. "Activities that engage the senses help develop cognitive thinking skills and promote active learning that is fun, encourages bonding and stimulates growth and development."
Multi-sensory

"Hartbeeps has always worked using the medium of multi-sensory stimulation," says Laura. "By creating a backdrop of contemporary and high-quality music and sounds to emote along with unusual and playful props, creative movement and puppetry to generate a theatre for young sensory explorers."

"The Reggio Emilia Approach (one of the philosophies Hartbeeps takes inspiration from) suggests that children should have opportunities to explore via sensory experiences and should be able to express themselves in many ways," explains Laura. "Building on this theory Hartbeeps creates mini wonderlands for every class using practical, yet unusual props to support themes, stories and characters. Babies, toddlers, children and adults are transported to a creative, beautiful environment with lights, mirrors, textures and colours which they can discover throughout the class."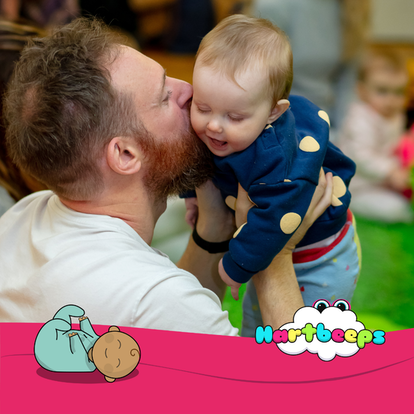 "My daughter thrived at Hartbeeps and I know Local Mums' little ones will love it too," says Laura. "The classes are specially created to help babies grow in confidence, develop great social skills and attain their appropriate developmental milestones while still being super fun for little ones and grown-ups."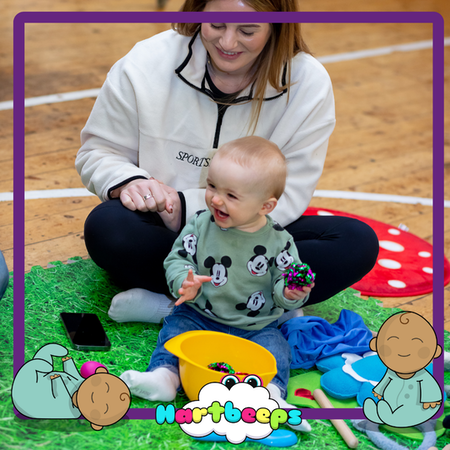 So if you would like to try these fun and educational interactive classes with your little one, why not give Local Mum Laura a call or book your free taster class here?
Local Mums Discount
10% discount at Hartbeeps for Local Mums members using the code PAB171 plus free trials on the launch of new afternoon classes in Epsom and Worcester Park

Local job opportunity
Your local Hartbeeps team is hiring! And yes, you can dress as a superhero, although a uniform is provided!
They are looking locally for new awesome Imaginators to join the team and commence training at the start of 2022.
As they grow the team, and plan exciting projects for 2022, this a perfect role for local mums looking for part time, flexible hours that work around the children. 
This role is incredibly rewarding but the does involve heavy lifting, a love for working with the public, good level of fitness and a car is essential.
You would be joining a very creative bunch of people who are super passionate about what they do, so don't put up barriers, if you are interested, send any questions or your CV and a brief introduction telling them why you would be wonderful for this job to 
laura.stevens@hartbeeps.com
Closing date 15th January 2022
Read Local Mums' reviews of Hartbeeps
Contact
Laura Stevens
Hartbeeps

Tel: 07535641365
Email: 
laura.stevens@hartbeeps.com
www.hartbeeps.com