The leading UK girls' title pledges to tackle market forces and update commercially-driven ideas of what it means to be a girl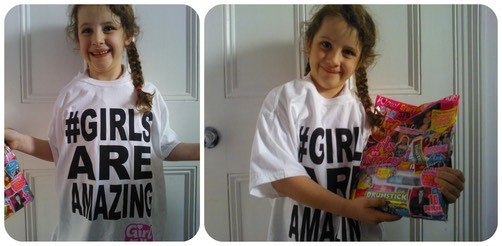 Girl Talk, the longest running pre-teen girls' magazine and publishing its landmark 500th issue this week, is launching a #Girls Are Amazing campaign to promote positive female role models and broaden ambition in young girls. †The campaign and underlying editorial commitment are in direct response to some upsetting, if not surprising, results in a recent readership survey.†
In a special anniversary poll, Katy Perry was voted 'most admired celebrity' by readers, followed by fellow popstrels Taylor Swift in second place and Jessie J in third position. †With the exception of children's writer, Jacqueline Wilson, the Top 10 most admired celebrities were all singers or actors. Sportswomen, politicians and businesswomen barely registered on the list.
Different ways of being a girl
The survey also revealed that an overwhelming 80% of young girls wanted to be referred to as "pretty", "kind" and "funny", with only 20% choosing "clever", "strong" or "brave" as important attributes.
More than a third of girls aspired to jobs in showbiz and their top 10 careers were either caring, artistic or performing – all in roles traditionally thought of as feminine.
Bea Appleby, Editor, Girl Talk Magazine: "We have always tried to protect the development of young girls, making sure that they don't grow up too early, but our survey results have revealed that this is not enough. We have a duty to show our readers different ways of being a girl and not just one narrow ideal.†
"We want to encourage girls to achieve and break away from limiting and old-fashioned beliefs about what girls can do. This is a powerful change in a girls' magazine and with the launch of our #Girls Are Amazing campaign we're making a pledge to include more editorial about inspiring women, confidence tips, opinion pieces from readers, as well as profiling a wider variety of careers and role models."