From osteopathy and accupuncture to nutrition and massage, Local Mums recommend the best health treatments for mothers and babies in our area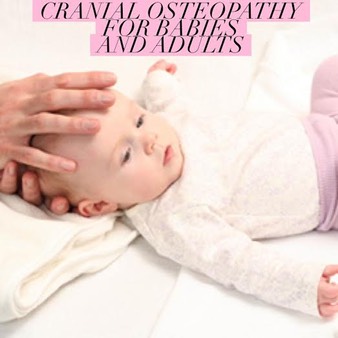 "I highly recommend the†Aston Clinic†to Local Mums.†As a family, we have benefited from their expertise for very many years. †The clinic is always our first port of call and the therapists unerringly diagnoses and corrects any problems, be it skeletal, muscular, postural, digestive etc. They have a wide knowledge and understanding of remedies they can draw on as well as massage and osteopathy. I would highly recommend anyone to make an appointment and consult the Aston Clinc."
Pauline Shepheard, Local Mum
"I highly recommend the†Aston Clinic†to Local Mums.†I was 34 weeks pregnant and at my last scan my baby was found to be in a breech position. I had heard about Acupuncture so I thought I would try the Aston Clinic as its local to me and I really wanted to have a natural birth and not go down the C-section route.†Liz the acupuncturist used moxibustion and the needles were placed in various actu-points on my body. Liz taught me how to use moxa and said to use it for 10 days and following this on my next scan the baby had turned. I was so happy as I am the youngest of three sisters who all had late deliveries and had intervention and C-sections (including my mum).†I ended up going into labour naturally at 39 weeks and I now have a fit and healthy six month old!"
Leah, Local Mum
"I recommend the†Aston Clinic†to Local Mums.†David Melrose has treated most of my family (babies to grannies) with great success. Problems dealt with include back problems - trapped nerves - injuries - allergies and stomach problems. Recently he has helped alleviate the pain of post herpatic neuralgia - when others had given up."
Lisane Radice, Local Mum

"I recommend the†Aston Clinic†to Local Mums.†The first time I visited Seren was nearly two years ago. I had a two year-old-girl whose immune system was quite weak after several cycles of antibiotics.†Seren understood the issue and gave us the correct treatment to burst the immune system of the little one. Since then my daughter's health has improved enormously. She became much stronger and resistant and the symptoms of any illness became weaker.†Seren is a very professional and knowledgeable homoeopath; I would not hesitate to recommend her to anyone."
Lucia Mum, L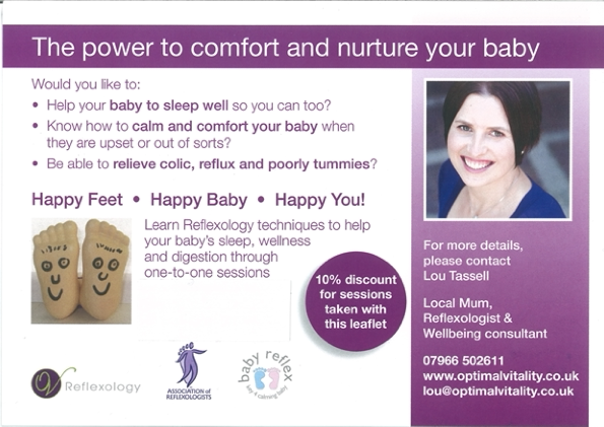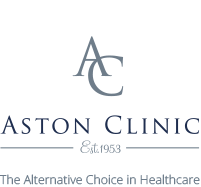 Learn Baby Reflexology Techniques
Baby Reflexology is a wonderful treatment where as a parent parents, using Reflexology, you are able to comfort and bond with the baby through touch. It is suitable for babies over 4 weeks old.†
A natural, gentle and calming treatment to support your child
Birth is an amazing experience and an exciting new time for a family! However, there may be stressful moments for the baby and for you as new parents as you try and do all you can to comfort and help your child.
Baby Reflexology is a wonderful treatment where as a parent parents, using Reflexology, you are able to comfort and bond with the baby through touch. It is suitable for babies over 4 weeks old.
What are its benefits? …. Baby Reflex is
Natural –A non-invasive therapy that aims to promote good health
Nurturing - Encourages a natural bonding between Parent & baby
Nourishing - Aims to 'feed,' calm, & support the growing baby
What does the course cover?
3 week course starting 2nd November 10am – 11am at The Aston Clinic in New Malden, Surrey.
Baby reflex is taught with your baby present. Each session for baby reflex is themed and designed to be easy to learn and remember. Each week you will learn new reflexes for the different areas and recap the previous week's reflexology moves.
Week 1 – Feeding and digestion
Week 2 – Calming and sleeping
Week 3 – Wellbeing
My background
I am a fully insured Reflexologist with specialisms in Maternity and baby reflex training. I have been practising for 8 years and I am a full member of the Association of Reflexologists. †As a mum whose son has loved Reflexology since he was a toddler (and age 12 still asks for me to give him a mini treatment every night!), I want to empower more parents to help their babies and children wellness in a nurturing, fun and natural way.
Classes are baby led so feel free to stop and feed or change your baby etc. I have baby feet to use if your baby is asleep and you don't want to disturb them!
Course Fees: £50 for the 3 week course payable in advance includes notes and official baby reflex charts.
Optional 30 minute one to one follow up session available on week 4 for £30
1-1 † classes are available at the Aston clinic or at my Surbiton clinic, please contact Lou Tassell for further details on 07966502611
Pregnancy back and hip pain?
Osteopathy treatment
Lower back pain and pelvic pain is very common in pregnancy. Osteopathy can relieve back and neck pain and also help ease SPD symptoms. This is very common when the relaxin hormone starts to increase later in pregnancy. Osteopathy can also help after pregnancy in re-aligning your hips and help with the strain of carrying your child and also support a weak pelvic floor causing incontinence.
Unsettled baby?
Cranial osteopathy
This initial adjustment involves many bodily systems such as breathing and digestion. Stresses and strains from the labour or pregnancy can lead to unsettled behaviour with new born babies and difficulties with feeding, winding, colic, bowel movements and sleeping. Relieving any physical strains with gentle osteopathic treatment can be very helpful and relaxing for the baby.
Preparing for labour?
Acupuncture treatment
We can offer four consecutive Acupuncture Treatments starting from 36 weeks pregnant onwards and it is aimed at:
∑ † † † † Supporting the baby to find the best position in the womb in late pregnancy.
∑ † † † † Helping the baby engage and move through the pelvis in the most optimal way if the baby
† † † † † is in a breech position.
∑ † † † † Balancing the expectant mums hormones, promoting relaxation, allowing Oxytocin to
† † † † † build.
∑ † † † † Assisting the cervix to physically prepare for labour.
Do you know what you can and cannot eat before and after pregnancy?
Nutritional treatment
A healthy diet during pregnancy is very important and often overlooked, this will help your baby to develop and grow well but it is also important for you to avoid gaining excessive weight and to avoid developing diseases such as gestational diabetes. †At the clinic we can tailor make a nutritional plan to help you during pregnancy but also support you after pregnancy to relieve symptoms of tiredness and fatigue and help with breastfeeding.
Massage to relax?
Massage and Indian head massage
After 12 weeks it's safe to have a pregnancy massage, and it is a perfect way to relax and unwind and sooth any muscle aches as well as help you sleep.
If you are interested in finding out more about our treatments for mums and babies you can contact us on 0208 9423148.
Please note these treatments can be booked as a package but also seperately.

Do you know if you have Diabetes?
Simone Benedetti, Nutritionist and PHD Researcher is running a FREE Diabetes workshop on Saturday 17th June at 10am.
​Simone will talk about the main risk factors, how to detect them and actions to take, it will also talk about the burden of diabetes over the world.
Simone Benedetti is then running individual health check to test your risk of Diabetes, he will be testing your:
Blood Pressure
Fat Mass
BMI
Glucose concentration assessment
This one to one consultation is only £10.
The individual assessment will be run on the 17th June and also 24th June, please contact the Aston clinic on 0208 9423148 or email†hello@astonclinic.co.uk†to book your place.
Contact:
Micala Sansom
Aston Clinic
Tel:†020 8942 3148
Email:†hello@astonclinic.co.uk
Aston Clinic on Facebook
New Malden clinic
Monday to Thursday 8am - 8pm
Friday 8am - 5pm
Saturday 9am - 1pm
Emergencies/Sundays: 07504 060 908
26 Kingston Road,†
New Malden,
Surrey,†
KT3 3LS

Harley Street clinic
Friday Afternoon (by appointment only)
Contact Aston Clinic to book appointments for Harley Street:
Tel: 020 8942 3148
12 Harley Street,
London,
W1G 9PG