Here's our pick of the best activities on offer in and around Epsom this month.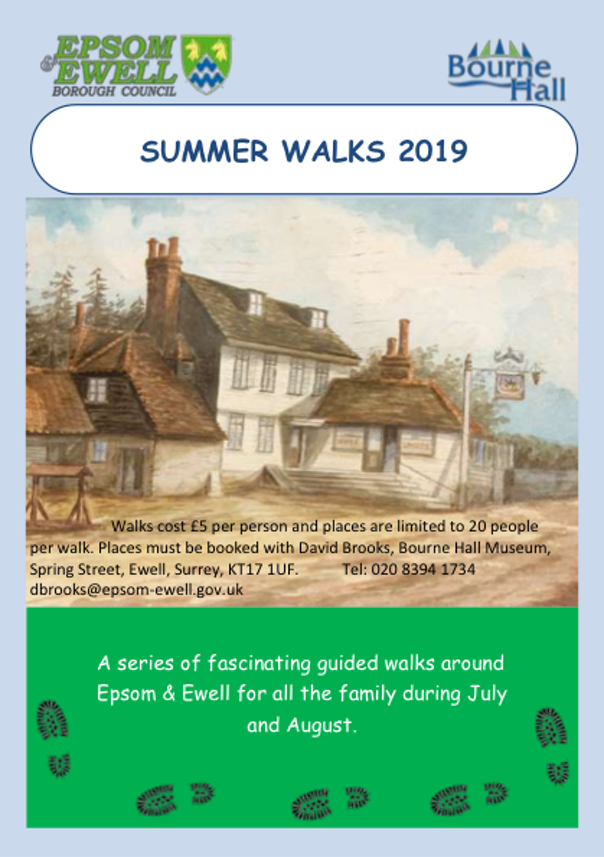 SUMMER WALKS 2019
Walks cost £5 per person and places are limited to 20 people
per walk. Places must be booked with David Brooks, Bourne Hall Museum,
Spring Street, Ewell, Surrey, KT17 1UF. Tel: 020 8394 1734
Epsom's Oldest Road
Tuesday 30 July 7.30 pm
Tuesday 20 Aug 2pm
Sunday 25 Aug 2pm
Explore Epsom's ancient heart along its oldest road. Originally the centre of
Epsom village it became one of the finest addresses in town. Discover the
oldest surviving residential building and the site of Epsom's own brewery. See
the parish church, mentioned in Domesday Book and the grand houses once
inhabited by Epsom's lords and ladies. Learn about Epsom's educational past at
the old Technical Institute building, and the importance of the fire station in
World War 2. Please meet opposite the fire station in Church Street. KT17 4PW
Walks cost £5 per person and places are limited to 25 people per walk.
Places must be booked with David Brooks, Bourne Hall Museum, Spring
Street, Ewell, Surrey, KT17 1UF. Tel: 020 8394 1734
Horrible Ewell
Thursday 15 Aug 2pm
Thursday 22 Aug 7.30pm
Saturday 24 Aug 2pm
Discover Ewell's dark past and the tales
that some would rather forget. Learn
about exploding gunpowder mills and
visit the graveyard where the victims
rest in peace. Tread in the footsteps of
the body-snatchers and see where they
plied their grisly trade. Hear stories of
witches, tragic coach crashes and folk who won't stay dead! Discover Ewell's
historic jail and see what eighteenth-century justice was like.
Please meet at the main entrance to Bourne Hall KT17 1UF
Ashley Road Cemetery
Wednesday 10 July 2pm
Saturday 27 July 11am
Explore Epsom's Victorian cemetery and visit the
final resting place of the town's lords and ladies.
Mrs. Beeton's mother, Elizabeth Dorling, enjoyed
the dubious privilege of being the first person to
be officially interred in 1871, but the first burial
was much earlier.
Discover monuments to people ranging from war
heroes to exotic dancers, jockeys to politicians…
and learn why Epsom's war memorial is situated
here rather than in the town centre.
Please meet at the main gate off Ashley Road.
KT18 5BP
Chalk Lane to World's End
Tuesday 24 July 7.30 pm
Thursday 1 Aug 2pm
Saturday 3 Aug 2pm
From Madan's Walk to Worlds End, enjoy walking around this fascinating part
of old Epsom. Discover Highgate House and its resident ghost together with
other grand houses including Maidstone House and Woodcote House. See the
Durdans, home to Lord Rosebery and visited by kings, and learn about the
influence of the Northey family. Discover pubs past and present and the impact
that both World Wars had on this tranquil part of town. Meet at the pond in
Rosebery Park KT18 5AT
Places must be booked with David Brooks, Bourne Hall Museum, Spring
Street, Ewell, Surrey, KT17 1UF. Tel: 020 8394 1734
Heart of Epsom
Saturday 20 July 7.30
Tuesday 6 Aug 2pm
Sunday 18 Aug 2pm
See beneath Epsom's genteel
surface and stroll around its
ancient centre discovering on your
way the dark deeds, wrongdoings
and ghosts of days gone past. Hear tales about Epsom's own highwayman
and the life of the evil Lord Rochester, together with the even more wicked
Lord Lyttleton. Relive the time when Epsom's spa was at the height of fashion
and decide for yourself if you would have liked to visit and spend a night in
the town. Come and be haunted by ghostly stories and visit the haunted clock
tower. Discover the not so ancient past and see where rioting soldiers led to
the death of a brave local policeman. Meet at the Clock Tower KT19 8EB
Epsom Downs
Tuesday 16 July 2pm
Tuesday 30 July 7.30
Saturday 27 July 2pm
Discover the history of Epsom's
Grandstands, which have provided a
home for Mrs. Beeton and a hospital
for wounded soldiers. Learn what part
the Downs have played in wartime,
from the English Civil War to the
Battle of Britain – armies have trained
here and during WW1 20,000 men
paraded in a snowstorm. The
Racecourse and the Downs were saved by the actions of one man during WW2
– discover who and how. Hear tales of the Derby, Gypsies, pubs and ghosts!
Please meet outside the Derby Arm KT185LEs.
Nonsuch Park and Palace
Thursday 8 Aug 2pm
Saturday 10 Aug 2pm
Thursday 25 July 7.30pm
Enjoy a guided walk around Nonsuch Park and explore the history of the
beautiful landscape. See where the original palace once stood and how it
dominated the local area. From the ruins of the banqueting hall, hear stories
of luxurious palaces, ambitious royalty, lost churches and lingering ghosts.
Listen to tales of battles and discover how warfare has touched this ancient
landscape. Discover which famous television presenter's ancestors used to
live here and how a Queen once came to tea.
Please meet on the lawn opposite the café in Nonsuch Mansion House SM3
8AP Nearest car park entry is from Cheam Road, A232.
East Street
Tuesday 27 Aug 2pm
Friday 2 Aug 7.30pm
Sunday 1 Sept 2pm
Discover its pubs, interesting side
streets, vanished schools, history of
the swimming baths, the first digital
telephone exchange in the country,
brickworks, training ground for the
defence against the atomic bomb and
the Bugby Chapel and graveyard, Epsom's almshouses and other buildings that
have disappeared over the years.
Meet outside the Rifleman Pub East Street Kt17 1BB
Explore Epsom Common
Monday 22 July 7.30pm
Tuesday 13 Aug 2pm
Saturdays 17 Aug 2pm
Discover the ancient village of Stamford
and the surrounding area of Epsom
Common. Hear how the Common folk made a living and used the Common for
brick making and laundry work. Visit the spot where Epsom salts were found and
hear how Epsom became the place to be and be seen—discover how the
humble salts started the world's greatest flat horse race and a battle!
Discover Epsom's lost windmill and race course and its Roman past, learn how
the Common played an important part in WW2 and hear about a WW1 ghost!
Please meet by the pond on Stamford Green.
Horton and the Manor Hospital
Thursday 11 July 2pm
Sunday 21 July 2pm
Wednesday 17 July 7.30pm
Uncover the medieval landscape of Horton and the long-forgotten moated
manor house and ancient barn. See how the landscape was affected by the
Victorian policy of keeping patients with mental illnesses out of sight. See
where the last defence line to defend London was built against German
invasion. Hear how important the Manor Hospital was in WW1, and how the
nursing staff dealt with a V1 in the Second. Find out how the mental hospitals
changed Epsom forever.
Please meet by the pond on Stamford Green.
Walks cost £5 per person and places are limited to 25 people per walk.
Places must be booked with David Brooks, Bourne Hall Museum, Spring
Street, Ewell, Surrey, KT17 1UF. Tel: 020 8394 1734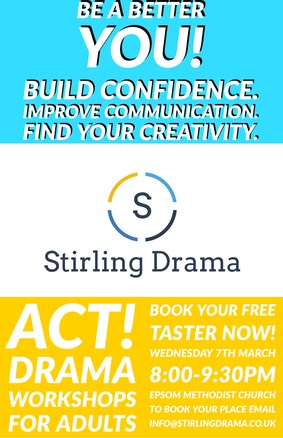 Stirling Drama
Stirling Drama offers fun drama workshops for adults. The workshops offer fun drama games and activities to help build confidence and improve communication skills. 
Drama is an amazing tool that helps to build these skills we all use in our everyday lives and make us happier as ourselves and in our own skin. Drama enables us to learn to trust ourselves, our bodies, our minds and other people. 
Whether you are new to acting and drama or a professional actor you will benefit from these workshops and all are welcome. 
There are lots and lots of drama schools available to children but not for adults and so I want to change that and offer something for adults. Who said it should be children having all the fun?
Stirling drama offers workshops on a Wednesday evening from 8:00-9:30pm at Epsom Methodist church and are currently offering a free taster session on Wednesday March 7th.
To book email info@stirlingdrama.co.uk 

Storytime
Tuesdays
Library storytimes are aimed at two to five year olds and provide a fun and enjoyable introduction to books and libraries for young children.
2pm-2.45pm.
Epsom Library, 7 The Derby Square, Epsom KT19 8AG
0300 200 1001
www.surreycc.gov.uk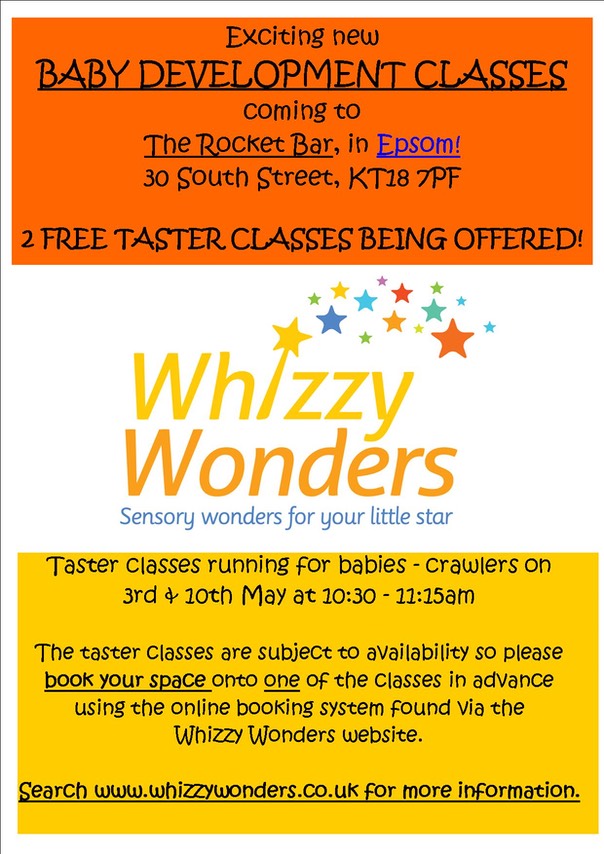 Whizzy Wonders
*FREE BABY DEVELOPMENT TASTER CLASSES IN EPSOM - SENSORY WONDERS FOR YOUR LITTLE STAR!*
Whizzy Wonders pay-as-you-go baby development classes are coming to Epsom! 
We are so excited and are offering families the chance to book onto one of the two FREE TASTER CLASSES that are running on 3rd & 10th May at 10:30 - 11:15am. 
Each week our classes are ran by qualified teachers where there is lots of variety, fun and developmental information and you will also go home with lots of new ideas to do with your little one. 
Classes are best suited for babies from 12 weeks - crawlers. 
Book a space now via our booking system at www.whizzywonders.co.uk
We can't wait to meet you and your little star…and please do spread the word :)
Contact:
Email: mrswhizzy@whizzywonders.co.uk
www.whizzywonders.co.uk
Booking system
Rhymetime
Thursdays
Library rhymetime is aimed at babies and toddlers, aged 0-18 months, along with their parents and carers (although older toddlers are also welcome). Based entirely on sharing nursery rhymes, action songs and percussion music. It's fun, interactive and noisy!
10.30am-11am.
Epsom Library, Epsom Library, 7 The Derby Square, Epsom KT19 8AG
0300 200 1001
www.surreycc.gov.uk
Epsom Farmers Market
Epsom Market Place
Epsom,
KT19 8EH
1st Sunday of each Month
This ever-popular market has around 40 stall holders bringing you the freshest produce and more.
The market - which has been running for over 10 years, opens between 9:30am and 1:30pm - but the word has it that locals get there early to get their favourites before they sell out.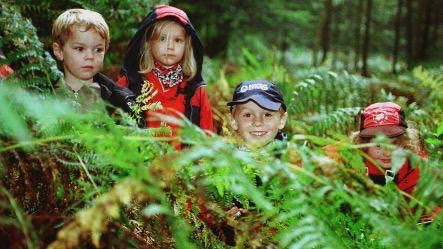 Down in the Woods
Half term sessions
Come and Join us over the Half Term Break. 
We are Running a mixed age group session for the day on Wednesday the 26th.
The session is a drop off session in the middle of half term.
I can safely say you will collect your children dirty and tired but with a smile on their face. 
The cost of the session costs £35 and we will be doing things like Cooking, Craft Work, Hanging around in trees, playing games and generally having lots of fun.
A Long Day in the Woods
A day in the woods for the Tweenies 12+.
This day will include Team Cooking sessions where Lunch and dinner will be prepared and cooked as a group. We will look at Tracking Trailing and sign, tracking down someone lost in the woods and communicating with walkie talkies.
An introduction to Spoon carving and making tools to make life in the woods easier. We will end the day with Hot chocolate and Smoors. 
Expect you children to be asleep with 10 min of collection. 
Bookings can be made via our Facebook page
Read Local Mums' reviews of Down in the Woods
Contact:
Chris Pryke,
Down in the woods
Tel: 07813 772664
Email: info@downinthewoodsltd.co.uk
www.downinthewoodsltd.co.uk
Down in the Woods on Facebook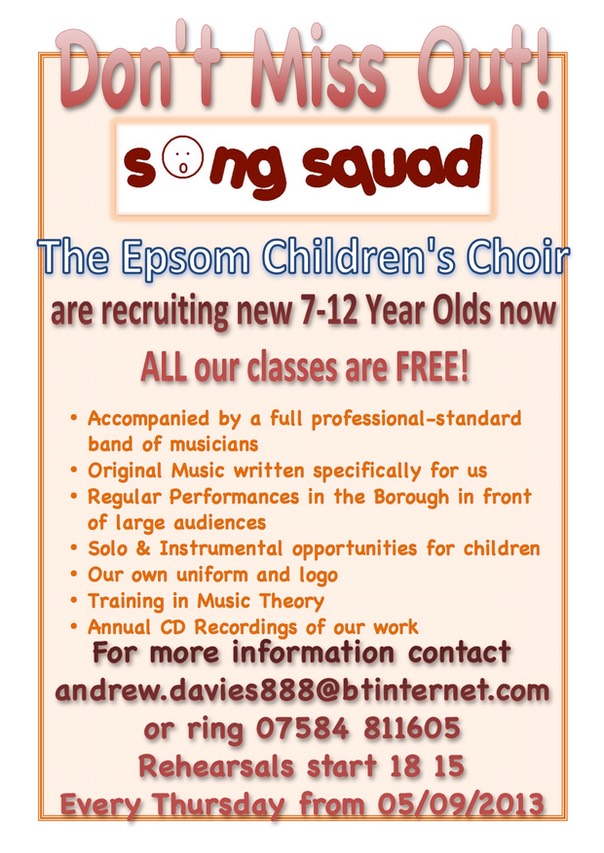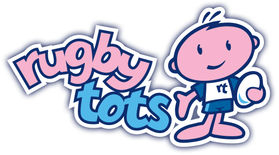 Rugbytots
Rugbytots is a fun and dynamic pre-school play programme designed to build confidence and enhance core skills for 2 - 7 year old boys and girls. We look forward to meeting you and giving you a fun and friendly introduction to rugby in a positive and encouraging environment. Let's make it more fun!
Make your child's development more fun!
Our fun, structured play sessions take children on a journey of sporting imagination with engaging and energetic coaches supporting them every step of the way whilst teaching how to catch, pass, kick, run with the ball and play as part of a team. 
Our motto
Our motto is simple; "make it more fun". We do this by delivering our specifically designed programme for each age group with energy, enthusiasm and excitement. This creates an atmosphere in the class that is totally unique and engaging for parents and children alike. 
What to expect
"Be prepared to run across the jungle, wade through the quick sand or sprint through Rugbytots Valley avoiding all the smoking boulders. Get ready to protect your egg, launch a missile or attack the pirates and seize the ship, all this of course, whilst trying to avoid the evil side lines!"
Find your nearest Rugbytots class here


Spanish tuition
Fully qualified teacher of Spanish offers private tuition for all levels up to GCSE or A levels. Students who are falling behind and struggling to catch up with their class will be given support to progress beyond their predicted grades. I have experience with all range of students from the majority of our local primary and secondary school.
I have a very patient attitude. I believe everything can be explained in the simplest possible way and teaching is not only through being interactive and engaging with the students but also keeping them keen and captivated to learn. 
For more details please contact:
Luisa 
Spanish tutor
Epsom area
Enhanced DBS checked- native speaker
Tel:  0753 912 4254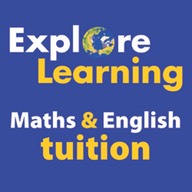 Explore Learning
"The hesitancy and lack of confidence that held her back is gone.  Now she tries new things with relish.  She counts the days until she can come back here!"  Explore Parent.
You may not expect children to be this enthusiastic about maths and English, but Explore Learning centres across the country are providing inspiration to 5-14 year olds of all abilities.
Explore Learning is designed to improve knowledge, confidence and enjoyment of learning and helps children make fantastic academic progress. The vibrant atmosphere keeps children engaged and focussed enabling them to have fun while they learn. 
As members, children work with tutors who are great role models, enthusiastic about learning and excellent motivators. All courses map to the National Curriculum and the individual focus allows children to work at their own pace – whether they are finding school tricky or they are top of the class!
To find out more visit our website www.explorelearning.co.uk or call your local Epsom centre on 01372 722994.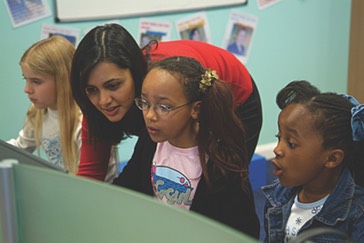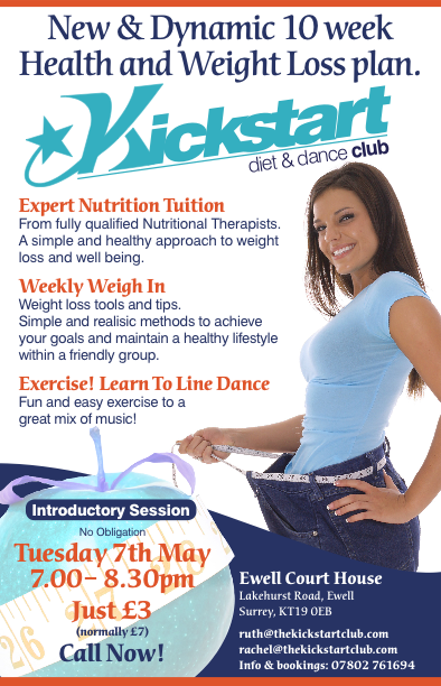 Nomads Korfball Club 
(Korfball is a team sport for boys and girls)
Sutton & Cheam (outdoors, May-July), Epsom & Ewell (indoors, Sept-April) 
School Years 3-8 (three separate age groups)
Weekly training (Mondays), monthly matches (Sundays)
No term fees – pay as you play - £4 a session
First month's training FREE!!!
Email info@nomadskorf.com
Website www.nomadskorf.com [facebook page 'nomadskorf' currently more up-to-date than soon to be revamped website]  
Mumpreneurs meet on the first Thursday of the month at The Sun Pub, North Street, Carshalton, 8pm. 
For mums in business or with an idea to start a business to come and meet, have a drink, chat, soundboard your ideas and promote yourself and meet other mums in business you may be able to support, work with. Please pass the word around, let your friends know and if you would like to come, you could contact us or just turn up!  Contact us via info@localmumsonline.com for more details.
Honeywood Museum 
Wed - Fri: 11am - 5pm Sat, Sun and Bank Hol Mon: 10am - 5pm Honeywood Walk Carshalton
After extensive refurbishment from Heritage Lottery funding, this stunning house reopens with lots of great activities for children and fascinating local history exhibits.
Read Carshalton Mums' news story.
Activities at Honeywood House Museum
Honeywood Walk, Carshalton, SM5 3NX
Opening Hours
Wednesday-Friday: 11am - 5pm.
Saturday, Sunday and Bank Holiday Monday: 10am-5pm Admission is Free
For enquiries and bookings please call 020 8770 4297 www.sutton.gov.uk/honeywood www.friendsofhoneywoodmuseum.co.uk
Email: honeywoodmuseum@sutton.gov.uk
Honeywood Tea Rooms
Opening Hours: as museum (last orders 4.30pm)
Ecology Centre Activites for children
Sutton Ecology Centre,
Festival Walk,
Carshalton,
Surrey SM5 3NY
(unless otherwise stated)
www.sutton.gov.uk/biodiversity 
For bookings phone 020 8770 5822 or
email biodiversity@sutton.gov.uk
Some ctivities require advance booking: call 020 8770 5822 or email 
Family Activities At Morden Hall Park
Morden Hall Park, Morden Hall Road, Morden London SM4 5JD
The park has a network of footpaths, including many with wide smooth surfaces suitable for pushchairs and wheelchairs. Design your own circular walk taking in the river, the water mills, the rose garden, the meadows or the wetlands.
Deen City Farm
Ongoing
Check out Deen City Farm for goats, sheep, cows, pigs, alpacas, geese, ducks, chickens, rabbits, horses, guinea pigs and ferrets. Deen City Farm also do horseriding lessons – check their website for more details.
Tue-Sun, closed Mon (except Bank Holiday); 10am-4.30pm; free, donations welcome.
Deen City Farm, 39 Windsor Ave, Merton Abbey SW19 2RR
Tel: 020 8543 5300
www.deencityfarm.co.uk
Bourne Hall
Tel:     0208 394 1734
www.epsom-ewell.gov.uk
Email:  dbrooks@epsom-ewell.gov.uk
It's time to get gardening!
EcoLocal have a wide range of new courses available to teach you new skills including easy ways to grow and use herbs, gain knowledge about keeping bees and hens or learn foraging and preserving skills.
There is a course for you!
Book early and receive 10% discount.*

Pilates classes with Park View Pilates,
Surrey and South West London's premier Pilates company.
Mixed ability Pilates at St Mark's Church Hall, Great Tattenhams, Epsom Downs, KT18 5RD
Mondays - 8.30pm - mixed ability Pilates (from 25th Feb)
Thursdays - 10am - mixed ability Pilates (from 28th Feb)
Mixed ability Pilates at Nork Community Centre, Nork Way, Banstead, SM7 1JB.
Wednesdays at 1.30pm (from 27th Feb)
£7.50 per class, payable in advance by term, or £9.50 on the door. If there is space, people can join after a term has begun, paying for the remaining weeks in the term at the £7.50 per class rate. Pre-booking is essential. We have other Pilates classes running nearby, and are looking to add pre and post natal classes at our Sutton studio. Please visit our website for more details - www.ParkViewPilates.co.uk or call Lorraine on 020 8274 1572.
Farnham Museum Club:
t: 01252 715094
e: museum@farnhammaltings.com
Or find us online:
www.farnhammaltings.com/museum
Twitter: @Museum_Farnham
For over 30 years the Museum of Farnham has run Museum Club, which gives local children the chance to make new friends, be creative and learn about history, archaeology, art and Farnham.
Museum Club runs for 10 months from September to June, with no activities during the school Summer holidays.
Our sessions vary, with activities taking place both at the Museum of Farnham and off-site at other local attractions including Farnham Castle, Wrecclesham Pottery and Farnham Park.
Cost: £10 per month.
If you would like to register your interest please contact Liz May, Curator, on 01252 715094.
Do you have any other listings for What's On in Epsom? Would you like to write a review of somewhere you have been? Email us at info@localmumsonline.com