Here's a pick of everything extra-curricular on offer for school age children in Wallington.

After school classes run during the weekend and throughout the week. There is a huge variety of classes on offer in Wallington. Here are some we have tried. Don't forget to check the reviews section for Wallington Mums' verdicts.


Creative clubs: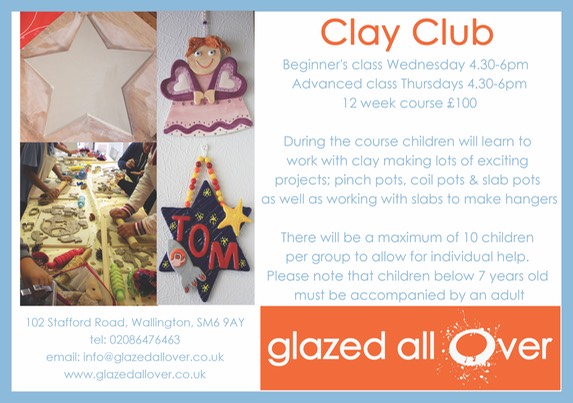 Dance:
J Dance Studios
Classes include:
Babies ballet from 2 ½ years 
Royal Academy of Dance Ballet 
ISTD Modern and Tap 
Drama based on topics covered in the GCSE syllabus. 
Saturday Morning club - Ballet, Tap & Modern and Drama 
RAD and ISTD exams 
Christmas show 
Festivals 
Nursery schools 
Special needs 
Children's parties 
The first class at jdancestudios is free so that pupils and parents can ensure they are happy with our classes. Dance develops life skills, increasing confidence and self-esteem, expression, communication and self-motivation. Dance improves posture and physical strength. Dance develops co-ordination and appreciation of music. Dance is fun! We specialise in teaching the Royal Academy of Dance ballet syllabus. Our teachers adhere to a carefully structured syllabus, which is both fun and safe. Our teachers have the training and qualifications necessary to teach dance to young children and students. Our teachers continue training throughout their careers to update their skills and knowledge.
Highfield Hall
The principle studio and postal address is at Highfield Hall, 320 Carshalton Road, Carshalton, Surrey SM5 3QB.
Wilson's School
The Saturday Morning Club studio is at the Wilson's School, Mollison Drive, Wallington, Surrey, SM6 9JW.
Stanley Park Church
Another studio is at Stanley Park Church, 130 Stanley Road, Carshalton, Surrey SM5 4LP.
Highfield Hall, 320 Carshalton Road, Carshalton, SM5 3QB
Contact: Jane Tilley
Tel: 0870 850 6851
Email: jane@jdancestudios.com
www.jdancestudios.com
Martial Arts:
Karate for all
Come and join us for a free trial lesson. We are a friendly and welcoming group, providing karate training for all. No contracts.
Call for more information or just turn up on the day. All are welcome. Portuguese, Spanish or Italian no problem.
Saturday Mornings 9.30am-11am
For all levels and all ages
BedZED Pavilion, 24 Sandmartin Way, 
off Helios Rd, 
opp All Saints Church, 
Hackbridge, SM6 7DF
Contact: Carlos
Tel: 07932 012 159
Email: kickingfrog@live.co.uk 
Music:

Pete's School of Guitar 
I learnt to play the guitar at 6 and have loved it ever since. I love teaching from all ages and can teach all genres.
I am CRB checked and have been recommended by Sutton Music shop. I have a range of guitars so you don't need to buy one and also have a mini band to play at local school fayres. My children go to All Saints School. Please call me with any questions. Peter/Michelle
Dell Close, Wallington, Surrey, SM6 8EH
Contact: Peter Vickers
Tel: 07515594811
Email: peterandmichelle1@live.co.uk
Languages:
Aprende Espanol - Learn Spanish
A fun language club in Carshalton/Wallington on Saturday mornings for children aged 4+.
Help your children to learn Spanish through games, music and stories.
Saturday 9.30 and 10.30am
Wallington Library
Contact: Gema Cavia
Tel: 02086475635
Email: mattgema@hotmail.com
Private tuition:
www.tuitionsutton.com
Swimming:
Splash Swimming Lessons
Swimming lessons for Children of all abilities. Sole use of pool. Teachers in water with beginners.
Over 25 years experience in teaching Children to swim
Teachers qualified to ASA Advanced level
All staff CRB checked
For information on courses contact Jacqui 020 8669 7226. or email bookings@splashswimminglessons.co.uk
Lessons held at,
Sherwood Park :Tuesday, Thursday and Friday from 4:30
Sutton High: Wednesday from 6:00
30 Sandhills, Wallington, Surrey, SM6 8JE
Contact: Jacqui
Tel: 020 8669 7226
Email: booking@splashswimminglessons.co.uk
www.splashswimminglessons.co.uk 
Uniformed groups:
2nd Carshalton Brownies 
The brownie pack meets in the Guide Hall behind the Dukes Head pub in Wallington on a Tuesday evening from 5.30 until 7pm. Wallington, SM6
Contact: Kelly 07825 518779
www.girlguiding.org.uk

More listings for Wallington are coming soon!
Have we missed something? Can you recommend a class for Wallington Mums? Email us at info@wallingtonmums.com