Local Mums recommend the best massage therapists in our area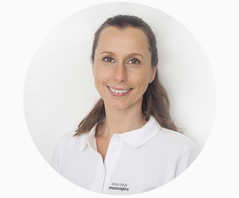 "I highly recommend Eva Nagy Massages to Local Mums. Eva is wonderful! Every week she is pleased to see you and remembers what you spoke about the last time despite large number of clients she must have; every appointment is personal. Brilliant massages, really gets the knots out, leaving me floating on air at the end of every appointment."
Becky, Local Mum
"I recommend Eva Nagy Massages to Local Mums. Eva is a brilliant masseuse, always making me feel so calm during and post massage! She has magical hands and a lovely aura."
Nat, Local Mum
"I highly recommend Eva Nagy Massages to Local Mums. Due to exercising a lot I have a lot of tension in my back and regularly enjoy a massage. Eva has been the only one that can truly relax the muscles and find the parts that need most attention. She is very friendly, attentive and has a lot of strength to make sure your muscles are able to open up and release tension. I truly appreciate all her professionalism and can recommend to anyone."
Alina, Local Mum
Eva Nagy Massages
Hello Local Mums, it is great to be here with you and I feel privileged to be able to offer you my services. I am a professional massage therapist specialising in Deep Tissue and Relaxation treatments and provide massage therapy for Health, Fitness and Wellbeing. I can visit you in the comfort of your own home in Surrey and London or you are welcome in my private practice in SM2.
I understand that finding your ideal therapist can be quite a task so in order to help you decide whether I am the right therapist for you please read through my biography, browse over my website to get a feel about me, and look over my testimonials. If you have any questions then please do get in touch. 
• Over 15 years experience working as a professional massage therapist
• Experience in working for exclusive 5-STAR Spas and establishments
• Qualification in Level 5 Sport and Remedial Massage - advanced anatomical studies and more specialised massage techniques i.e. MET's, STR, NMT
• Certified Nuad Bo-Rarn Thai Massage Teacher - this means I can teach other fellow therapists to become competent Thai Massage practitioners.
• Integrated Eastern and Western modalities - Eastern philosophies meet Western precision; I combine various techniques to give you the best results 
• Experience in working with Professional Athletes and Business Professionals. I myself am a keen sport person and understand sport injuries and rehabilitation first hand
• Certified Meditation Instructor - making space and quiet in our chain of thoughts helps us to stay grounded and become more creative
Please know that I treat everyone with respect, integrity and confidentiality as I believe these are the foundation of the trust that should underline any professional relationship between clients and their therapist. 
Please remember to take a look at the list of treatments and/or meditation classes and special offers on my website and contact me if you are interested in a booking or have any further questions. Have a lovely day!
Current special offer for Local Mums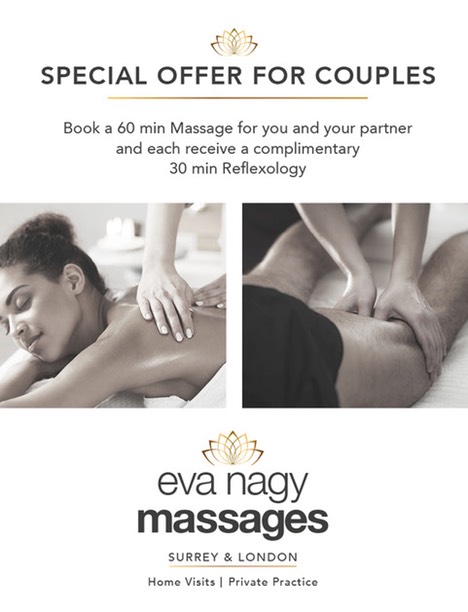 Contact:
Eva Nagy
Eva Nagy Massages
Tel: 07752112404
Email: eva.massages@icloud.com
www.evanagymassages.co.uk
IN: in/evanagymassages/
FB: @EvaNagyMassages