Sarah Gregory is the Mum behind Take Another Mouthful, a system to help parents create fun family mealtimes through the power of stories. Here's her blog for us all about kids and food!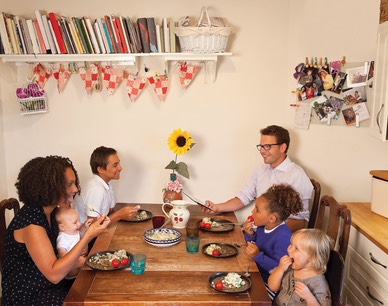 Time to sit down
In the UK, like many societies, we have a growing obesity problem. According to the World Health Organization (WHO), in 2010, worldwide, there were around 40 million children under the age of five who were overweight. In the same year, three out of every ten children aged between two and fifteen were classed as obese in the UK, and that number is widely expected to grow significantly.†
Issues with food that can cause obesity arising from lack of confidence, TV dinners, and unstructured eating patterns are well documented, and I cannot help feeling that the fall in significance of the 'family mealtime' has gone some way to compound this.
Recent research has shown that 1 in 10 families never eat meals together, with many rarely doing so, and this in the land famous for the 'Sunday Roast!'†
Technology has played its part with the abandonment of the dinner table too and has added more pressure in our time poor society.
One poll undertaken by Gut Week, shows that 44% of Brits enjoy their dinner whilst watching TV."
It's not all doom and gloom and shocking statistics though of course. †
There are plenty of people, organisations and the UK Government that now want to do something about it. The Office of National Statistics (ONS) has been instructed to make family mealtimes one of the official indicators of national happiness in the UK.†
Personally, I look back and draw some parallels with organic food, washable nappies and even recycling, all movements spurred on by a core of like minded individuals (and then governments) who just want to do their bit for creating a healthy, happy legacy for their children, and perhaps even enjoy the ride along the way! You only have to look in your local neighbourhood to see how some of those movements have changed the way we live. So my call to you all is: try to find that time, as often as you can, to sit down, eat some freshly cooked food together with your family and talk, tell stories, have fun!†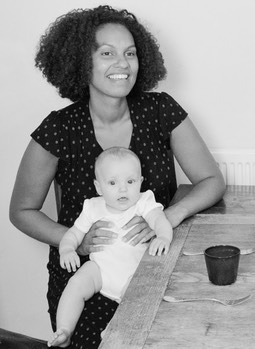 Sarah Gregory is the Mum of four behind Take Another Mouthful, a system to help parents create fun family mealtimes through the power of stories.†Her first book is now available at www.takeanothermouthful.com