Your child's first experiences of playgroups and pre-schools are important steps - for mums too! Local Mums give their recommendations for the best ones in our area here.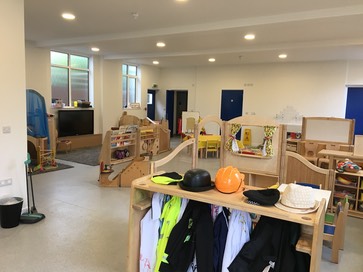 "I highly recommend Play B C Preschool to Local Mums. My son absolutely loves Play B C and can't have enough of it. If it was up to him he would be there on weekends and there would be no half term! The staff are great and hot food on site is a bonus."
Nimisha Ninan, Local Mum

"I recommend Play B C Preschool to Local Mums. My son Max loves Play B C and is always excited to go in. The staff are lovely and I feel safe in the knowledge he's being well looked after, learning lots and enjoying himself."
Emma Sarbutt, Local Mum
"I highly recommend Play B C Preschool to Local Mums. It's the best preschool ever!"
Michalina Kulska, Local Mum


Play B C Preschool
Teacher-led preschool Play B C has had a brilliant first year in its new home at Butter Hill, Wallington.  Having their own dedicated learning space has allowed the effort and time saved by no longer having to pack away to be diverted into enhancing a first class environment.  The team has doubled in size to accommodate continually expanding numbers and now includes a second qualified teacher.  
Play B C continue to prioritise developing relationships with children, sensitive interaction, and fun but challenging learning through developmentally appropriate activities.  Preschool life has been enriched by a diverse cohort including children with diabetes, autistic spectrum disorders and Down's syndrome.  All children have enjoyed their learning and playing enormously resulting in some of the highest EYFS attainments in the preschool's four year history (89% of children meeting age related expectations  in prime areas of learning, 84% in literacy and 86% in maths).  More than just a place, at Play B C every day is a learning adventure.
Looking for quality early years provision?  Simple as Play B C!
Play B C is a teacher-led preschool in Wallington for children between two and five years of age.
Good preschools have a lasting positive impact in all areas, particularly where a trained teacher is present. This means sensitive adult interaction and developmentally appropriate activities. Our well-qualified and experienced staff prioritise developing a relationship with your child and offering fun but challenging learning.
We offer more than a place. At Play B C Preschool we aim to make every day a learning adventure and be the next best thing to families. Early Years Foundation Stage learning is delivered through play in a safe and welcoming environment, underpinned by core values of respect, relationships and responsibility.
Our core values
Respect: We will respect and value your child and the abilities and skills he or she has.
Relationships: We will establish positive relationships with you and your child.
Responsibility: We believe your child can drive and influence his or her own learning.
Come along and see us to find out more!
Contact: 
Marsha Dann
Lead teacher
Play B C Preschool
Tel: 020 8088 4808
Email: info@playbc.co.uk
Play P C Preschool on Facebook
www.playbc.co.uk