Our Nutrition Editor Local Mum Angelika shares her super easy recipe for Halloumi and beans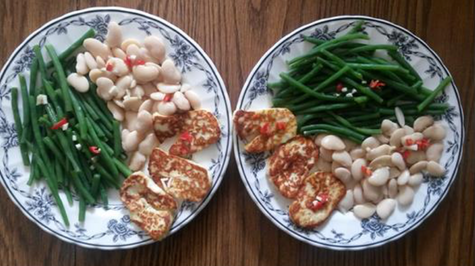 Prep and cooking time: 15-20 min

Serves: 1 (double up ingredients if cooking for two) Calories: 500 per person
Total coast: £3.00 p/p
Ingredients for one person (double or triple if needed) - ignore calories if you wish:
• halloumi cheese
• trimmed green beans
• 1/2 x butter beans can
• 2 teaspoon (ts) olive oil
• 1 tablespoon (tbs) balsamic vinegar or lemon juice
• 1x fresh chilly (optional)
• 2x cloves of garlic
• small bunch of parsley chopped (optional)
• salt and pepper to season – or any other seasoning is fine (cumin, turmeric, etc.)
Method:
Steam green beans (my preferred choice of cooking veg- most of the vitamins and minerals will be preserved), otherwise boil in water. Add a teaspoon of olive oil in the pan and cook halloumi (or grill or bake in the oven with no added oil), 2 min both sides. Drain and wash butter beans and warm them up in a microwave for 1 minute.
Sauce: Finely chopped garlic, add fresh chilly, 1 tbs of olive oil and balsamic vinegar or lemon juice. Salt and pepper to taste. Arrange cooked ingredients on the plate and pour over the sauce. Enjoy.
HEALTHY TIP: This is a super easy recipe to make and one of my favourites! This recipe has lot of proteins per serving - 27g (halloumi 12g, 1⁄2 butter bean can 10g, green beans 5g). Proteins make you fuller for longer and help to build your muscles. We need ~ 1g of protein per kg of body weight over the age of 40.