SW London professional organiser, certified KonMari™ consultant and Local Mum Victoria Nicholson blogs for us on everything to do with home organisation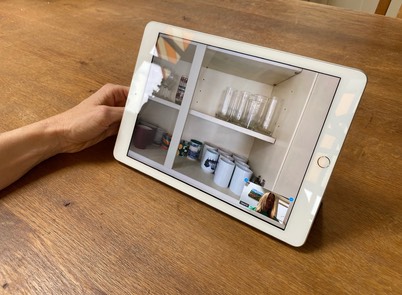 September 19

Cleaning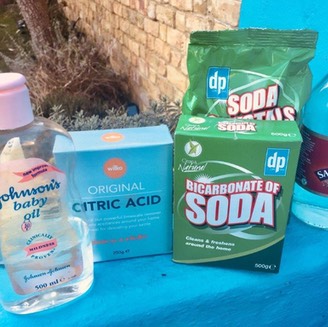 Now that the kids are back at school, I'm finding it's a good opportunity to give the house a good clean.  So what's the difference between cleaning and tidying?
Author of  'The life changing magic of tidying up' Marie Kondo puts it quite well:  "By tidying you're confronting yourself.  By cleaning, you're confronting nature."
Personally, I hate cleaning so I try to make it as easy as possible by aiming to keep surfaces as clear as I can (I know, not always possible in a shared family home but a good goal!).
It's always a good idea to tidy before you clean and if you also manage to declutter some items there's less to clean!
I also keep the products I use simple and minimise spraying stuff around – especially important with little ones.
Before you start it's worth getting out all your cleaning kit and assessing what you have including throwing away anything that's out of date or that you no longer use.  This will prevent you from duplicate buying, which will save  money plus enable you to use up the half empty bottles first.  I've visited houses which have lots of half empty bottles – they take up a lot of space!  
Keep all your cleaning products and cloths together in one place (and out of little people's reach). If you have a container for them to keep them all together, even better.  I file fold my cloths and store them vertically so I can see what I have at a glance but that may be a step too far for some...
I know everyone has their favourite cleaning products but this is my cheap as chips eco cleaning kit:
Soda crystals - deodorise washing machine, remove burnt on food from pans, clean sinks and drains
White vinegar – clean washing machine drawers and door seal, glass, windows and shower head
Bicarbonate of soda – clean fridge, carpet, mattress and wooden chopping boards
Citric acid – uncloud glasses, descale kettle and toilet bowl
Baby oil – clean stainless steel fridge and cooker hob 
Of course, now with the pandemic to think about, I've added an antibacterial disinfectant to the list so I can go over frequently touched hot spots after they've been cleaned.
If you're looking to instigate a good cleaning routine there are some brilliant websites, some which include printable lists – my favourites are http://flylady.net/ and https://www.theorganisedmum.blog/
September 5
10 organising strategies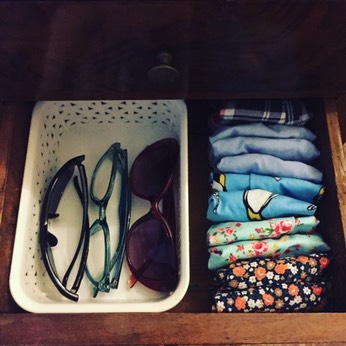 We're going through an extraordinary time at the moment and we've had to adapt, swivel and pivot.  I thought I'd share with you 10 organising strategies I've adopted during the pandemic, some of which you may be doing yourself...
1) Keep  a container for shoes near the front door. Pre-covid I made everyone put there outdoor shoes away in their room (apart from walking boots and wellies which I allocated downstairs storage for) but now it makes sense not to bring footwear through the house so I've got a basket near the door to keep them together.  If you don't have a basket, a sturdy cardboard box works well especially if you cut down the sides.
2) Keep masks handy. I keep everyone's masks in a drawer in the hallway so they're easy to grab on the way out.  It doesn't really matter where you store them but keeping them in a designated place that all the family members are aware saves time.
3) Covid emergency box. At the beginning of the pandemic I put together some supplies in a labelled shoe box so I had it ready if a family member had to isolate: sanitizer, gloves, cleaning wipes, paracetamol and thermometer. 
4) Keep food supplies in order. Go through food to make sure it's in date and put the oldest items in front so they get used first. Store everything so it's visible then you'll know when you're running low.  With everyone suddenly at home for three meals a day I found meal-planning was more important.
5) Cleaning supplies. As with food supplies, keeping these where you can easily see what you have will let you know when you're running out and stop you from over-buying.
6) Simplify wardrobe. I Learned which are my "go to" items of clothing – the ones I really love wearing. 
7) Being more conscious in my buying habits.
8) I've  been delegating more  tidying tasks – it's all good learning.
9) Keep the garden clutter free so you can throw everyone out there.
10) Finally, I've carved out a reading corner in my living room – it's my own space where I can escape/hide from my family… it's a life saver!
August 21
Children's Artwork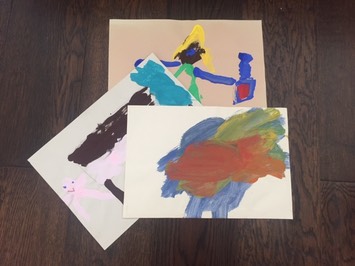 With schools going back soon, one question I'm asked repeatedly by Local Mums is "what do I do with my children's artwork pile?"
Yes, it can certainly add up. If you think how much they bring home in a week, then in a term and then multiply by each child.  Before you know it you're drowning in art, lovely though it is!
You need a strategy. So here are some of my favourite tips – you can try some of your own
As with everything else you need to first sort then store.
Sorting
- The end of each nursery/school term is the perfect time for a sort out
- Select one or two showcase pieces to display (framed on home gallery wall, magnetic clear pouches on fridge,string and clothes pegs)
- Spread all the work out and pick the best out of similar items 
- Limit yourself to keeping no more than 10 pieces per child per term (or come up with a feasible number yourself- less is best)  At this point you can also see if there are any pieces that can be mailed to Grandparents.
- If your child is old enough they can help you with the process
Storing
- If you're ok about not keeping a physical copy there are still ways of preserving the memory for eg,  photo and keep on the cloud or on a memory stick or disc.  There are a few good apps around that enable you to sort and store, my favourites are  Keepy www.keepy.me and Artkive https://www.artkiveapp.com/
- Curate photos into photobooks by child/school year or have them made into professional books or a photo collage.  Snapfish and Bonusprint can do these or if you want to splash some cash www.doodlenest.co.uk can make a lovely coffee table book.
For physical copies, use storage boxes or folders and store by name and year; lots of fun ways you can do this:
- Suspension file boxes from the Really Useful Company – use their dividers to separate into school years.  One box per child.
- Artists portfolios (The Works had some reasonably priced ones, the last time I looked)
- Ring binders (use plastic inserts for artwork with loose bits)
- Storage boxes with either your child's photo, their name or their own decoration on the front
- extra large Manilla envelopes
- tubes (though not my favourite as these are harder to access)
Don't forget, the less you have, the more you'll be able to appreciate them later – revisiting fond memories rather than wading through.   Think about why your storing them, is it for yourself or for your children? (When I was clearing out my parent's garage a few years back I came across a big folder of artwork I'd made in primary school. It gave me a nostalgic glow looking back at it but it was momentary and certainly not worth storing all those years).
Whatever you do, have fun!
August 15

Handbag organisation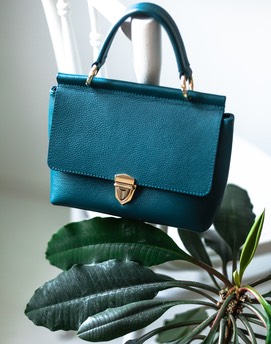 Now that we're venturing out of our homes and back into the shops it's time to dust down our handbags - most of us have one bag that we tend to use all the time, the one that's the perfect size for our needs with the right strap length.   This is the one we're going to deal with – if you use multiple bags, or have a designer bag you may want to invest in a handbag liner insert – there are many available on ebay to fit all sized bags.     
So here are some tips for a good handbag clear out:
First, ring fence half an hour of 'me' time. Then
- Empty the contents of your bag onto a table or the floor  (you can put some newspaper down first)
- Give your bag a wipe inside with a damp but not wet cloth
- Now, scan everything and select only the items that you use daily – these are the only items that will have the honour of a place in your bag. Put them  aside.  
- Next, sort through everything else – can anything be thrown away ?  Does anything belong in another place?  (the other two lip balms for example)]
- Don't forget to go through your purse/wallet and remove old receipts, out of date vouchers etc.  Can any store cards be ditched/replaced with an app? 
There may be some items pre covid that no longer serve a purpose.
- Once that's dealt with you should just have left in front of you the items to return to your bag
- Categorise these and put like items together and store in smaller clear zip bags or pouches for example, hand sanitizer gel and face mask
- Store items and pouches vertically where possible – this way they are more visible and accessible
- Look for micro storage solutions, for eg, If you wear glasses, your headphones can be stored in your glasses case
How satisfying was that?!
July 

Storage boxes – boxing clever

Marie Kondo once said "storage experts are hoarders."  While it wouldn't be fair to say that everyone who has a collection of 'storage solutions' has a hoarding disorder it's a good idea to consider what you're storing away, why you're storing it and how accessible it is.    
Tempting as it may be, buying lots of storage boxes won't instantly transform your home into a beautifully organised sanctuary of calm any more than new fitness gear won't transform you into an athlete. 
Before I visit local mums' homes or book a  Zoom session with them they invariably ask me "What storage do I need to buy before I start?" The answer is always nothing, the reason being...
- You don't know what storage you need until you finish discarding (you will have less stuff and more space).
- Usually will already have lots of storage solutions in your home 
I always suggest reusing and repurposing storage that you have, it costs nothing and is a greener solution.  Here are some of my favourites:
Shoe boxes – for bras, small tops, scarves
Iphone cases – for stationary , electronic accessories
Small Ferrero Rocher plastic boxes (the perfect excuse!) – to separate little things in your kitchen junk drawer or as a bathroom drawer separator.
Old Tupperware boxes with missing lids – kitchen and bathroom storage
Cereal boxes cut down – separate packets in kitchen, DIY magazine rack for paper storage
You can be really creative with this if you want.
When everything is sorted, discarded and you know exactly what you have left and the amount of space available you can then buy some lovely storage boxes. With temporary storage in place you can afford to take your time and wait until you find something you really love and will be a good fit with your home décor. 
June 
Cosmetics drawer overhaul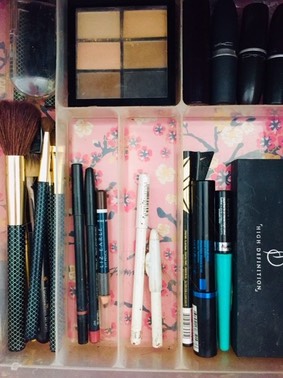 I don't know about you but I've been fairly bare-faced during lockdown, apart from a bit of lippy where Zoom meetings require.  Now we're out and about a bit more it's a perfect time to take a look at our cosmetic drawers and bags and take stock of what you have. Think of all the time you'll save by not having to root around for your lipstick!     
First of all remove everything from your drawer or bag and lay the contents out where you have space on a sheet of newspaper and put similar products together.  If there's anything that isn't in the cosmetic category put it to one side (hair bands, face creams etc).  Today you're just dealing with your colour cosmetics...
Pick out your favourites, your go-tos, the make up you use every day. If they're still in good condition and in date you can put aside to keep.
Next, go though everything else, looking at each item:
- Do you use it?
- Have you ever used it?  
- Does it merit space if you only use it once a year?
- Has it expired? This is really important as like food cosmetics harbour bacteria.  Sometimes you can see this when foundation separates or changes smell but sometimes it's not so obvious. The  average expirary date for foundation, powder, and other facial makeup is 12 months.
Some cosmetics have a little sticker (open jar icon) to say how long the product will last once opened but as a rule you should replace your mascara about every three months, eyeliner and eye shadow every six to 12 months and lipstick every 18 months.
Where possible, when you buy cosmetics you can put a sticker on it with the expiry date to remind you. 
Once you've chosen your 'keeps' 
 - Sharpen pencils
- Clean brushes
- Wash bag/or drawer
If you have a drawer put all the same things together – you can either separate with small boxes (packaging from phones, perfume, food boxes cut down to size) or I like to use a cutlery tray to separate my cosmetics in a drawer (mine came from Really Useful Products).  As my tray is transparent I lined the drawer with some gift wrap that I fell in love with – it makes me smile every time I open the drawer. 
Might just be me but I find there is something really satisfying about a well-organised cosmetics drawer! How about you Local Mums?


June 5
What to do with your declutterings ….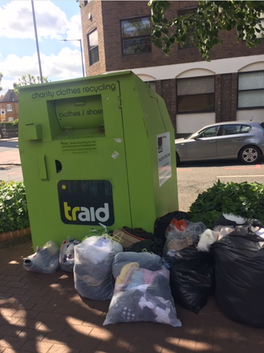 With more time spent at home we're all becoming more aware of our immediate environment and some have decided it's time for a good clear out. Only one small problem, what to do with all those items that no longer 'spark joy' while the charity shops are closed?  

When I do a house declutter I always tell my clients that they need a solid exit plan for these items otherwise they do have an uncanny knack of making their way back into your life!  I'm hoping the charity shops will be open soon to take donations but until then you may want to consider the following;
-        If you're lucky enough to have a loft, cellar or eves storage you can temporarily store your donations there  - but box them and tape them up!
-        Some recycling centres are now open to take recyclables but not re-usables (check ahead on website, Wandsworth for eg, is operating different opening days depending if your car has an odd/even reg no.)
-      The YoungPlanet app lets you list your items for free, save things from landfill and do your bit to save the planet by passing on used kids items
-        If you have jewellery to donate, the alzheimers society https://www.alzheimers.org.uk/get-involved/make-donation/recycling will send you a jiffy back to pop items into
-        If you have vintage items (toys, silverware, watches) vintage cash cow https://www.vintagecashcow.co.uk/ will collect from you
-        Designer clothes?  You can sell them with a consignment company like Cudoni https://www.cudoni.com/or HEWI https://www.hardlyeverwornit.com/
-        Other clothes?  Try https://www.preloved.co.uk/ or  the depop app if you have a teen in the house
-        Well loved teddy bears?  Send to  https://www.lovedbefore.london/ where they will be lovingly restored for adoption
-        Use local websites like Facebook Marketplace
-        Ziffit https://www.ziffit.com/en-gb/ are good for books – you can have fun scanning the barcodes too. 
-        Certainly around my neighbourhood, I've seen lots of books and childrens toys put in the front porch with a 'Help yourself' sign
This is not an exhaustive list but will give you some ideas until the charity shops open their doors to donations (hopefully soon).  

Happy decluttering local mums!
May
Tips for organising your home office
Do any other local mums feel like you're busier than ever since lockdown?  Never mind making time to learn a language or a new craft, sometimes it seems like we're fighting a losing battle juggling between home schooling, home working, preparing up to three meals a day and having no time to ourselves at all…   
I'm a professional organiser and even in my household things can get a bit busy but I've got some great tools to help escape the overwhelm but for now, I'm going to keep the focus on those of us working from home.   Whether you've suddenly found yourself WFH or you've always remote worked but now with a full house it's more of a struggle here are a few tips to get local mums started.
·      Visualise your day – how much time can you allocate to work?  What would you like to have more time for, spend less time on?  When are you most productive?  How would you like your office space to look?  How will you be using it e.g., if you're making lots of zoom calls, you'll need somewhere relatively quiet with a good light source).
·      Set up your workspace. Not everyone has the luxury of a 'home office' but have a look around and see where you can carve yourself out a little space.  Some of you may have read about Sarah Ward, the mum from Cheshire who transformed her airing cupboard into an office for £6 – and I'm not suggesting everyone try that but think about being more creative with the space that you do have.   Where could you fit a desk or a shelf?
·      Be clear about your working hours and make sure everyone in the house knows the times when you'll be unavailable – stick police tape across your door if you have to!! 
·      If you already have a desk/office start with a tidy desk.   Remove everything from it and put back only the items you need.
·      It's a good idea to store pending paperwork vertically (you can use a magazine rack) so you can see and access it more easily.
·      Signal the end of your working hours by wiping down the desk.
·      If the desk is used at different times by different family members, keep a box to put all the things you will need for your work (eg, laptop, charger, stationery, pending file) and make sure everything is stored in your 'portable office' when you have finished.
Hopefully, these few tips will help local mums get started.
About Victoria
A background in hotel management and over 15 years as an office manager/PA in the City has honed my organisational skills . However, when it came to my personal belongings I have always been naturally untidy so when I discovered a system that worked for me I knew it would work for anyone.
I've been helping local mums in their homes for the past four years to achieve the peace of mind that comes with living in a calm, uncluttered environment.  In order to continue to support my clients while maintaining social distancing I'm now offering virtual sessions via Zoom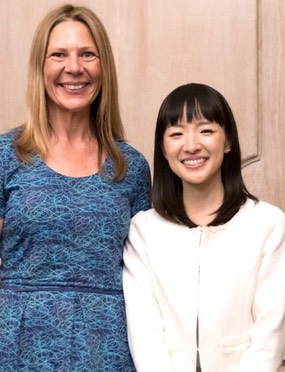 Victoria with Marie Kondo

Contact:
Victoria Nicholson
Founder
My Wardrobe Zen
Tel: 07941 375304
Email: victoria@mywardrobezen.co.uk
www.MyWardrobeZen.co.uk