SW London professional organiser, certified KonMari™ consultant and Local Mum Victoria Nicholson blogs for us on everything to do with home organisation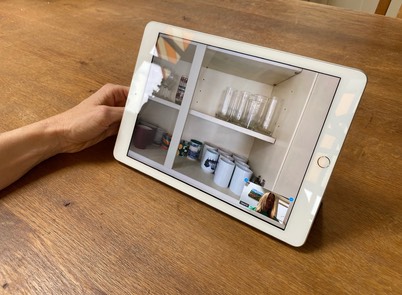 January 
Toy Storage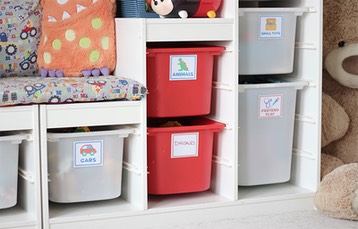 So, with Christmas behind us and, if they were lucky – more toys – now is the time to try and find space for them – whether it's a corner of a bedroom, living room or dedicated playroom.  I remember before I had children I swore that I would only let properly made wooden toys enter my home – somehow all the plastic tat made it's way in!
A children's play space should be both nurturing and inspiring with space enough that you're not going to accidently stop on a piece of lego (possibly THE most painful thing you can ever step on!). 
FIRST DECLUTTER – If you didn't tackle this before Christmas, now is the time.  Make sure you involve your children in the decision-making process.  It can help to let them know that any toys they say 'goodbye' to will go on to make other children happy.   Children will most likely play with what they can see and is accessible – use this to your advantage!
NEXT, ORGANISE – Divide toys first by child, then by category.  Organise like with like and store together.  Depending on the space you have/budget you can use baskets, drawers, shelving with baskets (that can be repurposed as book shelves as the children grow,  units with baskets (eg, IKEA  Trofast/Kallux shelves )  Smaller items can be grouped together and put in boxes, pouches, bags, recycled jars, tins.   Drawers and containers can be colour-coded per child and labelled.  If your children are very young, use pictures instead of words for the labelling.
MAINTENANCE – So, you've got everything in order – how on earth do you keep it looking lovely? 
- Stick to a one in one out rule when accepting new toys.
- Set a good example.  Tidyness is a taught skill  - be their role model.
- Get your children to put everything away in it's correct home at the end of the day (or at the end of playtime – at nursery they are used to doing this)  – lots of techniques help with this – you could sing/play a tidy up song, set a timer to make it a race, allocate a basket to each child and let them go round and gather everything up in a set time. give rewards and praise for specific tasks.
- Watch what comes into the home – you're the gate-keeper
- Get into the habit of doing a maintenance toy declutter before birthdays/Christmas
December 
Post-Christmas clear up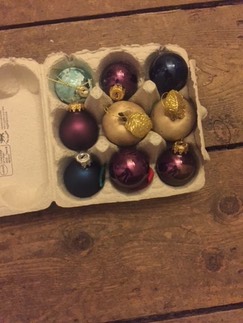 I love Christmas - the tree and decorations and all that comes with it. I don't know about you but by January 6th I'm ready to have my house back. Possibly more important this year when we're stuck at home in Tier 4 and need a calm, clutter free environment.   Here are a few tips for post Christmas organising  - and don't forget to get the rest of the family to pitch in if they're able.
Gifts – write thank you lists so you can write cards when you have a quiet moment.  Put gifts away in their proper homes and keep gift vouchers together.  Amazon vouchers can be entered directly into your account .
Unwanted gifts – hopefully you won't have any, but if you do, put aside for the next school tombola
Put any clothing items that need returning aside to return as soon as you're able.
Tree decorations  - small baubles can be stored in egg cartons, larger ones in boxes with home-made separators.  Keep colours separate and label each box.  If there are any that are broken or you know you'll never use, now is the time to ditch them.    Wrap tree  lights around empty wrapping paper tubes, a coat hanger or  a piece of rectangular card with notches cut down both long sides.   All of these will avoid 'the great untangling' next year.
Other decorations – box and label clearly.  You might want to keep some of the items you will get out first easily accessible (eg, door wreath, advent candles. Unused wrapping paper).  Keep all decorations together, store like with like,  clearly labelled and in one place.
Rubbish – make sure you throw away all the packaging that any gifts came in.  Any boxes you didn't re-purpose for decoration storage can be torn up and put in your recycling bin now.
Tree – if it's real – check the dates on your local council website for collection- wrap it in a sheet or put it inside a duvet to carry it outside to minimise pine drop.   If it's not real,  then bag it for storage.
Christmas cards – reuse by getting the kids busy making gift tags or cards for next year or recycle
Food – hopefully by now you've used up the Christmas leftovers (panettone bread and butter pudding anyone?)   but if you find yourself with an extra tin of biscuits/chocolates you know you won't use you could give to your local foodbank or isolated elderly distribution centre.   Any weird pickles /pates etc can be rehomed via the 'Olio' app.  Give the fridge a good clean.


17th December
Last minute Christmas prep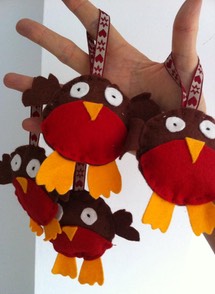 It's always good to start your Christmas planning early but don't panic if you've left it all a bit last minute – make a note to start sooner next year and use my emergency strategy:
Vision    Before you start, have a  think about the Christmas you want for yourself and your family this year – granted it might be a bit different!  Do you want to incorporate old traditions, bring in new ones?  Is religion or the magic of Christmas important and how can you include these elements this year? (You can do this one in the bath!)
Plan     Make a plan – take half an hour (perhaps when the children are in bed), take out a fresh sheet of paper and write down everything you can think of that you need to do for Christmas – it's so much better when it's out of your head!  Now go through the list and see if there's anything you can either delete or delegate.  Look at the list you're left with and group tasks together eg, can you buy stamps with your grocery shopping?  Remember that most shops will be closed on Christmas day so stock up on batteries, candles, crackers  - things you are likely to forget.
Declutter  You won't have time now for an in-depth declutter of the entire house so I suggest going round each room with a basket, filling it as you go with anything that's not supposed to be there.  Set a timer if that helps.   Hopefully you will have decluttered your food cupboards (see last blog) but if not, your priority now is fridge and freezer space – go through and dispose of out of date food and use up left overs.
Clean Now the clutters out of the way you should have lots of easy surfaces to clean.
Guests Make sure you have enough clean bedding, towels and think through your COVID safe plan.
Gifts  Forgotten someone?  Think about vouchers that can be bought quickly on line for services, meals out, memberships to gardens or museums and art galleries.  Support small local business. The best gift you can give someone is your time.   No wrapping paper?  Use plain brown paper, you can get the children involved in printing it with potato stamps.  If you have collections of old fabric (for that sewing project you never got round to) you can use it to wrap gifts using (google) the Japanese art of Furoshiki.
Cards   Last posting dates for the UK are: Friday 18 December 2nd class, Monday 21 December 1st class.    If you've missed them – send an e-card, a New Year card or better still – pick up the phone.
Decorations  Involve the family – for example, keep them busy making paper chains, snowflakes or pom poms while you get on with other jobs

Above all, remember, IT DOESN'T HAVE TO BE PERFECT!!

Happy Christmas X
Food cupboard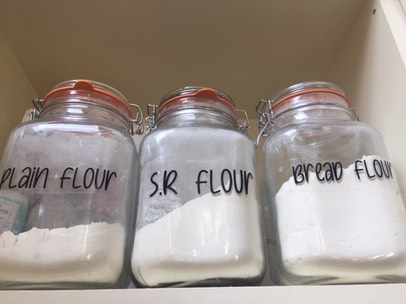 Whether you're having family over for Christmas or not, there's no doubt there will be a lot more kitchen activity over the next month.  My husband's family is Swiss, so I always bake Swiss Christmas biscuits to bring a little bit of Switzerland  home.  This year I'm ahead of the game and have frozen the dough ready for baking in the holidays with the help of my son.
So, how can you prepare your food storage ahead of time so you can ease into the festive season?
First of all, you need to take stock of what you already have. How many times have you gone out and bought something and then found two already in the back of the cupboard?  Knowing what you have can actually save you money.  Here's my step by step guide.
1 –  Have ready a cardboard  box for food bank donations
2 - Clear a space on your kitchen surface and take out your dry food supplies so you can see what you have.  If you have a very small kitchen, you may want to do this one cupboard at a time.
3 – Go through each jar/can/packet and check if the food is still within date – if the date's close, put aside to use up this week.    Did you know spices lose their pungency?  After 3-4 year you may as well be adding dust to your food!
4 – Have a look and see if there's anything you would never use – clue:  if you still haven't used the kumquat chutney from the hamper you won at last years school Christmas tombola, you probably won't ever use it.  If you've gone overboard with the COVID stockpiling  - is there anything on your locals food bank's list that you can donate?
5 – Give those empty shelves a good clean and think about how you could best use the space – ideally, you want food that you use regularly within easy reach.  Seasonings and oils nearer to the cooker where you would use them,  heavier cans and tins lower down. (secret chocolate supply out of the family's sight)
6 – Before you place the food back – group it together – i.e., dry baking ingredients together, breakfast things together, snacks together, sauces for Asian cooking together etc.
7- Put the oldest to the front so use use it up first
Notes on storage
You can go all 'home edit' and decant everything into storage jars – or just use what you already have .  If you do decant, then use a chalk marker or a piece of masking tape on the base of the container to mark the expiry date.
 Some people like to label everything – but, if somethings in a clear container then you can see what it is.  Personally, I just label flour and sugar where it's difficult to determine which kind it is.
Finally, if it's all a bit overwhelming, start small and organise your spice drawer/shelf
November 20
The linen cupboard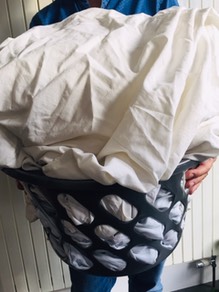 At this time of year, some of us will be getting ready to host family and thoughts will turn to "where are they all going to sleep" and "who's going to get the short straw and sleep in the bath" – Ok, probably not the last one.  This year we don't know what will happen by Christmas but it's a good opportunity now, while nobody can stay, to take stock of your sheets, towels etc and see what you can ditch and what needs replacing . 
So, how many of everything do you actually need?  
As a rule of thumb, for duvet sets, sheets and towels one in use and one in the laundry is a good place to start.  Then, think about how often you have friends and family to stay (or will in the future) and how many spare beds you have.  Also, think about how often you run a laundry – if you have very young kids and are changing the sheets often (sometimes at 2.30am!) an extra set can be a good thing. 
What do you have already? 
Set some time aside while the kids are at school/nursery and get out all your sheets/towels – including the ones under the bed  - and put them in one place, in their categories.  This will give you a really clear picture of what you have.  Also, make a note of what is in use at the moment.  Now that you know the amount you actually need – go through and pick out the very best from your pile and put these aside to keep.   Personally, I find it useful to keep one old towel handy for plumbing emergencies.   The rest can be put aside for donation/textile bank. 
How much storage space do you have? 
Take a look at your storage space and how much you have.   How tall and deep are the shelves?  Can they be moved?  The goal is to have the items you use the most, easily accessible.  Many families I've worked with prefer basket storage.  Storing linen in labelled baskets helps prevent them getting mixed up and you can store sets vertically – storing sheets on top of each other means that when you pull one out, they all tend to come tumbling down.  Also, if they're all the same colour, it's hard to see what's what.  I find it's also helpful to keep bed sets together – you can either fold the sheet and duvet cover so that it fits into one of the pillow slips or fold the sheet and pillow case inside the duvet cover.  Towels can be folded or 'spa' rolled.  It may all seem like a bit of a faff but the time you spend now is time saved later.   I like to keep small soap bars (the type you pick up at hotels) tucked in between the sets to keep them smelling fresh.
*It doesn't matter if you have an actual 'linen cupboard', a designated space in the wardrobe or some deep drawers – the principle is the same – Keep items in their separate categories, store vertically, most used at the front. 
If you keep to a simple system and share with the rest of your family, you never know – one day they may be able to get out their own sheets!
November 7
Books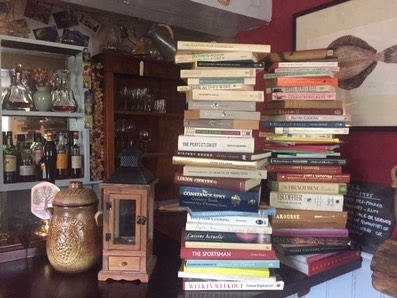 I have to admit, I love books; the action of turning the pages and the weight in my hand, the smell of the ink. Now that we're locking down again, nothing beats them for a bit of escapism.  I have a kindle which I love because it means I don't have to take umpteen books on holiday with me, I can access thousands of books in an instant but I'm not ready to give up physical books yet.   
So, the question is – how many books is it ok to have?  The answer really is to keep as many or as few as you like as long as you have storage space AND  you love each and every one of them
You might want to think about what purpose your books serve – are they a décor feature?  Do you aspire to 'Home Edit' style shelves arranged in rainbow order or store them with the spine to the back of the shelf to maintain minimalist swathes of beige?   Are the titles displayed and books chosen to impress visitors? Are they practical books for your or your children's studies?
How to sort out your books
Have ready suitable boxes for the books that you will be passing on.  More smaller boxes are better than one large heavy to lift box!
Power of the pile – it's no good looking at titles on the shelf and deciding what you want to keep in situ – set aside some time (don't underestimate) and remove all the books from your shelves throughout the house and gather together in one place.  You can treat the children's books separately and do at a different time using the same process.
As you gather them together, try and keep 'like with like' i.e.  reference books, novels, travel, coffee table
Take a before photo! 
Now you can begin to sort through, choosing the books that you really love and deserve to take up space on your shelves – you can ask yourself the following questions if you get stuck;
Would I buy again
Would I be upset if I spilt my glass of wine on it?
Is it easy to replace if I decide I can't live without it?
If its been on my shelf for a long time and I haven't got round to reading it – will I ever? 
You''ll also find some 'easy wins' - duplicates, library books to return, borrowed
Don't forget to take plenty of tea breaks – it's exhausting!  If you find you have a lot to get through, you can enlist the help of a professional organiser.
Before putting back those books that truly 'spark joy' give your shelves a good wipe.
So, what to do with those books that didn't make the grade?
You have several options.
Sell your books using a barcode scanning app like https://www.ziffit.com/ or https://www.webuybooks.co.uk/book-selling-app/  - they will collect from you
Donate to a local charity (call ahead first to see which ones in your area are currently accepting books once everything's open again)
 https://services.betterworldbooks.com/individuals/  who have a shop in Kingston accept books for the National Literary Trust
Don't forget, there are many greener ways of enjoying books if you don't like e-books
-        Libraries – a fabulous resource, and if they don't have the book you want, you can order it.
-        Charity shops – use like a library and return after reading for re-sale
-        Book swap with friends (great for children's books)
-        You can also set up your own 'little free library'  https://littlefreelibrary.org/builders-checklist/
October 22

Half term activities with the kids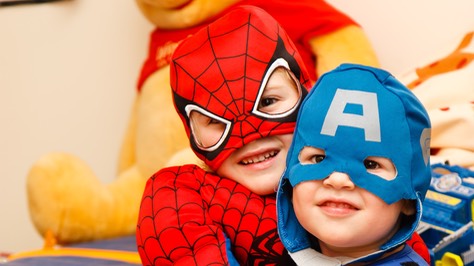 This half term you might be looking for things to do with the children when they're home.  How about an activity that will actually help you at the same time?  Here are some of my top tidy activities with children.
It's never too late to introduce your little ones to the art of KonMari folding -  a habit that will set them up for life.   If you haven't mastered the signature folding technique – now is the time to learn together.  Did you know Marie Kondo has written a children's picture book 'Kiki and Jax' which introduces the concept of tidying but also has some really great folding diagrams for them to try out?
So what's so special about the fold?
-        It enables you to see what you have at a glance
-        When you pull out one item the rest don't come tumbling down
-        Clothes are less likely to crease
-        When you're touching the clothes it's easy to see if they need fixing/cleaning
Here are some other tidy activities:
The 10 minute tidy game -  set a timer, take a basket and pick up as many toys that are in the wrong place.  If you have more than one child, you can make it into a competition.
Treasure hunt (Collecting like with like – choose an item eg, crayons and get them to find all the crayons and put them in their 'home.' Or you could do it by colour - go through the rainbow)
Make a check list of age appropriate tidying jobs for each child and get them to tick the list as they go with prizes for  completed lists.   For younger children, you can use pictures rather than words.
Visualisation game –  get a stack of magazines and some scissors and get the children to cut or tear images to stick to a large sheet of paper to create their dream house. 
Tidying up needn't be boring – put on some music and dress up!  Batman or Cinderella will get the place tidy in no time!  And yes, you can dress up too if you want...
October 3

Wardrobe refresh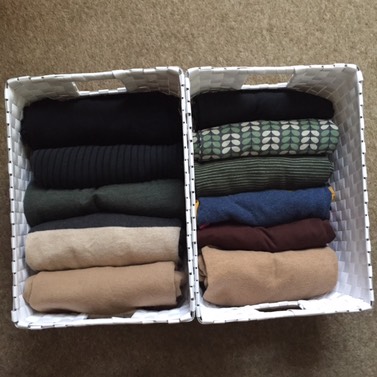 So, who's up for a wardrobe refresh? Do you have an all-year wardrobe and keep everything together, adding a few layers when the temperature drops, or are you a winter wardrobe/summer wardrobe person?
Either way, now's a great time to take a look at your clothes and re-assess if they are fit for purpose and reflect the person you are today.  Before you start, pick a day when you know you won't have any distractions and will be able to focus on the task in hand. Tip: it will take a lot longer than you think. Also, visualise how you would like your wardrobe to look once you have finished.   
It's worth investing in some good hangers; while wooden ones look good they can take up space. The slim, velvety ones take up less room and clothes stay on them.  Not only that, the clothes will hang at the same height.  Whatever you do NEVER use the free wire ones from the drycleaners – they will ruin your clothes and are only good for unblocking loos!
Step 1 – Find a clean space on the floor or bed and pile ALL your clothes up (if you think you won't finish in one go don't use your bed or you'll have nowhere to sleep!).  I've yet to meet a client who hasn't been shocked at the amount of clothes they have.
Step 2 – Have ready two empty boxes and label them charity/sell and mending/cleaning
Step 3 – Select your three favourite items and hold them in your hands – how do they make you feel?  All your clothes should feel this good – this is what Marie Kondo means by 'spark joy'
Step 4 – Go through all your clothes, one by one and put aside all that 'spark joy' – if any need cleaning or mending put them into the labelled box
Step 5 – For those that don't make you feel good (too big, too small, keeping for magical weight loss event, sale bargain that never worked, wrong colour, broken zip, out of style) – discard with gratitude into your charity/sell box 
Step 6 – Put back into your wardrobe the clothes you are keeping – hanging from long to short, heavier fabrics to lighter.
Step 7 – Fold any clothes that can be folded rather than hung and store vertically in drawers with the heaviest jumpers at the bottom.
Don't forget to step out of the room from time to time to stretch and hydrate!
*If you are taking clothes to a charity shop, remember, they want winter stock now.
September 19

Cleaning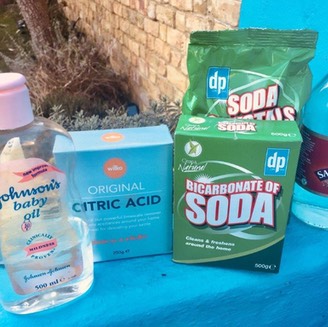 Now that the kids are back at school, I'm finding it's a good opportunity to give the house a good clean.  So what's the difference between cleaning and tidying?
Author of  'The life changing magic of tidying up' Marie Kondo puts it quite well:  "By tidying you're confronting yourself.  By cleaning, you're confronting nature."
Personally, I hate cleaning so I try to make it as easy as possible by aiming to keep surfaces as clear as I can (I know, not always possible in a shared family home but a good goal!).
It's always a good idea to tidy before you clean and if you also manage to declutter some items there's less to clean!
I also keep the products I use simple and minimise spraying stuff around – especially important with little ones.
Before you start it's worth getting out all your cleaning kit and assessing what you have including throwing away anything that's out of date or that you no longer use.  This will prevent you from duplicate buying, which will save  money plus enable you to use up the half empty bottles first.  I've visited houses which have lots of half empty bottles – they take up a lot of space!  
Keep all your cleaning products and cloths together in one place (and out of little people's reach). If you have a container for them to keep them all together, even better.  I file fold my cloths and store them vertically so I can see what I have at a glance but that may be a step too far for some...
I know everyone has their favourite cleaning products but this is my cheap as chips eco cleaning kit:
Soda crystals - deodorise washing machine, remove burnt on food from pans, clean sinks and drains
White vinegar – clean washing machine drawers and door seal, glass, windows and shower head
Bicarbonate of soda – clean fridge, carpet, mattress and wooden chopping boards
Citric acid – uncloud glasses, descale kettle and toilet bowl
Baby oil – clean stainless steel fridge and cooker hob 
Of course, now with the pandemic to think about, I've added an antibacterial disinfectant to the list so I can go over frequently touched hot spots after they've been cleaned.
If you're looking to instigate a good cleaning routine there are some brilliant websites, some which include printable lists – my favourites are http://flylady.net/ and https://www.theorganisedmum.blog/
September 5
10 organising strategies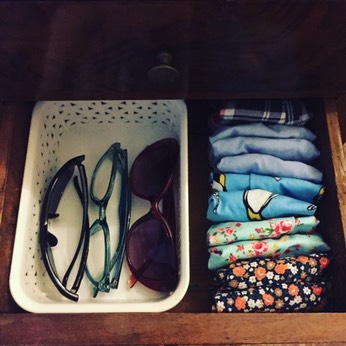 We're going through an extraordinary time at the moment and we've had to adapt, swivel and pivot.  I thought I'd share with you 10 organising strategies I've adopted during the pandemic, some of which you may be doing yourself...
1) Keep  a container for shoes near the front door. Pre-covid I made everyone put there outdoor shoes away in their room (apart from walking boots and wellies which I allocated downstairs storage for) but now it makes sense not to bring footwear through the house so I've got a basket near the door to keep them together.  If you don't have a basket, a sturdy cardboard box works well especially if you cut down the sides.
2) Keep masks handy. I keep everyone's masks in a drawer in the hallway so they're easy to grab on the way out.  It doesn't really matter where you store them but keeping them in a designated place that all the family members are aware saves time.
3) Covid emergency box. At the beginning of the pandemic I put together some supplies in a labelled shoe box so I had it ready if a family member had to isolate: sanitizer, gloves, cleaning wipes, paracetamol and thermometer. 
4) Keep food supplies in order. Go through food to make sure it's in date and put the oldest items in front so they get used first. Store everything so it's visible then you'll know when you're running low.  With everyone suddenly at home for three meals a day I found meal-planning was more important.
5) Cleaning supplies. As with food supplies, keeping these where you can easily see what you have will let you know when you're running out and stop you from over-buying.
6) Simplify wardrobe. I Learned which are my "go to" items of clothing – the ones I really love wearing. 
7) Being more conscious in my buying habits.
8) I've  been delegating more  tidying tasks – it's all good learning.
9) Keep the garden clutter free so you can throw everyone out there.
10) Finally, I've carved out a reading corner in my living room – it's my own space where I can escape/hide from my family… it's a life saver!
August 21
Children's Artwork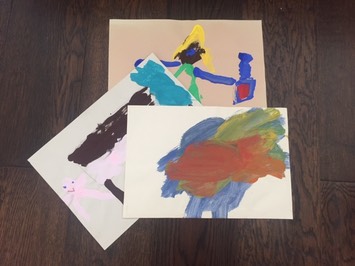 With schools going back soon, one question I'm asked repeatedly by Local Mums is "what do I do with my children's artwork pile?"
Yes, it can certainly add up. If you think how much they bring home in a week, then in a term and then multiply by each child.  Before you know it you're drowning in art, lovely though it is!
You need a strategy. So here are some of my favourite tips – you can try some of your own
As with everything else you need to first sort then store.
Sorting
- The end of each nursery/school term is the perfect time for a sort out
- Select one or two showcase pieces to display (framed on home gallery wall, magnetic clear pouches on fridge,string and clothes pegs)
- Spread all the work out and pick the best out of similar items 
- Limit yourself to keeping no more than 10 pieces per child per term (or come up with a feasible number yourself- less is best)  At this point you can also see if there are any pieces that can be mailed to Grandparents.
- If your child is old enough they can help you with the process
Storing
- If you're ok about not keeping a physical copy there are still ways of preserving the memory for eg,  photo and keep on the cloud or on a memory stick or disc.  There are a few good apps around that enable you to sort and store, my favourites are  Keepy www.keepy.me and Artkive https://www.artkiveapp.com/
- Curate photos into photobooks by child/school year or have them made into professional books or a photo collage.  Snapfish and Bonusprint can do these or if you want to splash some cash www.doodlenest.co.uk can make a lovely coffee table book.
For physical copies, use storage boxes or folders and store by name and year; lots of fun ways you can do this:
- Suspension file boxes from the Really Useful Company – use their dividers to separate into school years.  One box per child.
- Artists portfolios (The Works had some reasonably priced ones, the last time I looked)
- Ring binders (use plastic inserts for artwork with loose bits)
- Storage boxes with either your child's photo, their name or their own decoration on the front
- extra large Manilla envelopes
- tubes (though not my favourite as these are harder to access)
Don't forget, the less you have, the more you'll be able to appreciate them later – revisiting fond memories rather than wading through.   Think about why your storing them, is it for yourself or for your children? (When I was clearing out my parent's garage a few years back I came across a big folder of artwork I'd made in primary school. It gave me a nostalgic glow looking back at it but it was momentary and certainly not worth storing all those years).
Whatever you do, have fun!
August 15

Handbag organisation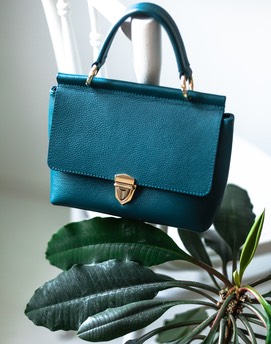 Now that we're venturing out of our homes and back into the shops it's time to dust down our handbags - most of us have one bag that we tend to use all the time, the one that's the perfect size for our needs with the right strap length.   This is the one we're going to deal with – if you use multiple bags, or have a designer bag you may want to invest in a handbag liner insert – there are many available on ebay to fit all sized bags.     
So here are some tips for a good handbag clear out:
First, ring fence half an hour of 'me' time. Then
- Empty the contents of your bag onto a table or the floor  (you can put some newspaper down first)
- Give your bag a wipe inside with a damp but not wet cloth
- Now, scan everything and select only the items that you use daily – these are the only items that will have the honour of a place in your bag. Put them  aside.  
- Next, sort through everything else – can anything be thrown away ?  Does anything belong in another place?  (the other two lip balms for example)]
- Don't forget to go through your purse/wallet and remove old receipts, out of date vouchers etc.  Can any store cards be ditched/replaced with an app? 
There may be some items pre covid that no longer serve a purpose.
- Once that's dealt with you should just have left in front of you the items to return to your bag
- Categorise these and put like items together and store in smaller clear zip bags or pouches for example, hand sanitizer gel and face mask
- Store items and pouches vertically where possible – this way they are more visible and accessible
- Look for micro storage solutions, for eg, If you wear glasses, your headphones can be stored in your glasses case
How satisfying was that?!
July 

Storage boxes – boxing clever

Marie Kondo once said "storage experts are hoarders."  While it wouldn't be fair to say that everyone who has a collection of 'storage solutions' has a hoarding disorder it's a good idea to consider what you're storing away, why you're storing it and how accessible it is.    
Tempting as it may be, buying lots of storage boxes won't instantly transform your home into a beautifully organised sanctuary of calm any more than new fitness gear won't transform you into an athlete. 
Before I visit local mums' homes or book a  Zoom session with them they invariably ask me "What storage do I need to buy before I start?" The answer is always nothing, the reason being...
- You don't know what storage you need until you finish discarding (you will have less stuff and more space).
- Usually will already have lots of storage solutions in your home 
I always suggest reusing and repurposing storage that you have, it costs nothing and is a greener solution.  Here are some of my favourites:
Shoe boxes – for bras, small tops, scarves
Iphone cases – for stationary , electronic accessories
Small Ferrero Rocher plastic boxes (the perfect excuse!) – to separate little things in your kitchen junk drawer or as a bathroom drawer separator.
Old Tupperware boxes with missing lids – kitchen and bathroom storage
Cereal boxes cut down – separate packets in kitchen, DIY magazine rack for paper storage
You can be really creative with this if you want.
When everything is sorted, discarded and you know exactly what you have left and the amount of space available you can then buy some lovely storage boxes. With temporary storage in place you can afford to take your time and wait until you find something you really love and will be a good fit with your home décor. 
June 
Cosmetics drawer overhaul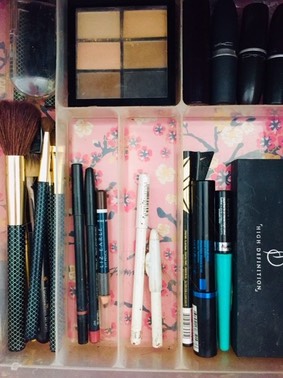 I don't know about you but I've been fairly bare-faced during lockdown, apart from a bit of lippy where Zoom meetings require.  Now we're out and about a bit more it's a perfect time to take a look at our cosmetic drawers and bags and take stock of what you have. Think of all the time you'll save by not having to root around for your lipstick!     
First of all remove everything from your drawer or bag and lay the contents out where you have space on a sheet of newspaper and put similar products together.  If there's anything that isn't in the cosmetic category put it to one side (hair bands, face creams etc).  Today you're just dealing with your colour cosmetics...
Pick out your favourites, your go-tos, the make up you use every day. If they're still in good condition and in date you can put aside to keep.
Next, go though everything else, looking at each item:
- Do you use it?
- Have you ever used it?  
- Does it merit space if you only use it once a year?
- Has it expired? This is really important as like food cosmetics harbour bacteria.  Sometimes you can see this when foundation separates or changes smell but sometimes it's not so obvious. The  average expirary date for foundation, powder, and other facial makeup is 12 months.
Some cosmetics have a little sticker (open jar icon) to say how long the product will last once opened but as a rule you should replace your mascara about every three months, eyeliner and eye shadow every six to 12 months and lipstick every 18 months.
Where possible, when you buy cosmetics you can put a sticker on it with the expiry date to remind you. 
Once you've chosen your 'keeps' 
 - Sharpen pencils
- Clean brushes
- Wash bag/or drawer
If you have a drawer put all the same things together – you can either separate with small boxes (packaging from phones, perfume, food boxes cut down to size) or I like to use a cutlery tray to separate my cosmetics in a drawer (mine came from Really Useful Products).  As my tray is transparent I lined the drawer with some gift wrap that I fell in love with – it makes me smile every time I open the drawer. 
Might just be me but I find there is something really satisfying about a well-organised cosmetics drawer! How about you Local Mums?


June 5
What to do with your declutterings ….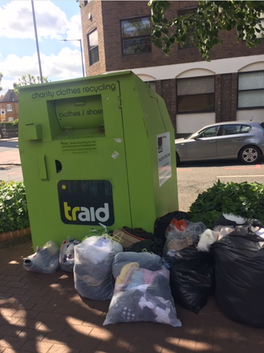 With more time spent at home we're all becoming more aware of our immediate environment and some have decided it's time for a good clear out. Only one small problem, what to do with all those items that no longer 'spark joy' while the charity shops are closed?  

When I do a house declutter I always tell my clients that they need a solid exit plan for these items otherwise they do have an uncanny knack of making their way back into your life!  I'm hoping the charity shops will be open soon to take donations but until then you may want to consider the following;
-        If you're lucky enough to have a loft, cellar or eves storage you can temporarily store your donations there  - but box them and tape them up!
-        Some recycling centres are now open to take recyclables but not re-usables (check ahead on website, Wandsworth for eg, is operating different opening days depending if your car has an odd/even reg no.)
-      The YoungPlanet app lets you list your items for free, save things from landfill and do your bit to save the planet by passing on used kids items
-        If you have jewellery to donate, the alzheimers society https://www.alzheimers.org.uk/get-involved/make-donation/recycling will send you a jiffy back to pop items into
-        If you have vintage items (toys, silverware, watches) vintage cash cow https://www.vintagecashcow.co.uk/ will collect from you
-        Designer clothes?  You can sell them with a consignment company like Cudoni https://www.cudoni.com/or HEWI https://www.hardlyeverwornit.com/
-        Other clothes?  Try https://www.preloved.co.uk/ or  the depop app if you have a teen in the house
-        Well loved teddy bears?  Send to  https://www.lovedbefore.london/ where they will be lovingly restored for adoption
-        Use local websites like Facebook Marketplace
-        Ziffit https://www.ziffit.com/en-gb/ are good for books – you can have fun scanning the barcodes too. 
-        Certainly around my neighbourhood, I've seen lots of books and childrens toys put in the front porch with a 'Help yourself' sign
This is not an exhaustive list but will give you some ideas until the charity shops open their doors to donations (hopefully soon).  

Happy decluttering local mums!
May
Tips for organising your home office
Do any other local mums feel like you're busier than ever since lockdown?  Never mind making time to learn a language or a new craft, sometimes it seems like we're fighting a losing battle juggling between home schooling, home working, preparing up to three meals a day and having no time to ourselves at all…   
I'm a professional organiser and even in my household things can get a bit busy but I've got some great tools to help escape the overwhelm but for now, I'm going to keep the focus on those of us working from home.   Whether you've suddenly found yourself WFH or you've always remote worked but now with a full house it's more of a struggle here are a few tips to get local mums started.
·      Visualise your day – how much time can you allocate to work?  What would you like to have more time for, spend less time on?  When are you most productive?  How would you like your office space to look?  How will you be using it e.g., if you're making lots of zoom calls, you'll need somewhere relatively quiet with a good light source).
·      Set up your workspace. Not everyone has the luxury of a 'home office' but have a look around and see where you can carve yourself out a little space.  Some of you may have read about Sarah Ward, the mum from Cheshire who transformed her airing cupboard into an office for £6 – and I'm not suggesting everyone try that but think about being more creative with the space that you do have.   Where could you fit a desk or a shelf?
·      Be clear about your working hours and make sure everyone in the house knows the times when you'll be unavailable – stick police tape across your door if you have to!! 
·      If you already have a desk/office start with a tidy desk.   Remove everything from it and put back only the items you need.
·      It's a good idea to store pending paperwork vertically (you can use a magazine rack) so you can see and access it more easily.
·      Signal the end of your working hours by wiping down the desk.
·      If the desk is used at different times by different family members, keep a box to put all the things you will need for your work (eg, laptop, charger, stationery, pending file) and make sure everything is stored in your 'portable office' when you have finished.
Hopefully, these few tips will help local mums get started.
About Victoria
A background in hotel management and over 15 years as an office manager/PA in the City has honed my organisational skills . However, when it came to my personal belongings I have always been naturally untidy so when I discovered a system that worked for me I knew it would work for anyone.
I've been helping local mums in their homes for the past four years to achieve the peace of mind that comes with living in a calm, uncluttered environment.  In order to continue to support my clients while maintaining social distancing I'm now offering virtual sessions via Zoom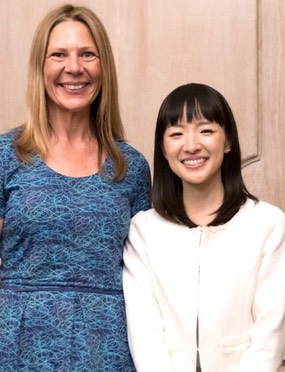 Victoria with Marie Kondo

Contact:
Victoria Nicholson
Founder
My Wardrobe Zen
Tel: 07941 375304
Email: victoria@mywardrobezen.co.uk
www.MyWardrobeZen.co.uk