Playgroups are a good opportunity to get out of the house and meet other mums. There are playgroups on throughout the week Wandsworth. Here is our pick of the best.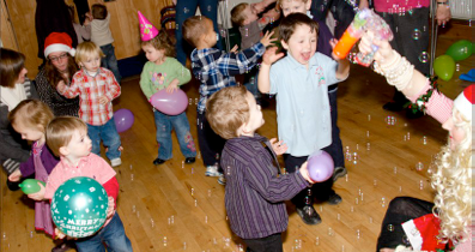 NCT Putney and Fulham Toddler Group
Wandsworth Park,
Join our toddler group - hosted by the NCT Putney and Fulham. Fridays at 10.30am to 12noon Wandsworth Park Play Ground. Look out for the bunch of balloon tied to the buggy as that's our group of mums and dads with busy toddlers.†As the weather is very unpredictable please keep up to date by checking our Facebook page:†www.facebook.com/NCTPutneyFulham
St Margaret's Baby and Toddler Group
St Margaret's Church Hall,
Putney Park Lane,
London
SW15 5HU
A local playgroup run by mothers for parent, carers and children to meet, play together and relax with a coffee/tea. We have access to a two rooms, the larger one which has ride ons for the children, and a lovely garden for the children to play in.†Friday afternoon 3pm-5pm during term time.†Aimed at pre-schoolers (aged 0-4) but older siblings welcome.
Tumble time play sessions
Putney Leisure Centre,
Putney London SW15 1BL
9.45am til 11am.†

Little Teddies parent, baby and child group
St John the Baptist Church Hall,
Robin Hood Lane,
Kingston Vale,
London SW15 3PY
Tuesday mornings during term-time in the Andrews' Wing. A chance for local mothers, carers and their small children to meet and play together in a safe and comfortable environment.†Each week there are craft activities, stories and songs, as well as many toys to play with.
We are a parent run playgroup who are friendly and welcoming to children and parents! There is lots of space for children to run around and different activites each week. Its a chance for the children to have a play and parents to relax with a coffee.†Babies also welcome!
All welcome on Tuesdays 9.30 a.m. to 11.30 a.m
Alton Parent and Toddler Group
Alton Children's Centre,
Ellisfield Drive,
Alton Estate,
London SW15
The centre is open on Tuesday and Friday morning for children under 5 and their parents or carers.†It works on a "drop in" basis where you stay with your children and also have the opportunity to meet others.
From 9.30 - 11.30am.†
Buzzy Bugz at Putney Leisure Centre
Dryburgh Road,
Putney SW15 1BL
Join the fun with painting, bouncing, singing and crafts every Monday and Friday.
From 9.45 am - 11 am.
For babies and toddlers up to the age of 4.