Here's a pick of everything extra-curricular on offer for school age children in Sutton.

After school classes run during the weekend and throughout the week. There is a huge variety of classes on offer in Sutton. Here are some we have tried. Don't forget to check the reviews section for Local Mums' verdicts.


Creative clubs: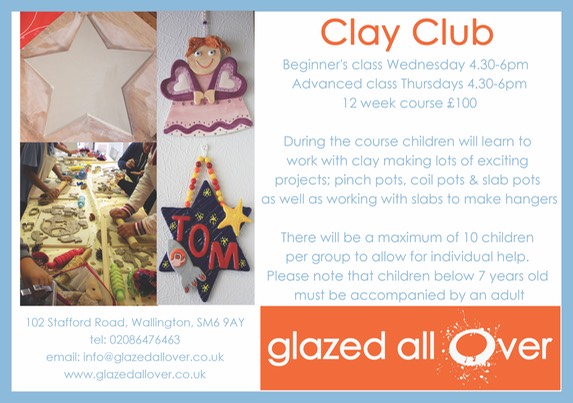 Dance:
Irish Dancing Classes
Every Wednesday 3.45pm
St Cecilia's Scout Hall
Rear of St Cecilia's RC Church
St Cecilia's Colse
Off Stonecot Hill
North Cheam, SM3 9HM
Boys and Girls (Age 4 Upwards) Welcome
Monica: 07929 237102 or Kay: 0208 785 7974

J & C Dance 
Overton Grange School, Stanley Road, , Sutton, Surrey, SM2 6TQ
Contact: Janis
Tel: 07505 984176
Email: janis@jandcdance.co.uk
www.jandcdance.co.uk
Welcome to J&C Dance where the principals bring with them not just a wealth of experience but an abundance of passion and a bottomless pit of enthusiasm. Our classes are held in Sutton, Kingston and Tolworth teaching, tap, ballet, freestyle, salsa, rock 'n' roll and the newly launch Zumba classes.
Both Principals are fully qualified teachers with the International Dance Teachers Association (IDTA) and are CRB checked, so not only will dancing be fun but will also be in a safe environment.
This is a dream come true for Janis and Ceri so help them make their dream a reality and come and join them to learn, to dance, to enjoy and express yourself.

Short Stepperz Dance classes
We specialise in all styles of dance training, fitness, summer schools, group classes, parties, private tuition, educational workshops, school classes, team building workshops and professional choreography for both children and adults.
All of our classes and workshops are taught by elite choreographers and teachers who are fully trained with years of experience. Our aim is to reach out to every individual and tailor to their needs in order to improve their skills and reach their goals.
No matter what your ambition may be, we provide fun, friendly and motivational classes that get successful results!
Our Elite studio is also available for private hire. Lots of fun and exciting Dance classes for Children and Adults
All classes are pay as you go and just £2- £4.50 per class
*Street Dance at the Movies
*Street Dance
*Break Dancing
*Tap & Modern
*Salsa
*Karate
*Zumba
*Hip Hop Fit Fun
*Private Tuition
*Children's Workshops
*Chuildren's Dance Parties
We have lots of classes over the school holidays as well as term time. All classes are held at our fantastic studios with floor length mirrors, music system, disco lights, waiting/reception area, toliets and chaning rooms.
We currently teach in over 16 schools within the Sutton borough - contact us for more information NOW!!
Check out a full list of classes on our website
Short Stepperz Academy & Studios, High Street, opposite Sutton Rail Station above Twist Gym, Sutton, Surrey
Contact: Natalie Fisher
Tel: 07825 841223
Email: info@shortstepperz.co.uk
www.shortstepperz.co.uk

Sutton Dance Academy
Sutton Dance Academy is now offering the following new and innovative dance classes.
Lil Street - An urban dance class for pre-school children. Fridays 15.30-16.00 3-5yrs
Break Dance - This class will teach you the foundations of Break Dancing including power moves, glides and freezes. Tuesdays 16.00-16.45 8-11 yrs and Tuesdays 17.00-18.00 11-17yrs
Nu Style Jazz - Learn routines that combine Jazz technique with funky Street Jazz to popular music from past and present. Fridays 18.30-17.30
Ballroom and Latin - Learn to dance like the stars on Strictly Come Dancing. In this class you will learn all styles including the Waltz, Foxtrot, Cha Cha Cha and Samba. Monday 21.00-22.00 Adults, Friday 16.00-16.40 4-7 yrs, Friday 16.45-17.30 7-11 yrs and Friday 17.30-18.30 11-16 yrs. 
This is only a selection of the Dance classes we currently offer plus coming soon Performing Arts and Baby Ballet. 
c/o Sutton Junior Tennis Centre, Rose Hill Park, Rose Hill, Sutton, Surrey, SM1 3HH
Contact: Caroline Howard
Tel: 07967 725 691
Email: info@suttondanceacademy.com
www.suttondanceacademy.com
The Flannery School of Irish dancing
Classes for beginners through to advanced
Saturday mornings
The Granfers Community Centre
73-79 Oakhill Road 
Sutton
SM1 3AA
For more information contact:
Katy Flannery
katyflannery@hotmail.co.uk
Mobile: 07940475066

Hamilton Dance
RAD Ballet, ISTD Modern, ISTD Tap, Adult, Ballet and                                                                                                                                                           Jazz
c-hamilton@live.co.uk. Tel: 07957 379006
Arts One 
Arts One students have been offered places in the National Theatre Young Company, The RADA Youth Theatre, The National Youth Theatre and in some of the UK's leading drama schools including RADA and RSAMD and have performed in West End shows including the current production of Oliver. 
We always welcome new members, if you are interested in joining, please come along and enjoy a free introductory workshop.
ArtsOne is a Performing Arts school for students interested in the Performing Arts. It is held every Saturday during term time at Glenthorne High School, Sutton's only Performing Arts College and is run by highly qualified and experienced Performing Arts teachers.
We run seperate KS1, KS2, KS3, KS4 & KS5 groups for young people aged 4 - 19.
Reception & KS1 group: 10am - 11am.
KS2 group: 10am - 12pm. 
KS3 group: 12.30pm - 2.30pm 
KS4&5 group: 3pm - 5pm. 
There are over 100 members who attend the weekly workshops with the aim of developing their confidence and communication skills as well as learning performance skills and techniques within the Arts.
The weekly workshops present a holistic approach to the Performing Arts encompassing Drama, Music and Dance. ArtsOne offers two opportunities for its members to perform throughout the year.
To date students have performed in a variety of productions including "The Witches", "Mowgli be good", "The boy who fell into a book", "A Winter's Tale", "Grease" and "A Time Like Alice", which transferred to the Fairfield Halls. 
Students have taken part in the National theatre Connections competition performing at the Brighton Dome and Rose Theatre Kingston.
The KS4&5 group performed "Return to the forbidden planet" at the Edinburgh festival 2008 and are currently preparing a show to take to the 2010 festival, they have also performed scripted plays such as "Burn" and "The Exam".
Glenthorne High School, Common Road, Sutton, Surrey, SM3 9PS
Contact: Sue Kirby
Tel: 020 8644 6307 ext 242
Email: ski@glenthorne.sutton.sch.uk
www.glenthorne-high.org


Music:
Sutton Music Service 
Creating opportunities which deepen the interest and skills of children and young people through a range of musical and social experiences.
Wandle Valley School, Welbeck Road, Carshalton, Surrey, SM5 1LW
Tel: 020 8640 8781
Email: musicservice@suttonlea.org
www.suttonmusicservice.org.uk/
Swimming:
Splash Swimming Lessons
Swimming lessons for Children of all abilities. Sole use of pool. Teachers in water with beginners.
Over 25 years experience in teaching Children to swim
Teachers qualified to ASA Advanced level
All staff CRB checked
For information on courses contact Jacqui 020 8669 7226. or email bookings@splashswimminglessons.co.uk
Lessons held at,
Sherwood Park :Tuesday, Thursday and Friday from 4:30
Sutton High: Wednesday from 6:00
30 Sandhills, Wallington, Surrey, SM6 8JE
Contact: Jacqui
Tel: 020 8669 7226
Email: booking@splashswimminglessons.co.uk
www.splashswimminglessons.co.uk 
Tennis:
Sutton Junior Tennis Centre 
An indoor tennis centre developed especially for juniors. There are a variety of Tennis squads available, for ages 3 up to 19, grouped according to age and ability. They also operate a full programme of activities during the school holidays.
Junior Pro Academy is a highly intensive programme set up for a small squad of full-time players aged 10 to 15. Players are selected from applicants with a high playing level and commitment. The programme consists of individual, 2-on-1 and group tennis sessions 6 days per week, alongside personalized fitness programmes.
This intensive tennis programme is coupled with a distance learning-style education element that takes place at the Academy's onsite IT room, supervised by highly qualified tutors and overseen by the Academy's Education Consultant. Players have group tutoring and private study sessions organized around their tennis timetable.
Players can opt for just the tennis option if already being home-schooled.
Rosehill Park, Rosehill, Sutton, SM1 3HH
Tel: 020 8641 6611
Email: info@suttontennisacademy.com
www.suttontennisacademy.com 
Theatre:
Pull the Other Theatre Lab
For parents who want to get their kids excited about the classics and icons of theatre and literature, or for parents whose kids are already knee deep in enthusiasm for true stage craft;  Pull the Other's TheatreLabs' are a sure way of fueling and honing that creativity and imagination whilst giving them a sure head start when it comes to understanding and enjoying the classics.  
To launch Pull the Other's venture and to help celebrate The World Shakespeare Festival 2012 headed by the Royal Shakespeare Company, 9-14 year olds are invited to join Pull the Other this summer for their TheatreLab MACBETH.  
Created and facilitated by Pull the Other's Artistic Directors TheatreLab MACBETH is a 6 day workshop at Epsom Playhouse that introduces Shakespeare's great Scottish play in a fun fueled, highly energised, imaginative and professional environment.  By teaching Physical Theatre techniques, general stage craft, an introduction into Shakespeare's language with other staging skills we will equip everyone taking part with the skills to work together; forming a TheatreLab Company to create your very own version of the play.  
Everyone involved will play their part in retelling this great tragedy. Whether you are completely new to drama or are practically a seasoned professional TheatreLab MACBETH will find the director or performer in every member.
Epsom Playhouse The Meyer's Studio
9-11 yr olds Mon-Sat 9.30am -1.30pm
12-14 yr olds Mon-Sat 2.30pm - 6.30pm
EARLYBIRD THEATRE LAB £100 OFFER - only 6 offer places available in each workshop.
Bookings taken before 6pm on Monday 9th July 2012 will receive a day's workshop free (standard price £120)
For more booking information or to book please visit our website's LAB BOOKINGS page at http://pulltheother.moonfruit.com/#/lab-bookings/4563536428 or call 07801 268387.
Pull the Other is the joint creation of Artistic Directors Helen Broughton and Rachel Nussbaum professional director and actress.  For more information about Helen and Rachel please visit our website.


Have we missed something? Can you recommend a class for Sutton Mums? Email us at info@localmumsonline.com