This Osteoporosis Awareness Month, Karen Carroll, consultant at the Osteopathic Centre for Children, discusses how osteopathy helps mums and kids keep up a fitness regime and build bone health the injury-free way.†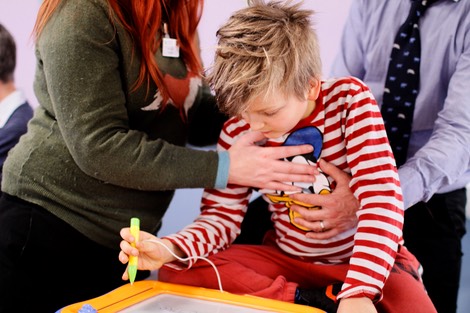 Most of us want to improve our fitness and make sure we, and our children, have strong, healthy muscles and bones. In these days of social media, online games, lots of homework and indoor activities, it can be a struggle to make sure our children are out playing and building better bone health, but we are more conscious of making sure our children stay fit as they grow, especially if we have a family history of osteoporosis.†
There has been a rise in in the UK in vitamin D deficiency, with worrying implications for the future bone health of the population. Happily, though, we also know that small adjustments to our daily lives can help build the foundations for strong and healthy bones throughout life. Our specialist paediatric osteopaths at the Osteopathic Centre for Children work with parents and carers to help raise awareness of exercise, diet, exposure to sunlight to help reduce potential problems with bone health each and every week. †
Many children, although they are naturally flexible, have less good spinal mobility these days due to sitting for ages and being much less active than children of previous generations. Quite simply our kids are climbing fewer trees than many of us did when we were younger! They frequently have tight hamstrings as they don't stretch as much. They also carry heavy schoolbags - usually over one shoulder.†
Environmental factors like these make children more vulnerable to straining their back, pulling a muscle or finding running and exercising more difficult to do. Children are growing - at times, very quickly. As a result, they often experience a sense of pressure, pull or pain in the bones of the spine and legs especially. †This discomfort is often felt more at night and can wake them. Growing pains can often be very uncomfortable and sometimes interfere with exercise and PE. If children are not taught properly to stretch, they can injure or strain themselves more frequently.
We discuss diet, hydration and the importance of weight bearing exercise and getting outside for children and post-partum mums to help reduce the risks of Vitamin D deficiency and osteoporosis as well as to support building long term good bone health. Parents need to be aware of what research shows is useful for prevention of rickets and osteoporosis as well as what helps our children maintain a healthy weight and good bone, muscle and joint health.†
"We often see older children whose bodies are growing very rapidly, and who can have problems with getting fitter, doing games or even getting to sleep as a result. Parents forget that growing may cause a fair bit of discomfort. Children may even experience headaches or sleep difficulties" says Karen. "Having gentle paediatric osteopathy helps to mobilise the spine, stretch muscles (which may reduce growing pains) and helps children understand how to stretch safely and effectively. This helps them go on to improve their fitness, mobility and stamina. Long term, doing more exercise, doing outdoor sports, and being active helps build strong healthy bones, long muscles and good joint mobility."
How does osteopathy help?
Osteopaths understand how the spine and limbs move and function. They have studied how to help adults and children stretch well, how to mobilise the spine and how to loosen the muscles of the back, neck, legs and arms to help injuries resolve more quickly and to prevent injuries from recurring. Paediatric osteopaths have studied at a deeper level how children grow, how their bodies differ from adults and how to treat a child in a gentle way to help them through the discomforts of growing and staying fit - whether they are playing sports at elite or county level, in the first team, or just want to keep up with a games lesson.
Our osteopaths know what exercises are appropriate at what stage after birth for post-partum mums to start improving fitness and long term good bone health, what stages children can start exercising after an injury or broken bone and how to ease and help repair any strains and pulls brought on by PE and out of school sports.
Karen says "Sometimes a sprained ankle is secondary to poor core stability, tight hamstrings or poor posture - osteopathy can be used to help work to correct this. However, if we are concerned about a patient's bone health after we have taken our case history and examined, we will refer for appropriate investigations by a patient's GP or paediatrician."
Treatment of children is usually undertaken by osteopaths with a post-graduate qualification in paediatric osteopathy. For more information about osteopathy for children, pregnant and post-partum mums, visit www.occ.uk.com or call OCC on 0208 875 5290.
Karen Carroll. DO., ND., Dip.Paed.Ost. Fellow SCCO
Consultant, Osteopathic Centre for Children, London.
The Osteopathic Centre for Children is a UK charity (number 1003934) that's unique in offering first-class and specific osteopathic treatment for children from birth to 18, as well as pre- and post-natal mothers, regardless of their families' ability to pay.†
The clinical arm of the Foundation for Paediatric Osteopathy, the OCC makes osteopathic care accessible to all children, researches effectiveness and champions paediatric osteopathy worldwide.†
To date the Foundation has trained more than 200 graduate osteopaths in the specialist osteopathic care of children, and every year the Centre treats more than 22,000 babies and children, including those with serious conditions, from their clinic in Wandsworth and outreach clinics in Shoreditch, Mill Hill and at Barnet Hospital's Starlight Neo-natal unit.
Contact:
For information and appointments visit www.occ.uk.com or call 0208 875 5290